Michelob Ultra's New Collaboration Will Delight '90s Kids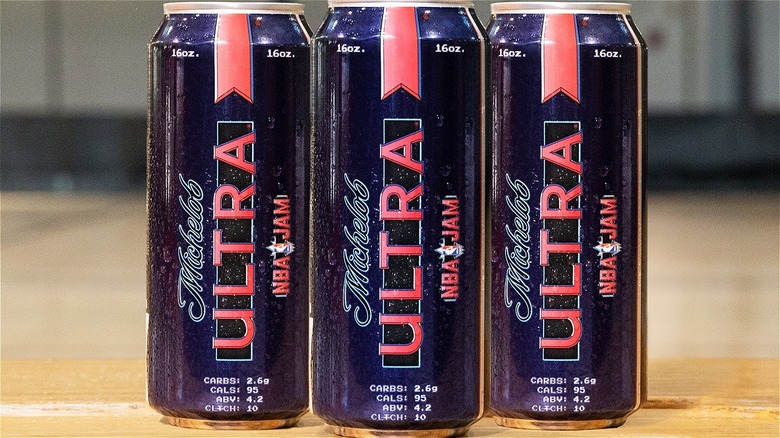 Michelob Ultra
Boomshakalaka! Michelob Ultra wants to take fans back to 1993 for the 2022 NBA All-Star game, so get your dial up-modem ready to connect to this nostalgic promo. Inspired by the '90s video game, "NBA Jam," the beer brand has created a throwback experience for fans near and far, a press release shares. Taking part in the promotion is "NBA Jam" announcer Tim Kitzrow, who you may remember for his exuberant "Boomshakala" catchphrase. In a 2017 interview with the "The Game Informer Show" podcast, Kitzrow spoke about the ongoing popularity of both the classic game and his catchphrase, comparing the concept to a "comic book come to life" and a "superhero version of the NBA."
Nationwide, game fans can join Michelob Ultra's mini retro reboot by visiting the "Enjoy It Like It's 1993" website, where they can read up about how to turn their selfies into "NBA Jam"-inspired 16-bit avatars or enter to win '90s-esque NBA merchandise, such as custom arcade consoles. In Ohio, fans will be able to drink limited-edition beers.
Where to find Michelob Ultra's limited-edition 'NBA Jam' cans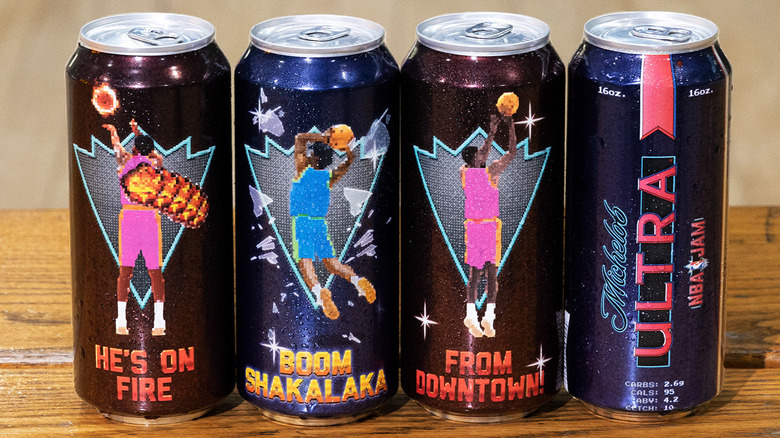 Michelob Ultra
Back in January, Michelob Ultra released NBA beer cans repping 18 different basketball teams around the country for a limited time. This weekend, Cleveland is the focus of the beer brand's "NBA Jam" promotion, as the city's Rocket Mortgage FieldHouse is the site of the 2022 NBA All-Star game on February 20. According to Michelob's press release, a local Cleveland bar (the Harry Buffalo location on 4th Street, according to News 5 Cleveland) will transform temporarily to become Boom Shaka Laka's, a retro arcade bar inspired by "NBA Jam" and serving up custom cans from Michelob Ultra. The cans will be decked out with "NBA Jam" artwork and catchphrases, like "Boomshakalaka."
Michelob's announcement also shares that Kitzrow is set to make an appearance, while hip hop artist Fat Joe and DJ Jazzy Jeff, who's described as a hidden character in the video game, will entertain. "'NBA Jam' legends," too, will show up at Boom Shaka Laka's at set times on Saturday and Sunday, including former players James Worthy, Clyde Drexler, Dominique Wilkins, and Dikembe Mutombo. Fans can visit the pop-up experience from February 18 to February 20 and buy tickets online. Those who can't make it to Boom Shaka Laka's will be able to find the limited-edition cans at select Cleveland bars or Rocket Mortgage FieldHouse, but only during NBA All-Star 2022. And, of course, "Michelob ULTRA reminds you to please JAM responsibly." Boomshaklaka!