Smokey Bones Is The Latest Restaurant To Adopt Digital Drive-Thrus
While much has been said about the restaurant industry's plight over the past couple of years, the upturned tables and darkened lights have pushed the conversation towards other avenues beyond sitting down and enjoying a meal. Fast casual restaurants are finding ways to give guests that food they crave — even when they're not seated at a table inside the establishment.
In an attempt to keep up with the times of today's evolving restaurant space, Smokey Bones announced a new drive-thru concept they believe could "redefine what 'fast casual' really means." As told to FSR, the specialty pickup lane seeks to bring more convenience to the "anytime anywhere" approach for "Smokey Bones' off-premises dining." While many people have parked in designated to-go parking spaces, this approach looks to not only streamline food pick-up, but also make digital ordering a priority.
"A majority of our virtual brand guests already are coming to the restaurant to pick up their order and take it away," Smokey Bones CEO James O'Reilly shared. "This innovation makes it easier and more convenient for them."
Smokey Bones' new drive-thru concept is launching in Kentucky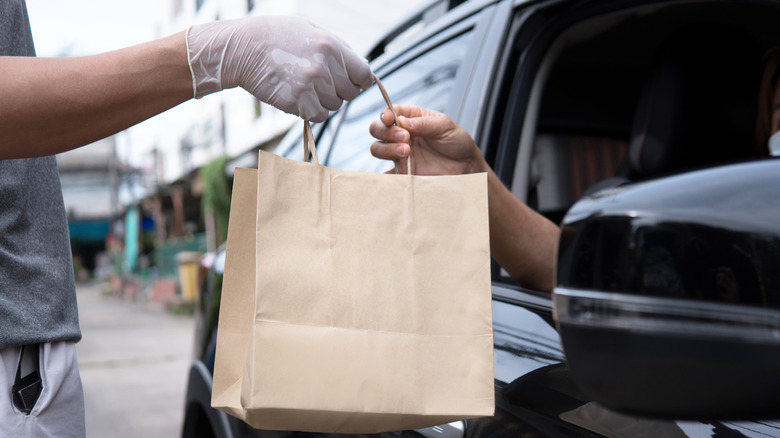 9gifts/Shutterstock
Smokey Bones' decision to offer a dedicated drive-thru lane with digital ordering seems to be in line with a growing trend in the fast casual restaurant world. Recently, QSR discussed the surge in restaurant technology, specifically in the Artificial Intelligence (AI) realm. While the digital order is one slice of bigger conversations, the companies who can leverage the space could see benefits to the bottom line. As guests see convenience, restaurants see a way to increase order accuracy, maximize production, and create food consistency.
In his own statement to FSR, Hal Lawlor, COO of Smokey Bones, said he and his team are "excited to lead this initiative in [Bowling Green, Kentucky] as our first drive-thru location" and are "committed to the community and proud of [GM] Casey Turner and the leadership team who will lead the way in preparing the staff for the new operational opportunities that come with a drive-thru." 
Since digital orders have guests ordering and grabbing their food, it makes sense that the physical establishment should reflect the evolution of the fast casual concept. Although some people might wonder if this rise of delivery only is a response to the staffing shortages, the reality is that "pivot" is not a term that is going to disappear anytime soon. While restaurants previously had signs that said, no shirt, no shoes, no service, now those requirements may not apply as guests grab that slab of ribs from the drive-thru window.