Michael Symon Never Uses This Ingredient In His Clam Chowder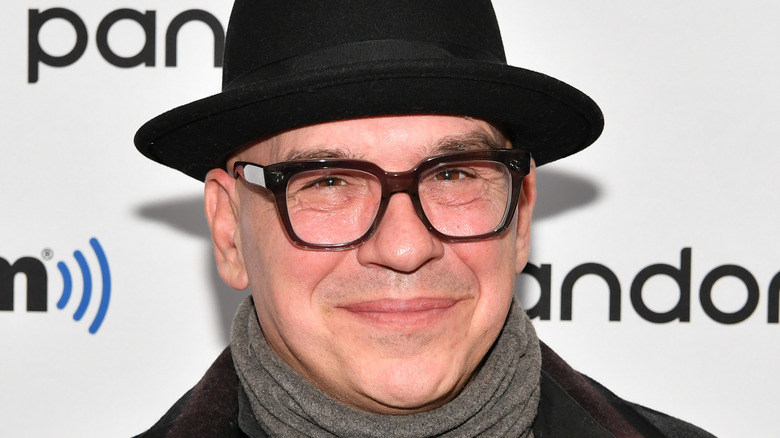 Slaven Vlasic/Getty Images
Clam chowder: A classic chunky soup with a lengthy history, and a dietary staple of the East Coast. This seafood-crammed delight developed amid French, Nova Scotian, and British influences in the early 1700s, according to Eater. There's no way to know for sure how many variations exist, but the two most well-known varieties are New England and Manhattan clam chowder. While New England clam chowder is thick, rich, and creamy, tomato-based Manhattan clam chowder is thinner and chock-full of vegetables.
Some argue there are two additional main varieties. The first, blush-hued Long Island clam chowder, is a melding of the New England and Manhattan varieties. The second, Rhode Island clam chowder, can be summarized as being broth-based rather than dairy-based (via AAA Northeast), and exclusively use the state's native Quahog clams.
Personal preferences aside, the pros have a few words of advice you may want to heed for maximum chowder satisfaction. 
Don't use chicken stock in your clam chowder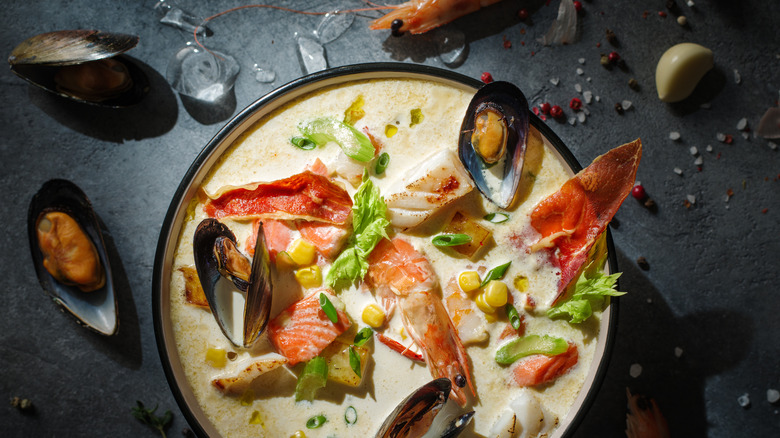 FoodAndPhoto/Shutterstock
Some clam chowder recipes call for chicken stock. You could argue it helps with depth of flavor, but come on. Why? It's clam chowder, not chicken chowder. Even Michael Symon, an actual Iron Chef, doesn't use chicken stock in clam chowder.
When a fan asked Symon on Twitter how to make clam chowder without chicken stock, Symon replied, "I never use chicken stock ... use clam broth." Clam broth will deepen the soup's seafood flavor. You can make your own by boiling clams, then collecting, straining, and diluting the broth you drain from them. The folks at Fine Cooking agree.
Other alternatives to using chicken stock include vegetable broth and various seafood stocks. Symon's corn and lobster chowder, for example, is built on lobster stock (via The Cooking Channel). Chef Ina Garten also insists on using fresh clam juice in her chowder to really emphasize those briny flavors. Whatever your move, follow your heart, and you're bound to end up with a hearty clam chowder.