The One Bahamian Food That Chef Nobu Matsuhisa Misses The Most - Exclusive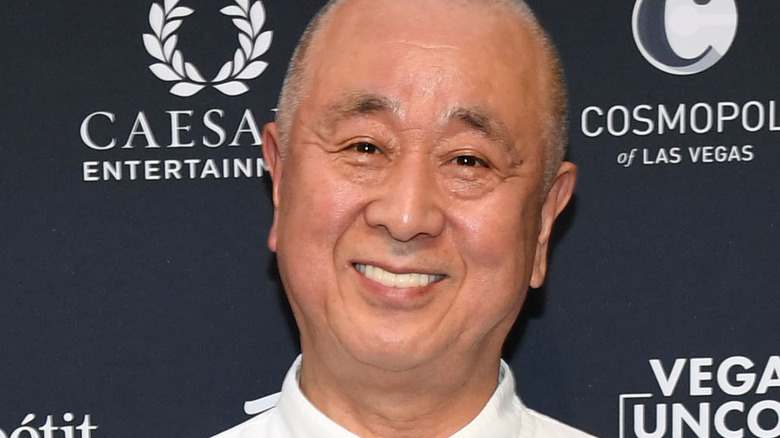 Ethan Miller/Getty Images
Chef Nobu Matsuhisa is one of the most accomplished chefs of modern cooking, and he enjoys spending time with other like-minded culinary stars where inspiration and comradery can flow. In fact, there comes a time every spring that's very special to him, when Matsuhisa gets to mingle with fellow cooks and his own restaurant teams. It happens at the Taste of Paradise, a food and wine festival that takes place at Atlantis Paradise Island in the Bahamas, where there is a location of Matsuhisa's flagship Japanese restaurant Nobu. The reunion is always a welcome one for Matsuhisa, and — as he told Mashed in an exclusive interview – there is always one food that he can't wait to eat after landing in the Caribbean. 
Unfortunately for Chef Matsuhisa, he hasn't been able to make the normal rounds — or enjoy that favorite delicacy — due to COVID-19 and he's been craving the experience and the dish. "Especially for the last two, three years, I cannot go anywhere, and I miss the Nobu Bahama team," Matsuhisa told Mashed. "Also, I'm missing the conch salad. It's like a signature salad they have. They have a lot of conch salad [varieties], and I miss it," reiterated the chef, who specializes in seafood himself. "Every time I go to the Bahamas, I go straight from the airport to eat [it], then I go to the restaurant and meet the other teams." Thankfully, Chef Matsuhisa will get to indulge again this March as Taste of Paradise makes its return.
This is what makes conch salad so good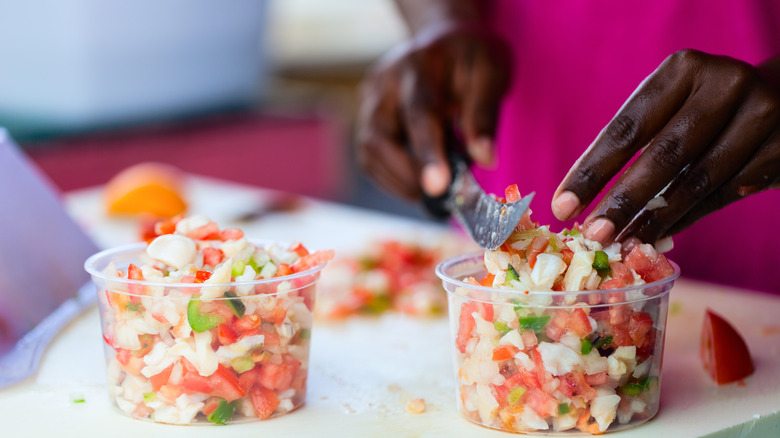 BlueOrange Studio/Shutterstock
If you've never been to the Bahamas and had the chance to order fresh conch salad, you might be wondering what makes the traditional Bahamian dish so special to the masterful chef. According to Tru Bahamian Food Tours, conch salad is made with finely diced conch meat (a type of seafood from the mollusk family), tomato, onion, cucumber, bell pepper, and a spicier pepper like a jalapeño. The mixture then gets seasoned with salt and pepper and tossed in lime and orange juice for a delicious balance of zestful flavors. 
For those who are still curious what conch might taste like, it is certainly different from most other kinds of fish or seafood you may have eaten raw. According to Recipe Marker, conch is similar to a combination of crab and salmon in both taste and texture. The seafood retains some of its saltiness but doesn't have a huge fishy taste. Instead, it has a mild flavor and a soft texture. And with the ingredients the salad calls for, it offers an amazing profile and brings out the best of the seafood too. It's no wonder Chef Nobu Matsuhisa misses the dish so much!
You can attend Taste of Paradise in the Bahamas this March to meet Nobu Matsuhisa.