Charity Morgan's Vegan Strawberry-Orange Shortcake Recipe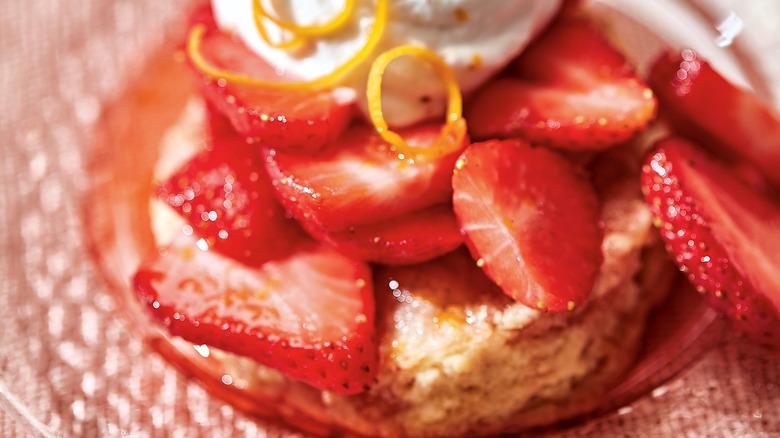 Kristin Casemore
We may receive a commission on purchases made from links.
Chef Charity Morgan's debut cookbook, "Unbelievably Vegan: 100+ Life-Changing, Plant-Based Recipes" is packed with incredibly delicious vegan versions of comfort food. In an exclusive interview with Mashed, Morgan told us about her eclectic family background and how her multi-cultural upbringing impacted her cooking. "We always were eating all these different kinds of foods ... you look at all these beautiful dishes and herbs and spices ... and that's kind of how I was raised..." Morgan trained as a chef at Le Cordon Bleu and toiled at several high-end Los Angeles restaurants before meeting her husband, former Tennessee Titans linebacker, Derrick Morgan. 
When Derrick made the decision to go vegan, Morgan went right along with him, and the scrumptious vegan dishes she prepared for him caught the eyes of his teammates. Soon, Morgan got many of Derrick's teammates on a vegan diet, and when they were both featured in the documentary "The Game Changers," fans world-over were begging her for the recipes she cooked in the film. Morgan's cookbook goes from vegan soup to nuts — all of the recipes are easy to prepare — and she is generously sharing this exquisite recipe for Strawberry-Orange Shortcakes exclusively with Mashed. 
The base for the recipe is Morgan's Butta Biscuits, made with plant-based butter. Strawberries are macerated in organic sugar, and when it's time to assemble, the shortcakes are topped with orange-flavored whipped coconut cream. Morgan told us you can use any other berry, and if you want to get really decadent, drizzle on top her chocolate ganache or salted caramel sauce, the recipes for which are in her cookbook.

Recipe and images courtesy of Clarkson Potter, publisher. 
Charity Morgan's Vegan Strawberry-Orange Shortcake Recipe
Chef Charity Morgan shared her recipe for vegan strawberry-orange shortcake from her debut cookbook, "Unbelievably Vegan," exclusively with Mashed.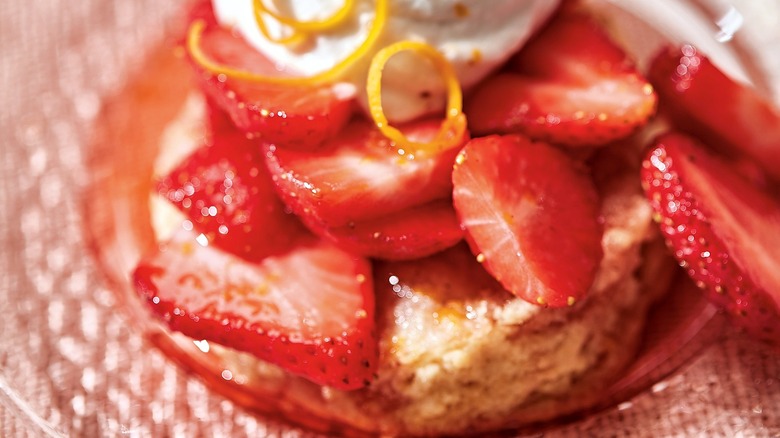 Total time: 1 hour, 20 minutes
Ingredients
For the Butta Biscuits
2 cups self-rising flour, plus extra for shaping
2 teaspoons baking powder
1 teaspoon plus 3 tablespoons organic sugar, divided
¼ teaspoon fine pink Himalayan salt
8 ounces cold plant-based butter, cut into pieces
½ cup unsweetened, unflavored plant-based milk
3 tablespoons plant-based butter, melted
For the Orange Coco Whip
1 (14-ounce) can coconut cream or full-fat coconut milk, chilled
3 tablespoons confectioners' sugar
1 tablespoon vanilla powder, or 2 teaspoons vanilla extract
1 teaspoon orange liqueur or orange juice
For the macerated strawberries
2 tablespoons plant-based butter, melted
½ cup plus 3 tablespoons organic sugar
5 cups fresh strawberries, hulled and thinly sliced
2 teaspoons grated orange zest
Directions
To make the Butta Biscuits, in a large bowl, whisk together flour, baking powder, 1 teaspoon sugar, and pink Himalayan salt.
Add the butter to the flour mixture and use a pastry blender or clean hands (working fast and carefully, making sure the heat of your hands doesn't melt the butter) to cut the butter into the flour until the mixture is the size of small peas. Do not overwork the butter, and make sure it remains cold. Refrigerate the flour mixture for a few minutes if the butter is getting too warm.
Slowly add ½ cup unsweetened, unflavored plant-based milk, working the mixture with a pastry blender or a fork to combine.
When the dough comes together into a semi-smooth ball (don't overwork the dough; you want it pliable and not to form much gluten), shape into a flattened disk.
Cover the bowl and chill in the refrigerator for 10 to 15 minutes.
Lightly dust your work surface with flour. Roll the dough out to a 1½-inch thickness. Using a round 2½–inch biscuit cutter or an upside-down glass, cut out biscuits, dipping the cutter or glass in flour as necessary to prevent sticking.
Place the cut biscuits on the prepared pan, leaving 1 inch between each to allow enough room for expansion. Reroll the scraps and repeat until all dough is used.
Brush the tops of the biscuits with 1 tablespoon of melted butter, and set aside.
When you're ready to bake the shortcakes, preheat the oven to 425°F. Line a sheet pan with parchment paper and evenly space out the biscuits.
Brush the tops of the biscuits with 2 tablespoons of melted plant-based butter, and sprinkle with 3 tablespoons of organic sugar.
Bake for 15 to 20 minutes, until fluffy and golden. Transfer to a wire rack to cool completely.
To make the Orange Coco Whip, chill a stand mixer bowl or large bowl for 10 minutes in the freezer to keep the whip chilled and stable.
When you are ready, open the chilled can of coconut milk. Scoop out all the fat/solids that have solidified into the chilled bowl. Save the liquid for another use.
Using a stand mixer or handheld mixer with a whisk attachment, beat until fluffy and the mixture forms stiff peaks, 1 to 2 minutes. Fold in confectioners' sugar, vanilla powder (or vanilla extract), and orange liqueur or orange juice.
To make the macerated strawberries, in a large bowl, combine 5 cups of sliced strawberries and orange zest. Toss gently to combine. Sprinkle the remaining ½ cup of sugar over the top and gently stir to evenly coat the strawberries. Cover and let stand for 30 minutes at room temperature, or overnight in the refrigerator.
To assemble the shortcakes, split the biscuits in half horizontally. Place a spoonful of strawberries and their juices on the bottom half of each biscuit. Pipe or spoon a dollop of Orange Coco Whip over the strawberries. Cover with the other biscuit half and serve immediately.
Nutrition
| | |
| --- | --- |
| Calories per Serving | 687 |
| Total Fat | 48.5 g |
| Saturated Fat | 34.7 g |
| Trans Fat | 1.2 g |
| Cholesterol | 81.6 mg |
| | |
| --- | --- |
| Total Carbohydrates | 60.8 g |
| Dietary Fiber | 3.9 g |
| Total Sugars | 31.2 g |
| Sodium | 550.3 mg |
| Protein | 6.3 g |