Frozen Waffle Brands, Ranked Worst To Best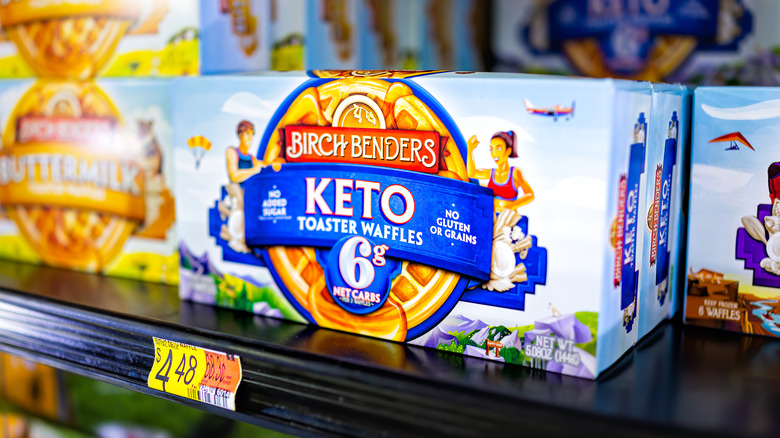 Andriy Blokhin/Shutterstock
We may receive a commission on purchases made from links.
Did you grow up eating frozen toaster waffles on school mornings, like us? We have fond memories of waking up to a glass of orange juice and a frozen Eggo waffle doused in butter and syrup. In adulthood, we are not ashamed to admit that we still enjoy a frozen waffle here and there. How can we resist the ease with which we can prepare them by simply popping them in the toaster? We find they make an excellent breakfast, snack, or dessert. Pro tip: We highly recommend topping a few frozen waffles with ice cream and chocolate sauce if you want to experience an indulgent dessert. And if you can find chocolate chip waffles, holy cow, you won't be disappointed.
Since our childhoods, many more brands have entered the frozen waffle scene. It's not just Eggo anymore, although they are still a major player, as you will see below. Now, when you peruse the grocery store frozen aisle, it can be overwhelming. It is difficult to determine which frozen waffle brand is best for your needs. Are you looking for a healthier waffle option? One that is gluten free? One that is plant based? One that comes in fun shapes or flavors? One with added protein? Are you simply looking for the best-tasting frozen waffle? Don't worry, we've got you covered.
Below, we've rounded up fifteen frozen waffle brands and ranked them from worst to best — and we've taken dietary needs and preferences into consideration. Read on to see which brands top our list!
15. Off the Grid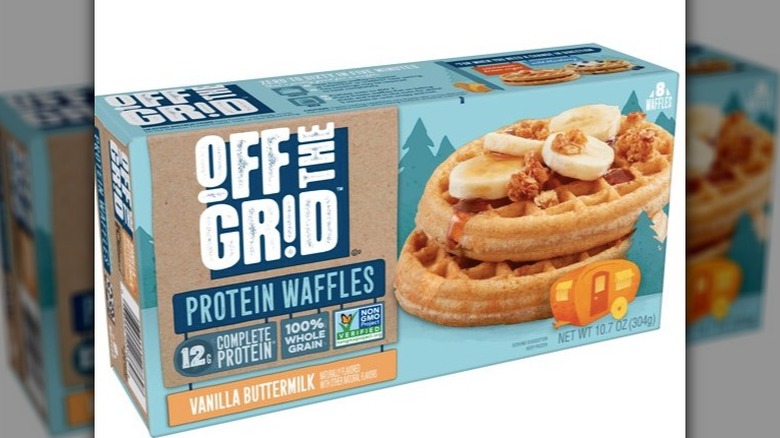 Off the Grid
The Kellogg's brand Off the Grid sells protein-packed waffles made from whole grains. The Vanilla Buttermilk flavor is made with cage-free eggs, whey protein, and whole grains, and is non-GMO, according to Walmart. With 12 grams of complete protein, these have quite a bit of protein compared to other frozen waffles, which are mostly low in protein. By adding protein to your morning stack of waffles, which are mostly carbohydrates, you'll end up with a more balanced breakfast, which can help maintain a healthy weight, according to Healthline.
However, we find that these waffles don't taste great. Because of the addition of whey protein powder, we think that these waffles have an odd texture. While we love that the intent was to include protein in an otherwise low-protein meal, we would rather eat some scrambled eggs on the side of our Eggos than eat these. For this reason, these are at the bottom of our list.
14. Simple Truth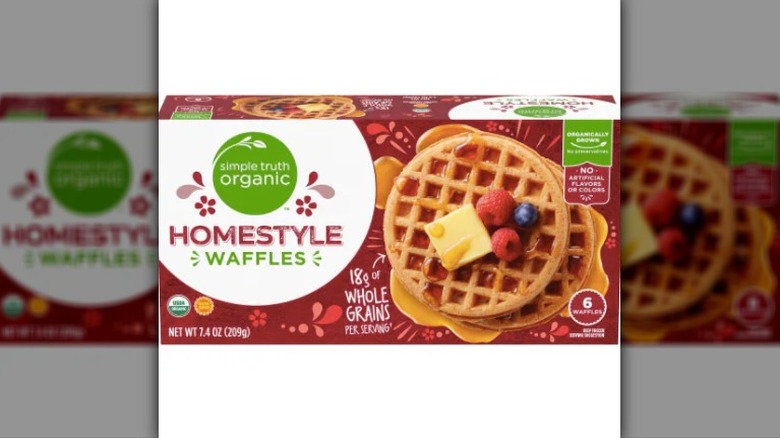 Simple Truth
Simple Truth is the store brand for Kroger grocery stores. They make all sorts of food products, including frozen waffles in regular and gluten free Homestyle and Blueberry varieties.
If we are being honest, these aren't our favorites. They're not particularly bad-tasting, but they do not stand out among the rest. We find them to be just okay. When you compare these frozen waffles to other varieties on this ranking, we think that the Simple Truth ones seem rather boring. Additionally, it seems as though the small product offering of only four types of waffles, is not nearly competitive enough when we evaluate the other brands. We realize Simple Truth is not just in the frozen waffle business, but has to create many other food products — and it shows. If you are in a pinch and need to grab some frozen waffles, these ones will suffice, but they definitely aren't the best of the best.
13. Earth's Best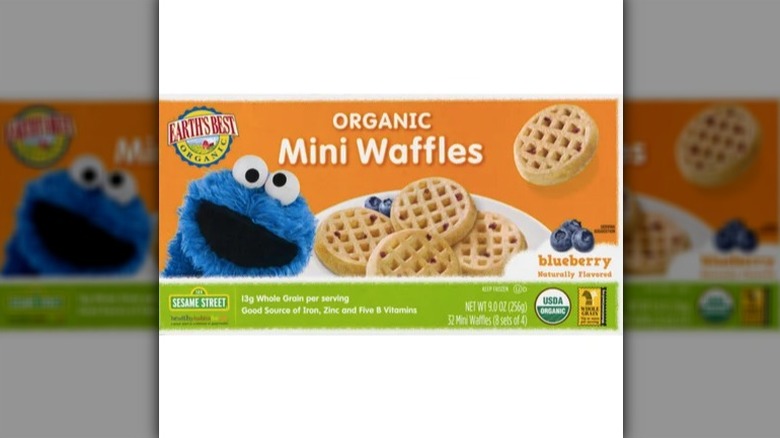 Earth's Best
Earth's Best is a brand that develops a wide variety of healthy children's products, including infant formula, toddler meals, diapers, wipes, and infant meals, according to their website. They offer some organic frozen waffles in Mini Homestyle and Mini Blueberry varieties.
Like the Simple Truth frozen waffles, we think these are good, but not great. We love that their intention is to target healthier products towards children, but the taste of these is not superb. If you really want organic frozen waffles, these are an option, but just keep in mind that the taste is second to many others on this list. You could always load these up with syrup if needed, but we think overall you deserve better. Let's set your sights a little higher and seek out a more satisfactory frozen waffle. Keep reading to see some of the choices we recommend. Some of them are organic, too. 
12. Birch Benders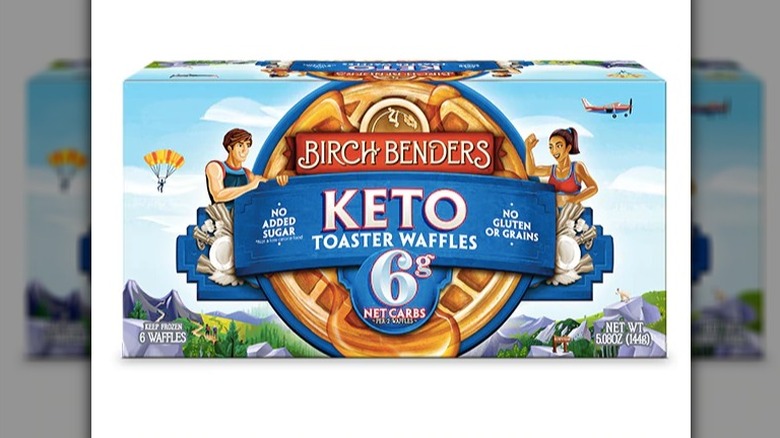 Birch Benders
Birch Benders is a brand that is devoted to healthier baking mixes, pancake mixes, pancake cups, cookies, syrup, and frozen waffles. They cater to the Paleo and Keto diet population. Their frozen waffle line up includes Keto Waffles, Chocolate Chip Keto Waffles, Paleo Waffles, Protein Waffles, Buttermilk Waffles, and Homestyle Waffles.
Per the reviews of the Paleo Waffles on Birch Benders' website, many people love that these waffles are easy to prepare, are more health-forward, and taste really good. Out of the forty reviews, these waffles have received 4 stars out of 5, which is not bad. However, some reviewers note that the texture of these frozen waffles is gritty, like sand. Yikes! Some reviewers mention that they strongly dislike the use of sunflower seed oil in the ingredients, as the inclusion of this ingredient makes these waffles not paleo-appropriate, after all. 
What do we think? They're just okay. The taste is not quite there for us.
11. Van's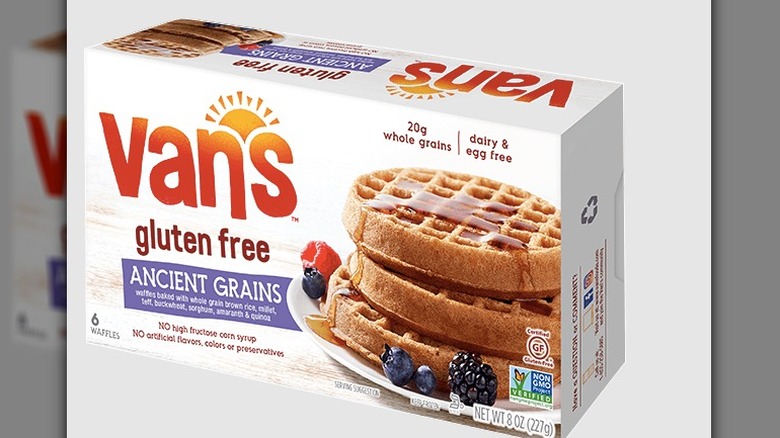 Van's
Van's carries a lot of different varieties of frozen waffles, including Gluten Free Ancient Grains, Gluten Free Blueberry, Gluten Free Original, Gluten Free Apple Cinnamon, Protein Original, Protein Blueberry, Protein Chocolate Chip, and 8 Whole Grains Multigrain, according to their website. As you can see, they cater to a wide range of customers with various dietary needs.
Per Walmart reviews of the Gluten Free Original waffles, these do not appeal to everyone. Out of 24 reviews, these have received a 3.8 out of 5 stars. While some people state that these are a great gluten free alternative, in fact tasting very similarly to Eggo but without the gluten, others complain about disliking the mushy texture. Texture is a difficult element to get right in gluten free foods, so we are not very surprised by this. If you are someone who avoids gluten, these may be the perfect fit for you. If you are not gluten free, no need to choose a gluten free waffle, right?
10. 365 Organic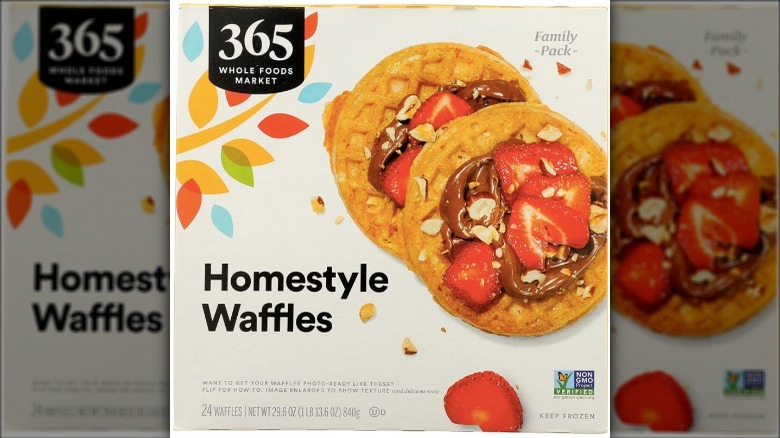 Whole Foods
Whole Foods' store brands, 365 and 365 Organic, offer up their own versions of lots of grocery products, including frozen waffles. The 365 Organic brand offers Mini Waffles, Homestyle, Multigrain Waffles, Blueberry Waffles, and Mini Blueberry Waffles, while the 365 brand also carries a unique offering: Sweet Belgian Waffles, per the Whole Foods' website. Can you say YUM?
Amazon reviews of the 365 Organic Homestyle Waffles, show that some people have complaints about the texture. One reviewer even thought that these were so salty, they tasted like the Dead Sea. What the heck? Otherwise, though, there is a lot of love for these waffles. Many people love that these are made with whole grains, and that they are surprisingly vegan, with extra flaky outsides. We happen to love these ones, so if you are in a Whole Foods, check these out. We doubt they will taste like the Dead Sea to you, but don't take our word for it.
9. Nature's Path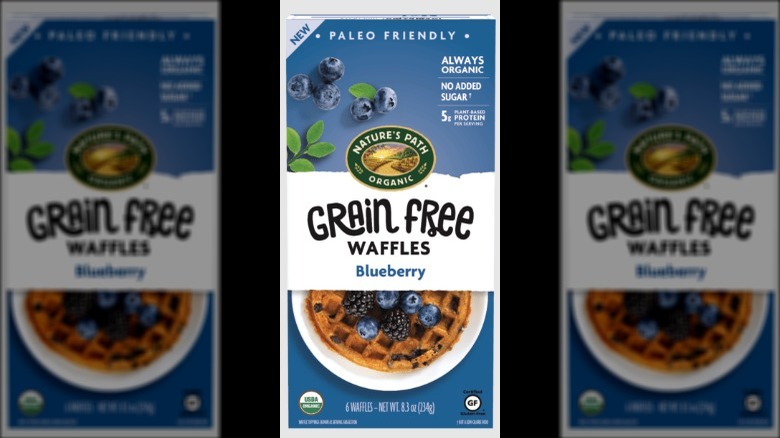 Nature's Path
Nature's Path is known for their organic and gluten free cereals, granolas, oatmeals, granola bars, chips, and toaster pastries. They carry many types of frozen waffles, including Ancient Grains, Maple Cinnamon, Flax Plus, Dark Chocolate Chip, Chocolate Chip Grain Free, Homestyle, Chia Plus, Blueberry Grain Free, Pumpkin Spice, Buckwheat Wildberry, EnviroKids Polar Beary Blueberry, and EnviroKids Penguin Party Cinnamon, according to their website.
We love that Nature's Path offers a large variety of flavors. You never know what type of waffles you will be craving, so you can stock up on a few different kinds. Our favorites are the Buckwheat Wildberry, Flax Plus, and Chia Plus — we're all about increased fiber content.
Per the Amazon reviews of the Buckwheat Wildberry frozen waffles, many people love the flavor. Some reviewers complain of a recent product recipe change that has unfortunately resulted in an unsatisfactory texture. One reviewer even notes that these waffles have the "texture of dry wall." While that's rather harsh, it's something to consider if you are used to a normal, gluten-filled, fiber-free waffle. We love these, but note that if you are not used to whole grain waffles, they might not be for you.
8. Good & Gather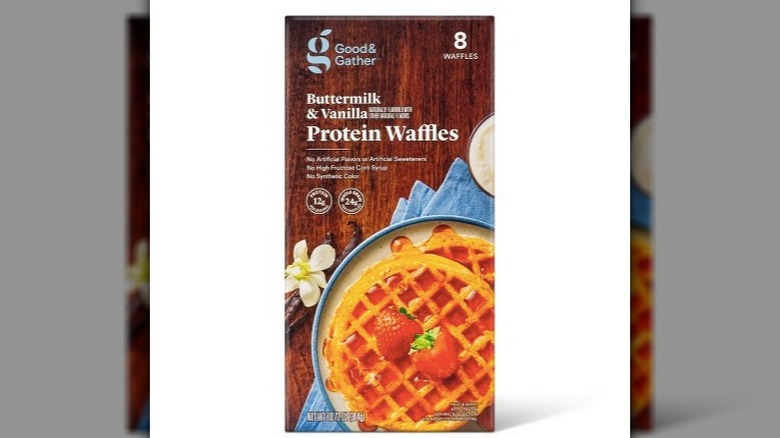 Target
Good & Gather is one of Target's store brands. They carry a multitude of products — including many frozen waffle options. Some varieties of waffles they offer include Gluten Free Regular, Double Chocolate Belgian, Buttermilk, Blueberry, and Homestyle, according to their website. Double Chocolate Belgian waffles? Count us in. 
Since we have yet to try these, we took a look at the reviews of this product. According to reviews of the Double Chocolate Belgian waffles on the Target website, many reviewers go nuts for these waffles. Some reviewers note that you do not need to eat these with syrup as they are plenty sweet without it. Others note that they are a great way to satisfy chocolate cravings, especially since they contain chocolate chips inside the waffles too. We can get on board with these! However, there are a few reviewers that find these waffles dry and bland.
7. Trader Joe's
Ah, Trader Joe's, one of our favorite grocery stores. Trader Joe's is known for their specialty products and unique product offerings. However, sometimes we forget that Trader Joe's nails the grocery staples as well. Trader Joe's carries Multigrain and Gluten Free frozen waffles.
We swear by the Multigrain frozen waffles for an easy breakfast option. We love these particularly for a quick "breakfast for dinner" meal on weeknights when nothing is prepared. What's so interesting about these Multigrain waffles is that the whole grains are basically undetectable. We know how picky kids can be, but we've noticed that kids do not suspect the whole grains in these waffles, making them an ideal kid-approved healthy meal.
Because of this, we have placed these frozen waffles near the top of our list. While they aren't very unique, they are tried and true. We rely on these frozen waffles, and we're sure you will too. Next time you are at Trader Joe's, stock up on these.
6. Annie's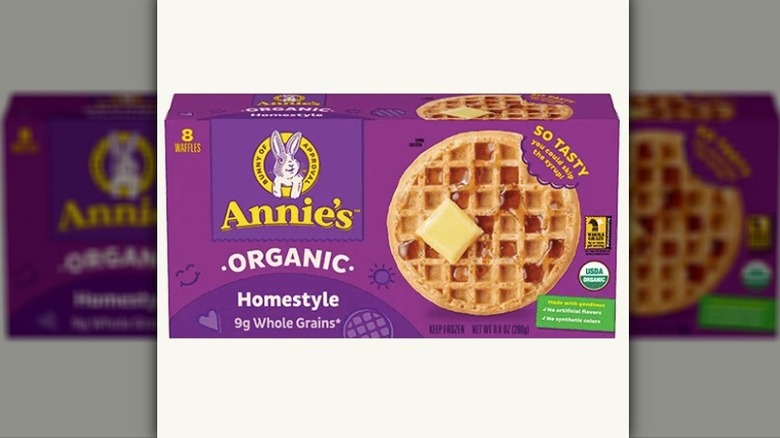 Annie's
The Annie's brand focuses on making healthier versions of popular foods, targeted toward kids. But that doesn't mean adults can't enjoy their healthy breakfast treats. According to their website, they carry two types of frozen waffles: Strawberry Shortcake, Homestyle, Blueberry, and Birthday Cake. They boast that these waffles are organic, contain 9 grams of whole grains per serving, and are free of artificial flavors and synthetic colors.
As you can see, Annie's is definitely marketing towards the healthier crowd. So how do they taste? Well, great! We love these. They are very tasty and much more hearty than a classic Eggo waffle. This is likely because of the addition of whole grains. We find that these waffles keep us fuller for longer, which is a major plus. Additionally, we don't feel as bad eating them due to the added health benefits. Because of these reasons, we've placed them near the top of our rankings. We don't think these are just for kids. Adults, feel free to indulge as well.
5. Kodiak Cakes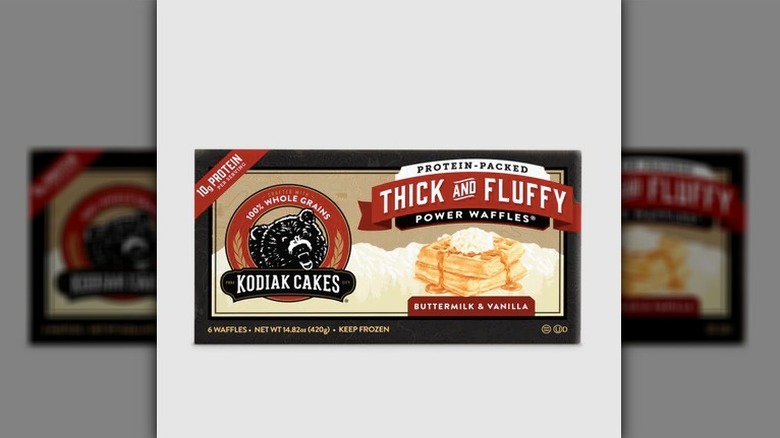 Kodiak Cakes
Kodiak Cakes is known for protein-packed pancakes and waffles. They carry a variety of frozen waffles, including Thick & Fluffy Birthday Cake, Thick & Fluffy Chocolate Chip, Thick & Fluffy Blueberry, Thick & Fluffy Buttermilk & Vanilla, Plant-based, Gluten Free Oat, Homestead, Blueberry, Chocolate Chip, Cinnamon, Buttermilk & Vanilla, as well as Dark Chocolate, per their website.
These waffles, while packed with protein in the form of whey protein concentrate and wheat protein isolate, do not taste of gritty protein powder. We actually find these fairly tasty. Apparently we are not alone, as reviews of the Buttermilk & Vanilla waffles on Amazon show that many people love these frozen waffles. Reviewers note that they are very filling due to the protein — and they taste good. While some note that these taste too "healthy" and one even says that these taste like "cardboard," we feel these reviews are the outliers. Most people, us included, love these frozen waffles.
4. Kashi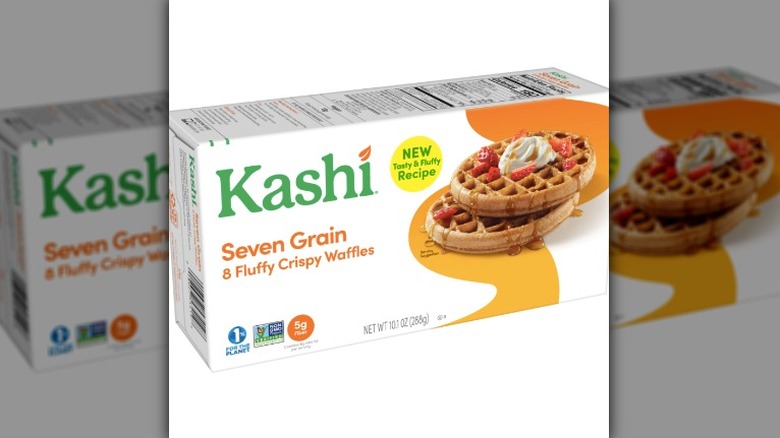 Kashi
We love the Kashi brand! Kashi makes many wholesome and healthy cereals, protein bars, frozen entrees, and frozen waffles packed with whole grains. Their waffle varieties include Blueberry, 7 Grain, Protein Cinnamon Brown Sugar, Protein Wild Blueberry, Protein Vanilla Buttermilk, Gluten Free Original, and Gluten Free Cinnamon, according to their website.
According to the Amazon reviews of the 7 Grain frozen waffles, there is a lot of love for these waffles. Out of 1548 reviews, this product received 4.5 out of 5 stars. That's pretty darn good. Many reviewers seem to love that these are "healthier" waffles containing a good amount of protein and fiber. While some reviewers note that they find these waffles bland, most reviewers mention that they are very tasty. We happen to love these waffles in terms of their nutritional facts, but also because of their taste. Take our word for it. These are great!
3. Kid Fresh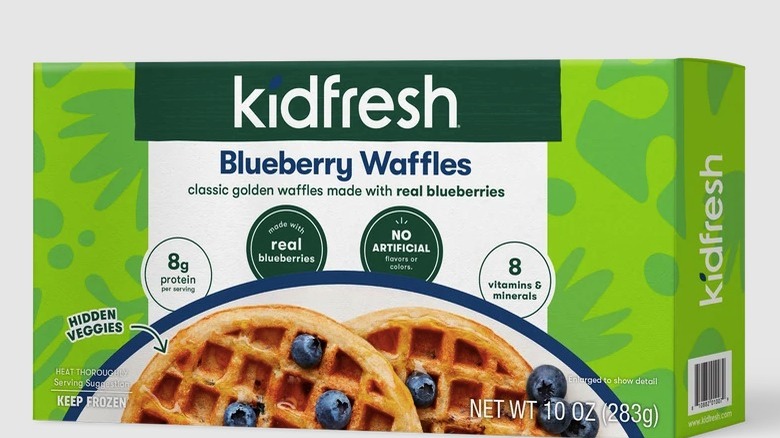 Kid Fresh
Kid Fresh is a brand of frozen kids' meals that are sneakily healthier for little kiddos. They add hidden veggies into all of their meals, and carry two types of frozen waffles, including Homestyle and Blueberry, according to their website. Both varieties contain protein, hidden pureed butternut squash, whole grains, iron, calcium, and no artificial colors and flavors.
We love this Kid Fresh brand! Not only are these meals healthy, but they truly taste good. We love that they add hidden veggies to every meal, and we are even more in love with the fact that our kids cannot detect them. We bet kids and adults alike will love these waffles! While these are a bit more pricey, we feel that these frozen waffles are worth it. If you ever see them when out shopping, grab a few to try. We know you will be hooked, just like us.
2. Julian's Recipe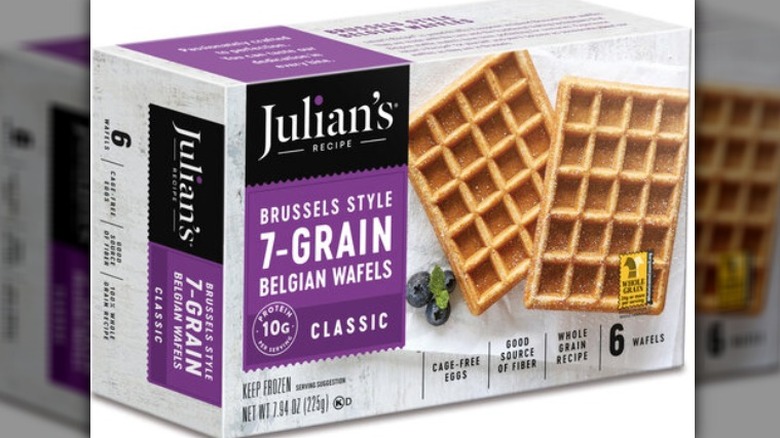 Julian's Recipe
Julian's Recipe carries many types of fancy frozen waffles, including Original Cauli-Waffles, Maple Brown Butter Cauli-Waffles, Vanilla Belgian Pastry Waffles, Cinnamon Belgian Pastry Waffles, Chocolate Belgian Pastry Waffles, Maple Belgian Pastry Waffles, Protein Brussels Style Waffles, 7 Grain Brussels Style Waffles, Paleo Brussels Style Waffles, and Paleo Matcha Brussels Style Waffles, according to their website.
According to Amazon reviews of the Maple Belgian Pastry Waffles, many people think these are worthy of hunting down. Reviewers mention that the waffles are dense, perfectly sweet, crunchy, and contain delightful sugar crystals sprinkled on top. Mmm, say no more. We are hooked! While there are many reviewers who mention these have the perfect texture, some reviewers say these are not flaky enough. We think that overall, these waffles are delicious, so we've placed these near the top of our rankings. Of course, you can give these a try yourself to see how they stack up.
1. Eggo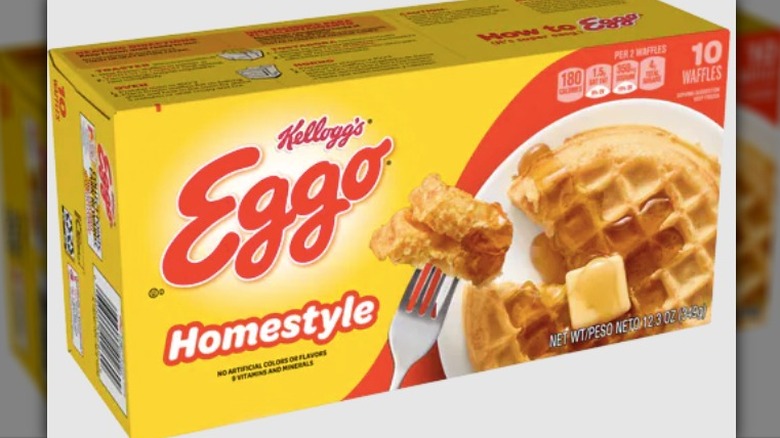 Eggo
When you think of frozen waffles, we bet you think of Eggo first! This brand is such a classic in the frozen waffle space. This Kellogg's brand carries many different varieties of their popular frozen waffles, including Homestyle, Buttermilk, Blueberry, Strawberry, Cinnamon Toast, Mini's, Chocolate Chip, Apple Cinnamon, Mickey Mouse, Paw Patrol, and Emoji, according to their website.
We love Eggo waffles. These made up the breakfast of our childhood, and that nostalgia carries a lot of weight in this ranking. But to be fair, and include some other thoughts, we looked at some reviews of the buttermilk Eggo waffles from Walmart. Out of 424 reviews, these received 4.8 out of 5 stars. Many people love these waffles. One reviewer notes that there is "nothing better than butter melting in the holes" and we have never related to something so much in our lives. Is there anything better than the butter melting in the Eggo waffle holes? According to the reviews, kids and adults go nuts over these waffles. L'eggo my eggo!