Fans Of Jack In The Box's Mint Oreo Shake Will Love This News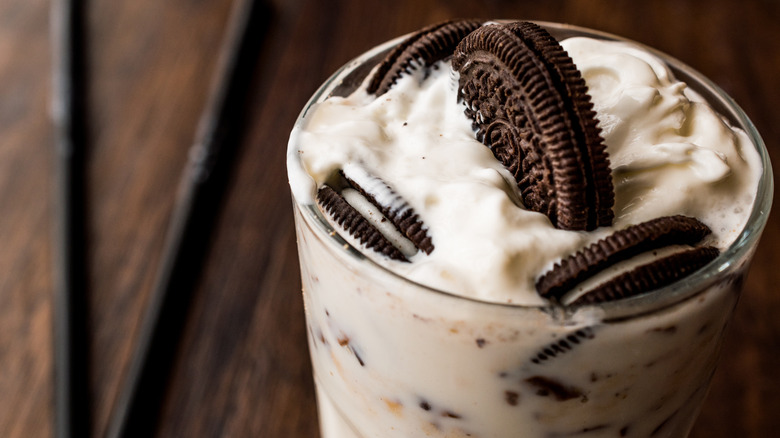 Alp Aksoy/Shutterstock
If you live in the western half of the U.S., you are likely familiar with Jack in the Box. Although its clown mascot may be a little unsettling, this fast-food chain has a lot to offer. Whether you're craving tacos, churros, burgers, chicken nuggets, cheesecake, fries, or a sandwich, Jack in the Box's menu has you covered.
Similar to fast-food giant McDonald's — whose menu is nowhere near as diverse — Jack in the Box also offers some amazing milkshakes. In addition to the standard vanilla and chocolate milkshakes, Jack in the Box serves up strawberry milkshakes and Oreo cookie milkshakes.
Of course, no milkshake menu would be complete without seasonal flavors. Jack in the Box brings back its pumpkin pie and eggnog milkshakes each fall (via Restaurant News). The chain periodically also brings back remixes of its Oreo shake in peppermint and mint flavors. Those who love the mint Oreo shake will be ecstatic to know it's returning to the menu. 
It's not shamrock season without a mint shake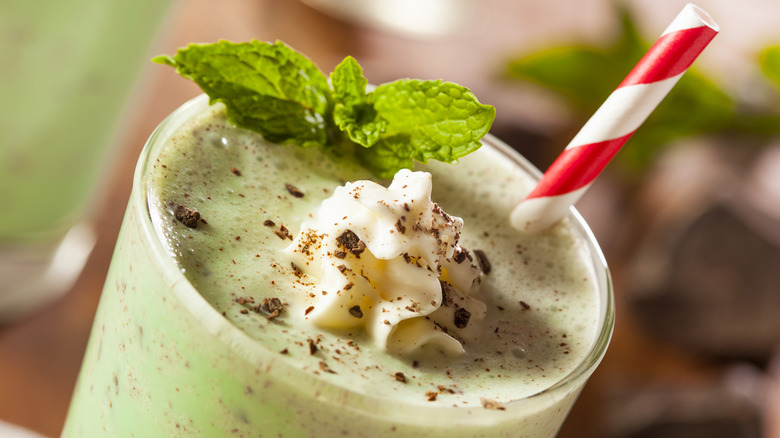 Brent Hofacker/Shutterstock
Jack in the Box is bringing back its mint Oreo shake in preparation for St. Patrick's Day, says Brand Eating. Sure, the milkshake is a lot like McDonald's Shamrock Shake, with its green coloring, whipped cream topping, and maraschino cherry, but the Jack in the Box one-ups McDonald's with the inclusion of Oreo bits.
Since its introduction in 2011, per Brand Eating, Jack in the Box's mint Oreo shake has been stealing hearts across the West Coast. Unfortunately, this particular menu item is only available for a short period of time — or is it? According to Wide Open Eats, the mint Oreo shake may actually be available year-round if you know about the secret menu.
It's worth noting, however, that not all Jack in the Box locations keep mint ice cream on hand when the mint Oreo shake is not on the regular menu. So if you really love Jack in the Box's mint Oreo shake, your best bet is to get one while it's on the limited-time seasonal menu or make your own at home.