Reba McEntire's Post-Concert Snack Has Fans Laughing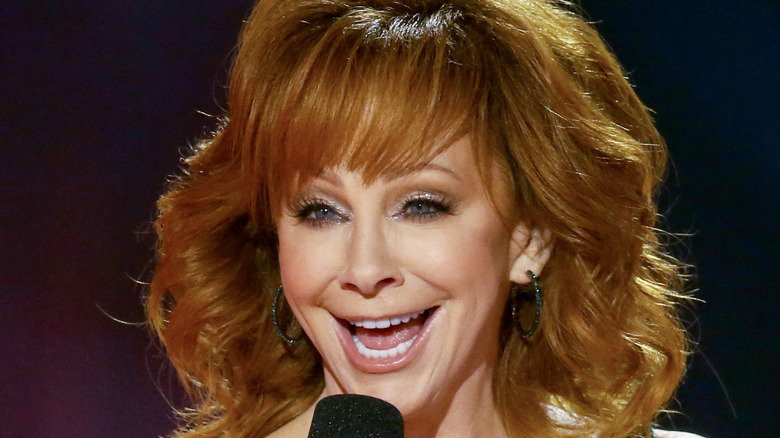 Terry Wyatt/Getty Images
Country musician Reba McEntire is undoubtedly a food enthusiast. The singer announced in 2021 that she's working on her new restaurant, Reba's Place, a "combination restaurant, bar, live music venue and retail store" that is set to launch in Atoka, Oklahoma this year. According to the restaurant's website, guests will be able to dine in a 100-year-old Masonic Temple while listening to live musicians and sampling dishes such as chicken fried steak, street tacos, pinto beans, cornbread, and more. 
In terms of McEntire's personal food preferences, she loves feasting on a hamburger, a glass of strawberry malt, and some fries (via Taste of Country). She also doesn't say no to a comforting bowl of green and pinto beans, turkey meat, and corn with Mexican cornbread on the side. As she told Parade, "I love that, and if you put a little fried potatoes in there and a big old glass of iced tea, I'm a happy camper."
There's another dish that she absolutely loves. In fact, the musician recently proclaimed on Twitter her love for the dish after finishing a concert.
She's rooting for chicken tenders
Reba McEntire took to Twitter to share a photo of herself relaxing after a concert and wrote a simple but winning caption: "Winner winner chicken tender!!!" This shouldn't come as a surprise; some of her fans may recall that the musician starred in a commercial for KFC in 2018 and was cast as the brand's founder, Colonel Sanders (via CNN). She said, "I grew up with Kentucky Fried Chicken ... I've held a lot of roles in my life — sort of like the Colonel himself — but this is certainly the most unique one yet."
McEntire has definitely managed to appeal to her fans with her latest tweet. Someone wrote that they're tempted to eat some chicken tenders as well, while another fan joked, "Happy for you living your best life and looking fly but if you're eating them without any sauce I've lost a lil' bit of respect, man." Several others wondered about her dip of choice also and hoped that she wasn't eating chicken tenders on their own.