Simple Shrimp Stock Recipe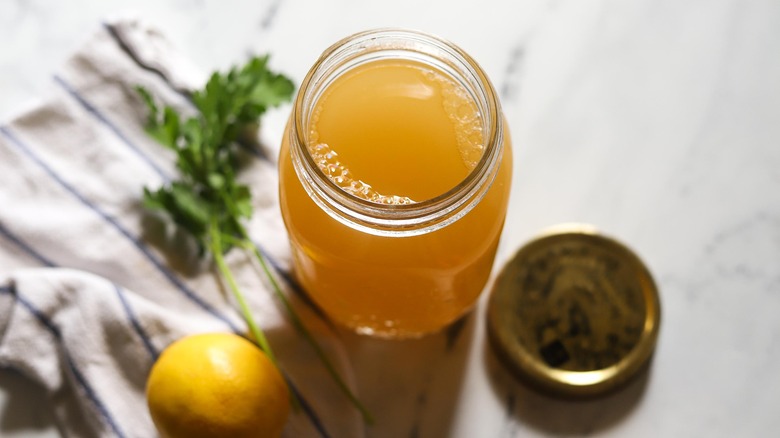 Kit Hondrum/Mashed
You've heard of chicken stock, beef stock, and vegetable stock, but have you ever tried shrimp stock? You can now, thanks to this simple and delicious recipe from recipe developer and blogger Kit Hondrum. "I love how easy this recipe is and how you can throw some cooking scraps together to make a delicious stock," says Hondrum.
While you can use this shrimp stock in a variety of dishes, it's traditionally part of Cajun and Creole cuisine, and can be found in dishes such as shrimp etoufee and shrimp gumbo. If you don't live on the Gulf Coast and don't have access to fresh shrimp, you might not know the rich culinary traditions that have sprung up around the humble prawn. You only need a few pantry staples, some shrimp, and less than an hour. Whether you're an old hand at making stock or making your first steps beyond the bouillon cube, this recipe is for you!
Gather your ingredients for shrimp stock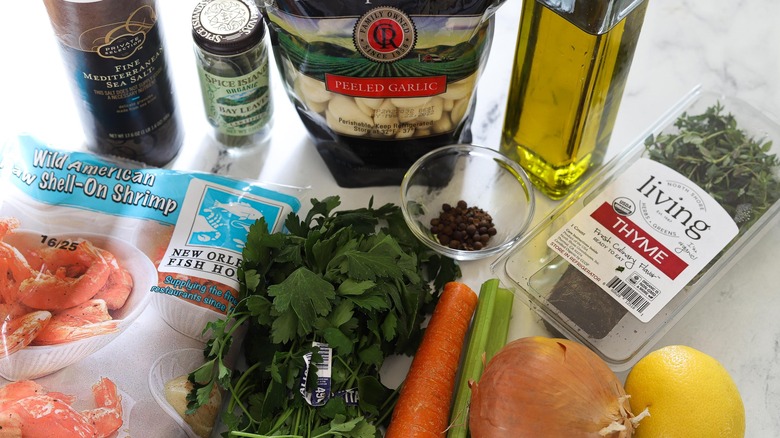 Kit Hondrum/Mashed
For this recipe, you'll need fine sea salt and peppercorns. You'll also need two bay leaves, a large yellow onion (leave the peel on!), a stalk of celery, a medium-sized carrot, one sliced lemon, and fresh parsley, garlic cloves, fresh thyme, and olive oil.
And last but certainly not least, you'll need 2 to 3 ounces of shrimp shells. The shrimp shells should ideally come from raw shrimp and not from cooked shrimp to get the best flavor in your stock. "This recipe works with just shells, but bonus points if you also have heads! They add a lot of flavor," says Hondrum. "Do keep in mind that head-on shrimp need to be super fresh. The longer the heads are on the mushier the flesh can become, so that's why they are usually sold without heads."
Start cooking the stock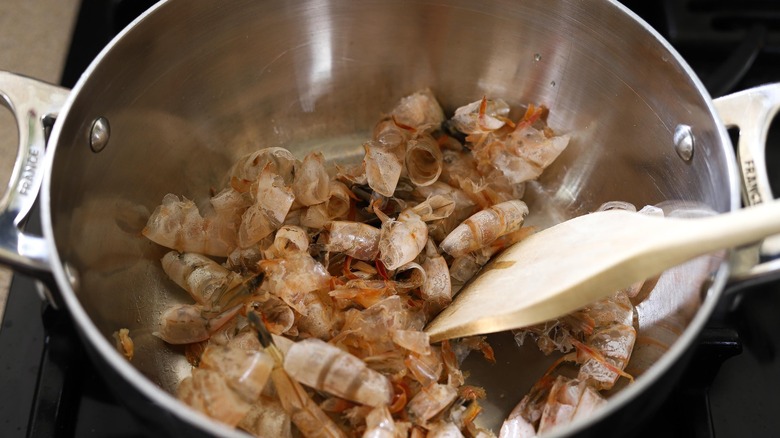 Kit Hondrum/Mashed
Heat the teaspoon of olive oil in a large stockpot over medium-high heat. Add the shrimp shells to the pot once the oil is hot, and sauté the shells for about one minute. After that minute is up, add the rest of the ingredients, cover with 6 cups of water, and stir everything together. Bring the pot to a boil, and reduce the heat to a simmer, or about medium-low heat.
Simmer the stock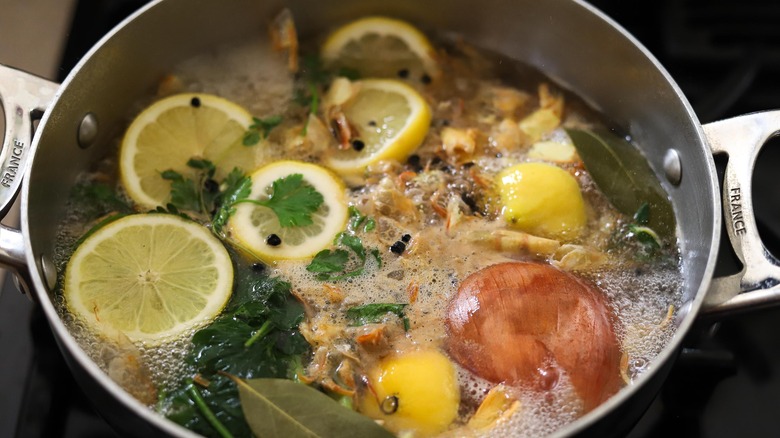 Kit Hondrum/Mashed
Simmer the pot, uncovered, for about 45 minutes. If you've made chicken or beef stock before and that seems like a short amount of simmering time to you, don't worry, you don't need your eyes checked — you read that correctly. "Although 45 minutes seems like a short time for a stock, since this is just shrimp shells and not something that needs to be broken down over time like beef or chicken bones, the stock doesn't need more time since all the flavors will be well-extracted around the 45 minute mark," Hondrum says.
Sift, store, and serve the stock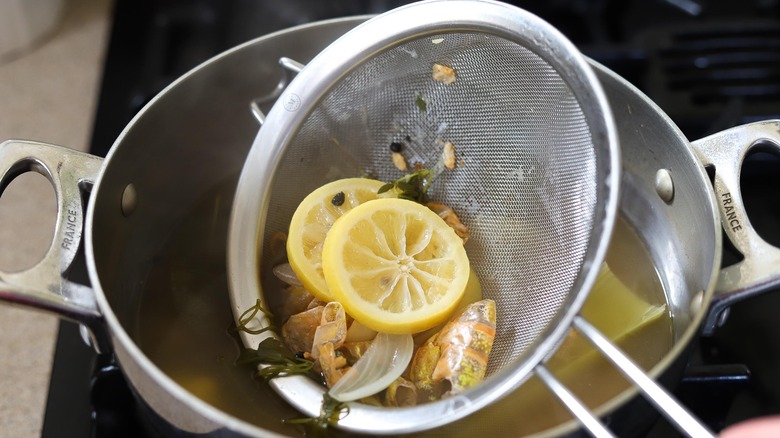 Kit Hondrum/Mashed
After the 45 minutes are up, remove all solids from the pot with a mesh strainer. If you want to filter the stock even more, you can pour it through cheesecloth – Hondrum recommends securing cheesecloth over a large jar using a rubber band.
This shrimp stock should last in a sealed container in the refrigerator for up to four days or in the freezer for up to three months. "This recipe is great to use in a risotto, for a soup base, or even to boil a homemade pasta," Hondrum says. "I love the flavor that this gives to dishes! It's subtle and does not have a strong seafood flavor."
Simple Shrimp Stock Recipe
This simple shrimp stock is packed with flavor and comes together in just 45 minutes.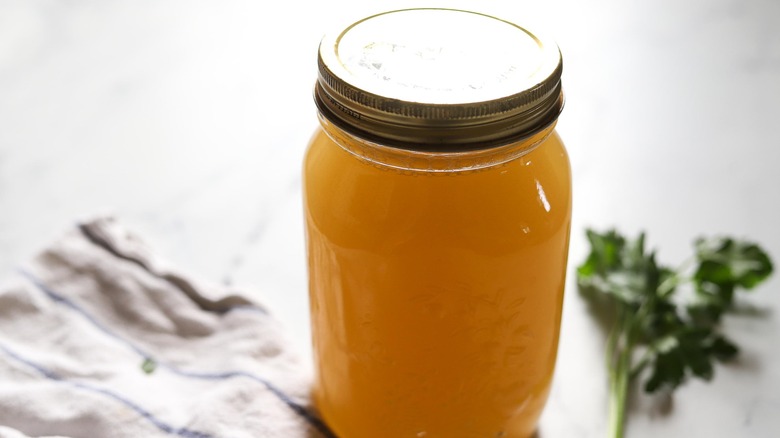 Ingredients
1 teaspoon olive oil
2 to 3 ounces (2 cups) shrimp shells
1 stalk celery
1 medium carrot
1 lemon, sliced
½ large yellow onion (with peel)
4 cloves garlic
4 sprigs fresh thyme
1 small bundle fresh parsley
2 bay leaves
6 cups water
2 teaspoon fine sea salt
2 teaspoon peppercorns
Directions
Heat 1 teaspoon of olive oil in a large stockpot over medium-high heat. Once the oil is hot, add the shrimp shells and sauté them for about 1 minute.
Add the remaining ingredients and stir.
Bring the pot to a boil over high heat, and then reduce to a simmer (about medium-low heat) and allow to simmer uncovered for 45 minutes.
Remove all solids from the pot using a mesh strainer and discard. Carefully pour the stock through cheesecloth to filter it more, if desired.
Store the stock in a sealed container in the refrigerator for up to 4 days, or in the freezer for up to 3 months.
Nutrition
| | |
| --- | --- |
| Calories per Serving | 2 |
| Total Fat | 0.1 g |
| Saturated Fat | 0.0 g |
| Trans Fat | 0.0 g |
| Cholesterol | 0.9 mg |
| | |
| --- | --- |
| Total Carbohydrates | 0.3 g |
| Dietary Fiber | 0.1 g |
| Total Sugars | 0.1 g |
| Sodium | 63.4 mg |
| Protein | 0.1 g |