Chef Dani Garcia Explains The Inspiration For His New Restaurant - Exclusive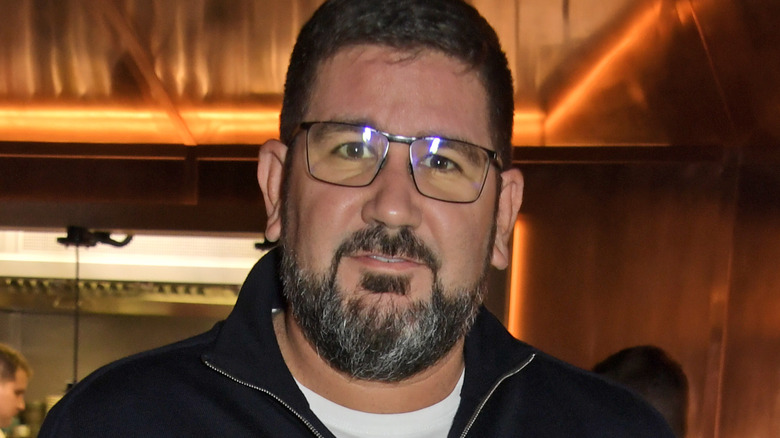 David M. Benett/Getty Images
Chef Dani Garcia loves bringing the unique flavors of his native Spain to diners around the world. And when those tastes have his own original, often unexpected twists, it's an even greater thrill — also helping him to nab an impressive three Michelin stars along the way. So, anyone that manages to grab a spot at Garcia's new 160-seat restaurant in Manhattan, simply called Casa Dani, can count on some pretty amazing eats. During a recent exclusive interview with Mashed, Garcia was asked what the inspiration is behind the menu, to which he said, "At Casa Dani, we focus on what we would like people to know about Spain that they don't know."
Asked for specific examples, Garcia turned first to fish. "On the one hand, tuna. [I] live in Spain in the best tuna fishing area, 120 kilometers from my house, where the best almadraba tuna is caught. This is something that many people outside Spain probably don't know about, and it was something we wanted to transmit. Then there is also the issue of rice, [there is a] perception of a type of paella that is not realistic in comparison to the real paella, the socorrat type, [made with] more airy, thinner rice, where it's almost sautéed at the end, where it stays just right. We really wanted to show that part of the rice dishes."
And, of course, Garcia made sure his new menu includes classic dishes that always please diners and leave them wanting to come back for more.
The Casa Dani dishes to try and a hopeful future for restaurants
Taking a look at the menu at Casa Dani, it's clear that Dani Garcia and his team have assembled a knockout for New York City's newest upscale Spanish-Mediterranean restaurant. It's hard to imagine having to pick just a few dishes to try — and even harder would be choosing just one. Which is why we put the chef on the spot to answer that tough question: What is the one dish guests simply must try? Though, it wasn't that hard for him to answer. "Undoubtedly the oxtail brioche," Garcia told Mashed. "This is the dish that has been with us since its creation in New York almost a decade ago, and is undoubtedly a best seller wherever it goes. We have it in Bibo restaurants (in Marbella, Madrid, Doha, London, [and] Ibiza), and in the delivery line that we have in Spain, and without a doubt it had to accompany us on our return to New York."
And when Garcia was asked how he was feeling about the restaurant business in general these days, he took a positive tone, and said, "We, in Spain, live within a certain normality — for quite some time now, restaurants have been operating with their normal opening hours. Sometimes, it is compulsory to ask for a COVID passport, etc., [but] the functioning is relatively normal so I have no doubt that the waters will return to their course."
And with things getting safer and safer Stateside as well, ideally soon diners will be flocking back to restaurants all across America, including Casa Dani to try that signature dish.
Check out the menu of and book a table at Casa Dani, the chef's new restaurant at Citizens New York.