Old Bay Vodka Is Now A Thing And Fans Don't Know What To Think
If you're fond of seafood or live on the East Coast — particularly Baltimore, Maryland — chances are you've shaken Old Bay seasoning over your fare to give it an extra punch of salty, sweet, and umami flavors all rolled into one. Old Bay is a special blend of 18 herbs and spices, including dry mustard, celery salt, black pepper, cinnamon, ginger, cayenne pepper, paprika, and bay leaves, according to Greatist.
Since its introduction in 1939, the definitive relish has become a well-loved Baltimore staple that has made its way around the world, much to the delight of restaurant patrons and everyday consumers. In addition to enlivening just about any food it touches, including but not limited to crabmeat, chicken, popcorn, macaroni and cheese, deviled eggs, corn on the cob, and countless other dishes, Old Bay is also commonly used to brighten Bloody Mary's, rim martini glasses, and even offer desserts and candies a robust tang.
But the famous Charm City brand's latest venture is one that has already been turning heads. On March 3, 2022, Old Bay announced the launch of its new vodka on its social media channels, and fans are already weighing in.
Fan reaction has been mixed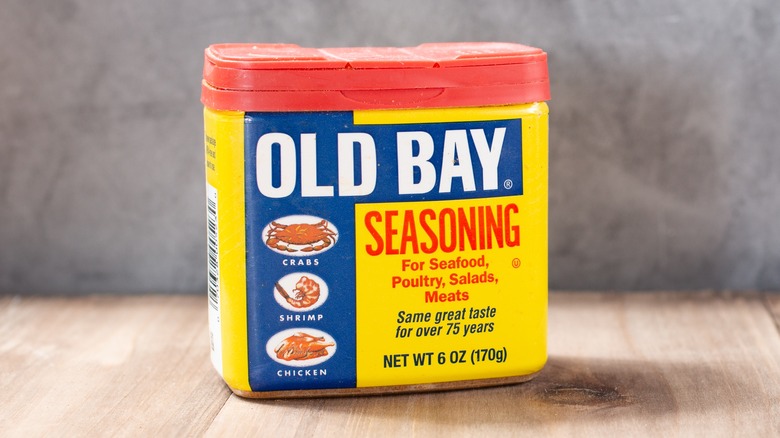 TonelsonProductions/Shutterstock
George's Beverage Company out of Hanover, Maryland, announced its partnership with McCormick-owned brand Old Bay to launch Old Bay Vodka, which boasts a 35% ABV level, according to a news release. The brand's official website describes the spirit as a "six-times distilled, smooth, crisp vodka with the iconic flavor of your favorite seasoning blend."
Upon hearing the news, fans have been commenting on the Old Bay Instagram post to share their thoughts on the boozy beverage — and the reactions are as mixed as the seasoning itself. One user wrote, "Best bloody Marys everrrrr." Another chimed in with, "I don't even drink, but I'm going to have to buy this." There are a couple of vomiting emojis in the comments section, but perhaps those folks can continue to sip their plain, flavorless liquors.
This isn't the first time Old Bay-infused vodka made its way to shelves. Back in 2013, Philadelphia Distilling created The Bay, a vodka that was steeped with "Chesapeake seasonings" that resembled the taste of the iconic spice blend. It was sold to consumers in Baltimore and Washington, D.C. (via Baltimore Magazine).
Infused vodkas are surely a work of art and make exciting ingredients for sweet and savory cocktails. If you're daring enough, you might also enjoy it straight, too. Imbibers are certainly curious to find out how this new Old Bay spirit will taste.