Growing A Mullet Could Win You A Year's Worth Of Free Beer. Here's How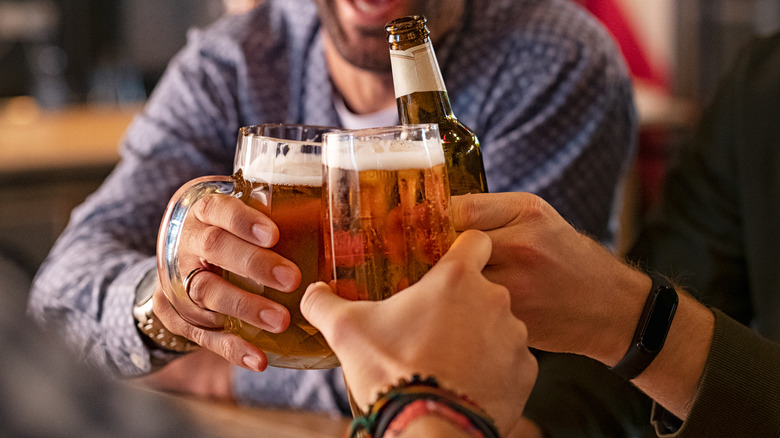 Rido/Shutterstock
When it comes to scoring free beer, you have a few options at your disposal. You could help a friend move and get them to buy you a beer, although maybe just buying it yourself without having to move heavy furniture would be easier. Other options include getting accredited as a beer judge and rating homebrews in competitions, or you can try dating a local bartender who perhaps will give you free beer (per Men's Journal). If these not-so-great ideas fail, you could decide to grow out a mullet in hopes that Natural Light takes note and offers you free beer for a year.
Food & Wine reports that Natural Light has relaunched its flagship beer that first graced shelves back in 1977. Some people may consider this a cheap beer brand that they'd never drink, but others will rally for this brew — and on social media to boot. 
The company is celebrating the time period that gave birth to this unforgettable beer with an equally unforgettable haircut with a giveaway. Fans 21 and older that get a mullet, or already have one, can post their picture to social media to enter a sweepstakes in which Natural Ice states via Twitter "Get a mullet and we'll cover the cost of the haircut AND send you beer for every month you keep it going this year."
Free Natural Light may be as easy as keeping your haircut
The beer brand's tweet shows one of its vintage beer cans wearing a mullet, and asks fans to reply with pictures of themselves or loved ones with photoshopped mullets. Natural Light fans are up to the challenge, as many posted pictures of themselves. In addition to showing off the mullets, the beer company decided to cleverly caption each photo with text like "Clear eyes, full flow, can't lose" and "you're breaking billy ray's achy breaky heart with this beauty." The Twitter account even went as far as posting some celebs with mullets, and we are loving Martha Stewart's new (photoshopped) 'do.
Will many free-beer seekers of the legal drinking age start growing out their hair in hopes of scoring cases of Natural Light for a year? According to Food & Wine, those interested in doing so can enter the contest through Facebook, Instagram, or Twitter by tagging their photos with #NattyVintage and #Sweepstakes. The company will gift 100 participants a prepaid card to cover the haircut and another card to buy beer with. The winners can then continue posting mullet photos through 2022 to keep entering to win. Natural Light only plans to keep the contest going for nine months, with fewer winners each month. For the lucky winners, this could be the easiest free beer score ever, but for those who refuse to change their 'do, looks like you'll be paying for your beer to sip on.