Only 4% Of People Think This Is The Best Brand Of Ketchup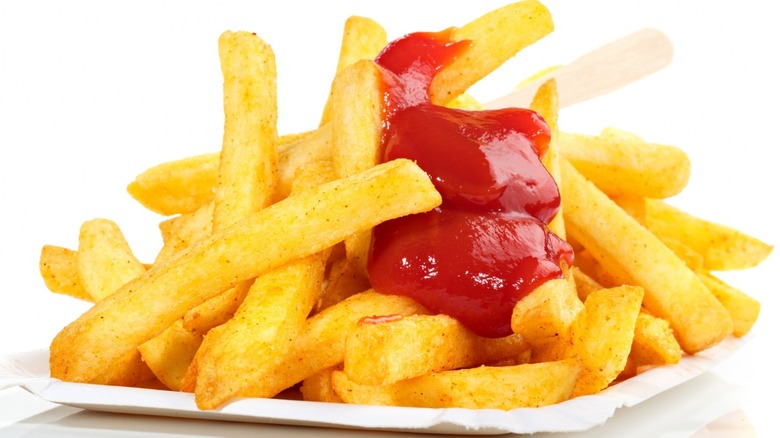 Food Impressions/Shutterstock
We may receive a commission on purchases made from links.
What do burgers, sandwiches, salads, and chicken nuggets all have in common? They all taste better with the addition of a condiment or two (at least, to some people). Whether it's a dollop of relish on a hot dog or a cup of ranch for dunking your fries into, there's no denying that a condiment can instantly add more flavor and sauciness to a meal. One of the most popular in the U.S. is ketchup. A survey by Instacart revealed that it's the number-one condiment Americans would eat for the rest of time if they had to pick just one. It makes sense, given how many uses there are for the tomato-based spread, from squirting it on a cheeseburger to stirring it into other sauces.
Not all ketchup is created equally, however. Mashed polled more than 600 Americans to determine the best ketchup brands you can buy at the grocery store. While Heinz — which has been around for more than 100 years — was the clear winner, other brands still have their share of loyal customers. Here's which one just 4% of people say is their favorite ketchup.
Del Monte ketchup has a small fanbase
Of all the ketchup brands, Del Monte has captured a small but devoted group of fans, accounting for 4% of the votes in Mashed's survey. While the brand is best known for its canned fruit products, it also makes ketchup that's free of artificial flavors and preservatives. Del Monte ketchup has hundreds of rave reviews from Amazon shoppers, who gave it an average 4.6-star rating. "It just has a good sweeter taste. Sort of reminds us of McDonald's ketchup," one person explains. One potential reason for why Del Monte only earned 4% of respondents' votes is that it can be hard to find. Many reviewers noted that it's rarely in stock in their local stores, so they have to order it online.
How did the other popular ketchup brands stack up in Mashed's survey? Heinz was by far the favorite, raking in 75% of the votes. Second place went to Hunt's, which was far behind with 12% of the votes, followed by French's with nearly 4% and Sir Kensington's with 2%. Target's Market Pantry ketchup fell in last place, with just over 1% of people choosing it as their go-to brand.