The Mumbai Food Stall That Uses 14,000 Eggs Every Week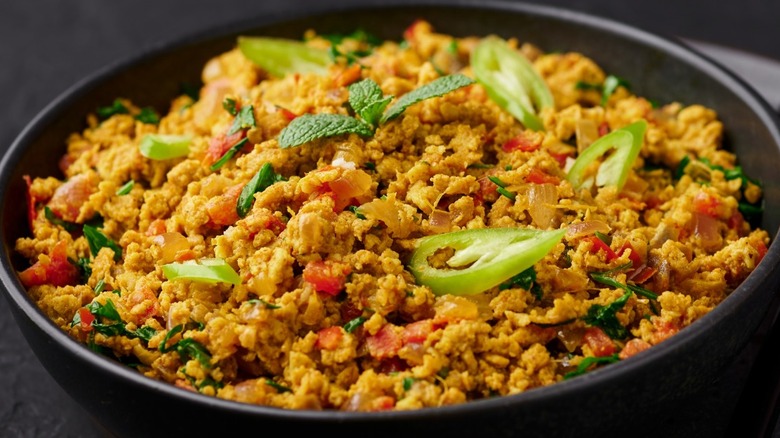 Kravtzov/Shutterstock
Street food is no longer limited to food trucks serving hot dogs and pretzels — and hasn't been for quite some time. According to Street Foody, the street vendors whipping up immediate eats have been deemed a "new icon for the third millennium" and continue to increase in popularity due to social media, TV shows, and an intense interest in various foods. You can find delicious street food all across the globe.
A beloved food stall in Mumbai, India attracts more than 500 customers each day, all anxiously clamoring to sink their teeth into Chef Muhammad Nasir's famous egg bhurji. According to an Insider video, preparing one batch of the spicy scrambled eggs can take up to three hours and requires 200 eggs. On a busy day at Pav Bhaji and Bhurji Center, Nasir might scramble up to 2,000 eggs on his tava, or griddle. 
Egg bhurji is signature to the Indian state of Maharashtra. Nasir explains to Insider that the dish is really only famous there, but it has become Mumbai's biggest street food dish. Customers eat egg bhurji throughout the day and have been making the journey to Nassir's food stall for 10 years. The chef said he feeds 60-70 people with one batch of bhurji each hour, with the largest crowds coming between 10 a.m. and 3 p.m.
Preparing egg bhurji for the masses
To make his legendary egg bhurji, Nassir starts by finely chopping onions and cilantro. He then combines those ingredients with oil on the tava and cooks them until they soften before adding diced green chilies and tomatoes. Without a measuring cup or spoon, he adds an assortment of spices little by little and emulsifies the mixture with a masher until a thick paste is formed.
Once emulsified, he cracks the eggs by hand into the center of the mixture and scrambles them until the eggs are cooked and the ingredients are combined. In the final step, he adds butter to the center of the eggs, along with green chilies and even more spices.
In total, Pav Bhaji and Bhurji Center goes through about 66-68 pounds of onions, 88-110 pounds of tomatoes, and 10-15 bunches of cilantro every day. Every week, Nassir cracks about 14,000 eggs before serving the egg bhurji to customers with a slice of pav, or bread, and salad. Customers with a milder palette order a side of yogurt to temper the spice.
If your mouth is watering, and you can't make it to Nassir's food stall, here are some of the best recipes when your craving Indian food.