Here's How Adam Richman Prepared For Man V. Food Challenges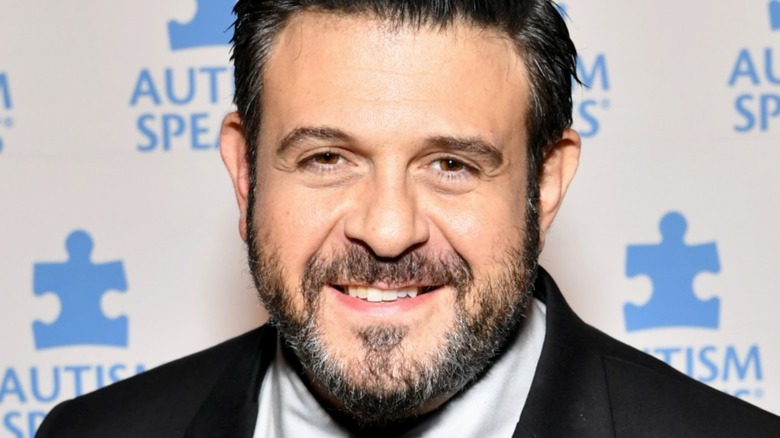 Credit: Slaven Vlasic/Getty
"Man v. Food" was a gluttonous phenomenon of a show, the first rendition of which was hosted by Adam Richman on the Travel Channel from 2008 to 2012 (via IMDb). The concept of the show was that Richman would travel the country to take on food challenges that involved eating massive amounts of food, mindblowingly spicy dishes, and other unique challenges. 
Although he held his own in many of the challenges, Richman's background was not in competitive eating. He instead has a master's degree from the drama school at Yale University and acted in regional theater productions and on TV; his most notable role was officer Marty Cataldo on "Law and Order: Trial by Jury" in 2006, per Heeb Magazine. Richman also revealed to the publication that he did not have to do any eating challenges in his audition for "Man v. Food." He just had to talk about food. Because he had the personality the team was looking for, he was offered the role. Then he just had to figure out how to survive the eating challenges along the way.
He would fast the day before, hydrate, and 'work out like a beast'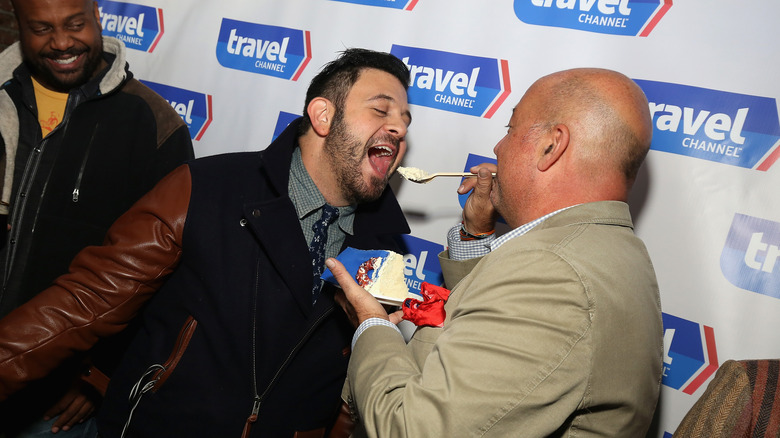 Cindy Ord/Getty Images
Prior to getting started on "Man v. Food," Richman told ESPN in 2010, he consulted with health specialists because he "wanted to start with a baseline of good health, versus correcting bad health down the road." Going along with the recommendations he received, Richman also got into the habit of fasting the day before a challenge and drinking plenty of water and club soda to keep his stomach stretched out, he explained to 411Mania. "If it's a large one then I know I need to be crazily hydrated, I need to be doing lots of cardio to combat the caloric avalanche," Richman said. He added that for quantity-based and spicy challenges alike, he would avoid drinking colas or coffee beforehand.
While he had a strategy for going into the volume challenges hungry, the spicy challenges were more about recovery and the type of spice in the dishes. He told The Guardian that when his dishes contained whole peppers, as opposed to pepper extract, they were easier to take down because they had flavor, rather than pure heat. "The challenges are physically grueling — I'm not going to say it's a walk in the park — but it beats working for a living," he told 411Mania.