Instagram Has Mixed Feelings About Rachael Ray's Arroz Con Pollo Recipe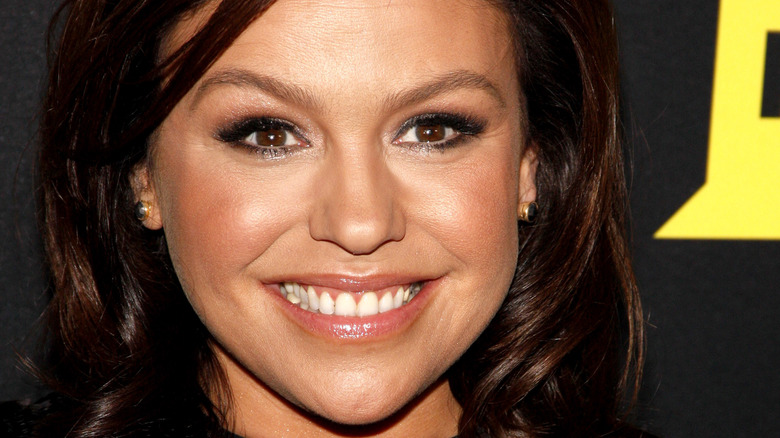 Tinseltown/Shutterstock
Folks on the internet tend to get touchy about food. Celebrity chef Rachael Ray has felt the wrath of the people who take their cooking seriously, and her shocking recipe for pozole is proof that some indiscretions are hard to look past. Blasted by fans and roasted by Mexican moms for making a dish that wasn't really a pozole and calling it such, the "30 Minute Meals" star is no stranger to social media scandals.
Ray's recipe for chow fun was called out for being mei fun in disguise, her refried beans had TikTok in an uproar, and her tomatillo pico de gallo left viewers wishing that the chef would just stop trying her hand at Mexican food altogether. Yet another Rachel Ray recipe has Instagram divided as to whether she should be appreciated for the attempt to work with different cuisines, rather than being bashed at every attempt, no matter how unsuccessful. The recipe in question is a Latin American favorite – arroz con pollo.
Fans wish Ray would be more clear on her recipes
Amigo Foods points out that many versions of arroz con pollo recipes exist, depending on towns, regions, countries, and even treasured family recipes. Mexico for example, adds chili to the chicken and rice dish, Colombia adds a sofrito sauce with saffron and tomato (as does Ray), and people in Peru tend to add dark beer or pureed cilantro to the mix. So you can see how Ray might have mixed the many distinct styles of arroz con pollo into a unique version of her own.
Some fans on Instagram are furious over the celebrity chefs arroz con pollo post, writing comments such as "somebody fire her team. No on that 'pad thai' from earlier. No on this too. #doitright" and "no. Not even close. No cumin?" One user even points out that the peas Ray adds to the dish don't traditionally belong in an arroz con pollo at all.
Others, however, are a tad more sympathetic towards Ray and just wish that she would call the recipe her version of the dish instead. "Well this is different not bad different just different. That's not exactly a traditional sofrito but I see where you going with it. All in all this American version of arroz con pollo looks good though. Kudos for trying!!" Another comment says that though the dish can barely be called an arroz con pollo, Ray gets "A for effort."