This Pancake-Flipping Record Will Astonish You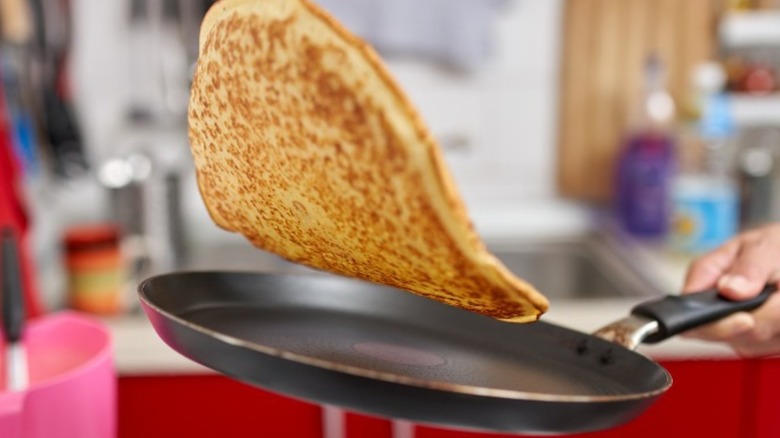 Slatan/Shutterstock
Who doesn't love a fresh-off-the-griddle pancake? Buttery, fluffy, and golden brown, a stack of syrup-soaked flapjacks is a great breakfast to start off the day no matter if you're a kid or an adult. While plenty of pancake mixes such as Bisquick and Pearl Milling Company (formerly Aunt Jemima) promise a short stack of the best fluffy pancakes in only a few minutes, the real challenge in making pancakes isn't mixing the batter, but flipping them. If you leave them too long on one side, they burn and if you flip them too early, you wind up launching raw batter everywhere. For breakfast novices, flipping a pancake can be difficult — at first.
As with all things, practice makes perfect, and you'll soon be flipping flapjacks like it's no one's business. Perhaps with enough practice, you'll be a regular Dominic "Mike" Cuzzacrea, the man with the golden spatula. Cuzzacrea flips pancakes with the same ease a skilled painter creates a work of art. This flapjack master is actually is the world-renowned champion for the world's fastest pancake flipper (via Lockport Journal).
Cuzzacrea is known as the "Pancake Man"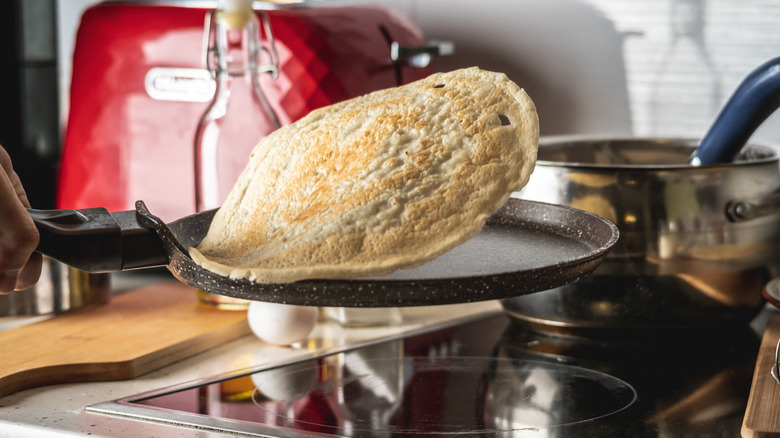 Artem Oleshko/Shutterstock
It's hard enough to run a marathon, but running it while flipping pancakes? While you may think this is absurd, for Mike Cuzzacrea, it's a part of his livelihood. According to Guinness World Records, Cuzzacrea made pancake history by completing the Casino Niagara International Marathon in 3 hours, 2 minutes, and 27 seconds on October 24th, 1999 — all while flipping a pancake over and over inside a frying pan. This impressive feat made Cuzzacrea a legend, earning him attention from the Aunt Jemima company. Cuzzacrea soon found himself traveling as a spokesman for Aunt Jemima, which has since changed its name, raising money at marathons and speaking at events. He also did work at children's hospitals, which affected Cuzzacrea deeply. Not only did seeing the children inspire and encourage him, but the experience also reminded him of how he got into the record-breaking business.
In the 1980s, Cuzzacrea took part in a 50-mile marathon to raise money for a sick girl who needed a liver transplant (via Lockport Journal). Realizing that he could raise money doing such events, he scoured through Guinness books to find a record he could beat, stumbling across the pancake record that had been contested, and the rest is history.  
While today he lives his life as a postman, Cuzzacrea has five pancake-related world records to his name, and that is something to be proud of (via World Record Academy).