This Throwback Photo Of Stanley Tucci Has Instagram Reeling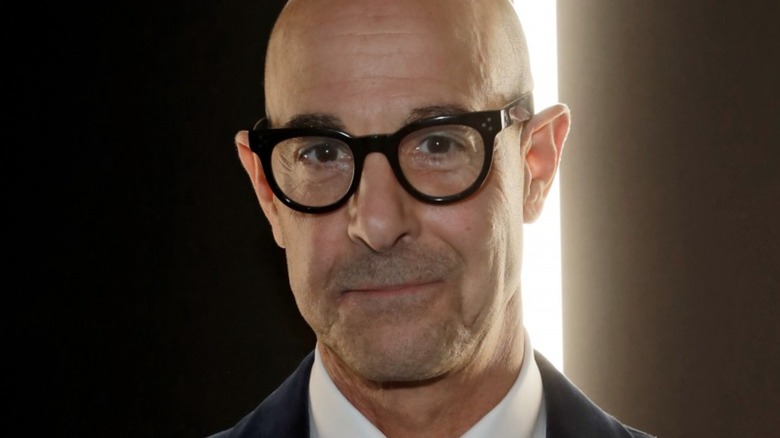 David M. Benett/Getty
If you think Stanley Tucci is handsome now, just wait until you see his college throwback pic. Sharing on Instagram, Tucci writes, "This was just sent to me from a friend. C'est moi at university about 42 years ago. Ah, youth. Ah, hair." The image features a young Tucci with thick, dark hair and a generous mustache wearing a white undershirt-style tank top and pale blue jeans. Add some generous arm muscles and that classic Tucci smile and — swoon!
The backdrop to this throwback photo looks much like a rehearsal room as you can see what look like artistic performance posters with a double workout bar and perhaps a fallen shelf from a set design. And the college pic confirms what we already knew: That Tucci, who is listed as an alumni of the State of New York's Purchase College, where he studied at the Conservatory of Theatre Arts, is, and was, one handsome guy.
Young Stanley Tucci was looking as handsome as always
Instagram fans are going crazy over this throwback Stanley Tucci pic. One fan jokes, "So that's what hair looks like in your head!! I'm liking the current style!!" Another follower adds a highly supportive, "Hair, no hair... doesn't matter... loving you so much!!!!" The consensus is definitely positive, but a few fans have also noticed a strong resemblance to another famous and beloved figure — Freddie Mercury.
Fans have noticed that the "Searching for Italy" host's look could be a mirror for the outfit and vibe that was Mercury in Queen's famed performance of the 1985 Live Aid concert. Says one fan, "Such Freddie Mercury vibes." Another follower almost mistook the image, sharing, "Seems a pic from a Freddie Mercury's biopic," and multiple fans agreed, posting comments like, "Same," as one confused follower asked, "Was it a Freddie Mercury convention?!"
And while Tucci himself hasn't revealed any more details about this throwback pic, don't expect the Instagram excitement to quiet anytime soon — it's just too fabulous.