Reddit Is Going Wild Over This Dunkin' Menu Hack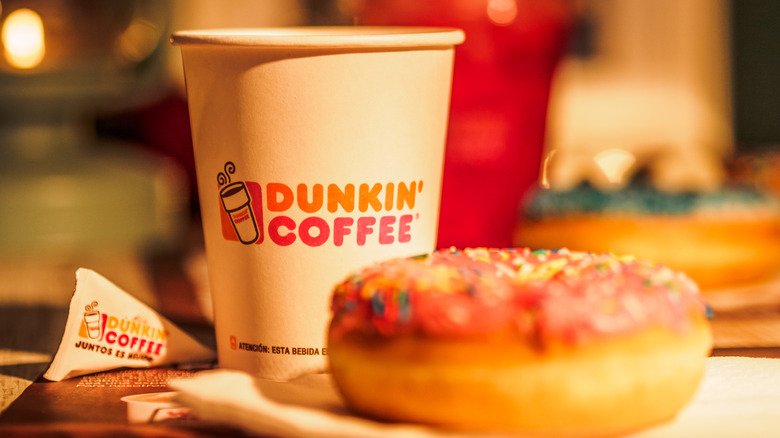 Pere Rubi/Shutterstock
The company formerly known as Dunkin' Donuts is well-known for its coffee and donuts. But the popular fast-food chain also offers a variety of other breakfast options – and, no, we're not just talking about Munchkins. One of those other offerings was introduced in 2009, according to ABC News, when Dunkin' announced its new Wake-Up Wraps. The rollout included two new items: an economically priced egg-and-cheese wrap for 99 cents and a bacon-egg-and-cheese wrap for 50 cents more.
Fast-forward to 2022, and you'll still find the Wake-Up Wraps on Dunkin's menu. In addition to staying power, the wraps now come with two additional protein options of sausage or turkey sausage. But, of course, they'll cost you a little more than they did 12 years ago. Interestingly, Mashed did a poll back in October and found that 29% of respondents felt the Wake-Up Wraps were their least favorite breakfast sandwich option at Dunkin'. Well, now someone has created a hack that aims to take these wraps up a notch.
One Redditor adds hashbrowns and za'atar to their Egg & Cheese Wake-Up Wraps
Can you even consider yourself a fast-food connoisseur if you're not the creator of at least one really good menu hack? We're not sure, but over on Reddit, one user has certainly made a mark. Redditor 1019sb recently created a post captioned "Simple yet super delicious! Egg & cheese wake up wraps w/hashbrowns and za'atar seasoning." The post includes a familiar image of Dunkin's tortilla, egg, and cheese-filled wrap with the novelty of added hashbrowns, and presumably at least a sprinkling of za'atar seasoning.
One enthusiastic Redditor responded "Ohhh thank you for this idea," and another agreed, "I do this all the time I feel like this should be a menu item ... like the mega wake up wrap or something." Someone even went so far as to claim, "Employees been doing this for years." If you're considering trying out the hack, but are curious about what za'atar is, then Bon Appétit's description of the spice mix may just help satisfy your curiosity. The outlet describes za'atar as a blend of oregano, thyme, sumac, and toasted sesame seeds, among other possible ingredients, with a flavor that is "bright, earthy, herby, and toasty." Throw in a coffee, and we might be willing to give this wrap hack a try.