The Amazing Waffle House Record Joey Chestnut Holds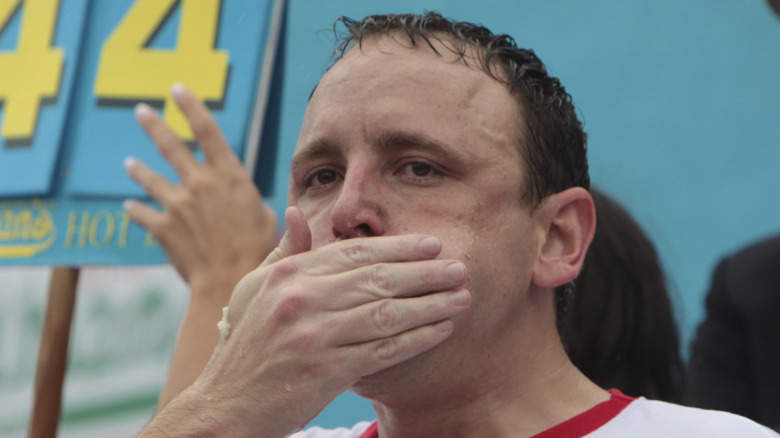 a katz/Shutterstock
Some may view him as the modern-day American folk hero. Some may view him as a symbol of gluttony and excess. Some may have never heard of his name at all. But one thing is for certain: Joey Chestnut can eat. When his younger brother signed him up for his first competitive eating contest in 2005 (via Daily Hive), Chestnut only went for the free hotel room — but soon he became a legend. Two years later, on July 4, 2007 at the annual Nathan's Hot Dog Eating Contest, Joey slammed down 66 franks in quick succession (via ESPN), winning his first major title and setting up a long and grand career in the world of competitive eating. 
Though, hot dogs aren't the only item Mr. Chestnut (better known by his nickname "Jaws") can polish off — not even close. From chewing down 182 chicken wings in under a half-hour to scarfing down 14.5 pounds of boysenberry pie in eight minutes back in 2018 (via Major League Eating), Joey Chestnut certainly isn't afraid to step up to the plate on the competitive eating stage.
But there's one record that Joey holds that, for fans of the famous Southern-based house of waffles and grits, makes his career all the more amazing.
Joey Chestnut ate 23 waffles in 12 minutes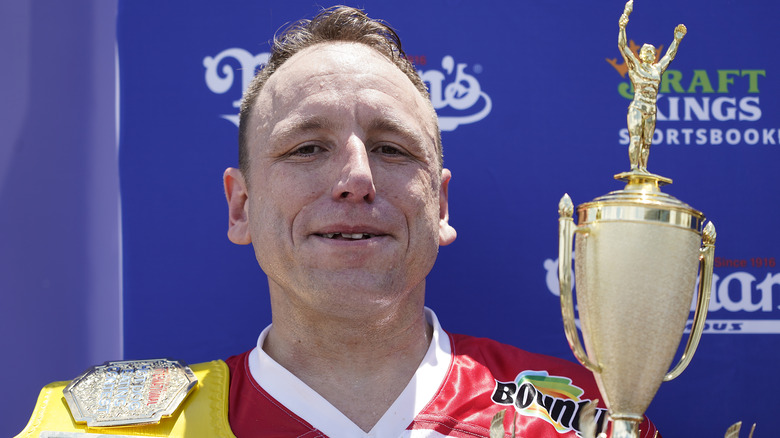 John Lamparski/Getty Images
To anyone who has ever been in a Waffle House even once, you know that you get some pretty impressive portions, especially when you order those famous waffles. After a hearty breakfast at this Southern staple, you'd probably balk if they tried to give you seconds. But, for Joey Chestnut, one waffle breakfast alone would never be enough, especially to secure him a grand prize of $5,000 and the esteemed title of a Waffle House champion.
As the story goes, the year is 2006, and gathered together at Atlanta's Stone Mountain Park sits a collection of our nation's greatest competitive eaters. Crazy Legs Conti, Chip Simpson, Sonya Thomas, and of course, our hero Joey Chestnut. This was the Waffle House World Waffle-Eating Championship, and the goal was simple: Eat as many waffles as you can in only 12 minutes. Facing some stiff competition, Chestnut found himself nearly tied with Thomas, both neck-to-neck (or fork-to-fork, as it were), as the air was rich with the scent of buttermilk and palpable excitement. But in the end, Chestnut shattered the record in just 10 minutes, putting away an awe-inspiring 18.5 waffles — and then finishing the event two minutes later with a staggering 23 waffles gobbled up.
Chestnut would later involve himself in another waffle-eating contest against fellow competitive eater Matt Stonie in 2019 (via San Jose Barracuda), with Chestnut all but winning with a shocking (but at this point unsurprising) total of 81 frozen waffles (via YouTube).