Gordon Ramsay's Son Is Channeling His Dad With A Look-A-Like Haircut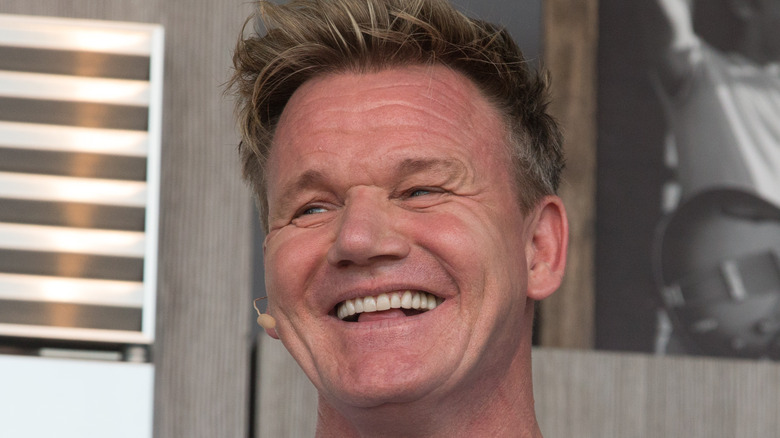 Sterling Munksgard/Shutterstock
Although Gordon Ramsay is perhaps best known for his short temper and wildly creative insults, he is also a loving father to five kids. His oldest three, Meghan and twins Jack and Holly, are now all in their twenties and living their own lives (via Delish).
Ramsay's youngest daughter, Matilda — better known as Tilly — is a TikTok star with 10.3 million followers. The two frequently appear in each other's TikTok videos, from cooking clips to dance battles. Tilly also seems the most likely to follow in her father's footsteps, as she has published her own cookbook. She also had her own cooking show on BBC, called "Matilda and the Ramsay Bunch."
That's not all. Ramsay's youngest child, Oscar, has been stealing hearts since the family welcomed him in 2019. Oscar is said to be his father's mini doppelganger, and once you see it, you can't unsee it — and why would you want to?
Oscar Ramsay looks more and more like his father
Fans have been commenting on how much Oscar Ramsay resembles his father for years, but Gordon Ramsay's latest Instagram post takes the resemblance to a whole new level. The photo, captioned "New haircut! Like father like son," shows four-year-old Oscar rocking his father's signature spiky hairstyle.
Within hours, the post accumulated 128,000 likes and over 1,000 comments. Naturally, the top comment was posted by Tana Ramsay, Oscar's mother. She commented, "I think he looks just like me," to which several fans responded that they could see it.
Other fans on Instagram noted how much Oscar looks like his father. "Little chip off the old block Gordon," Cyclingnainy said. "Looking very much like his old man here!" another person commented, and yet another proclaimed "Didn't recognise him at first then saw it was the mini Gordon!" Perhaps the best comment, however, was that of Jamison Odone, who asked, "Has he said his first curse word yet?" An important question, folks, and arguably the last step in Oscar becoming a true "mini Gordon."