Kyle Richards' Go-To Jack-In-The-Box Order Is Surprisingly Simple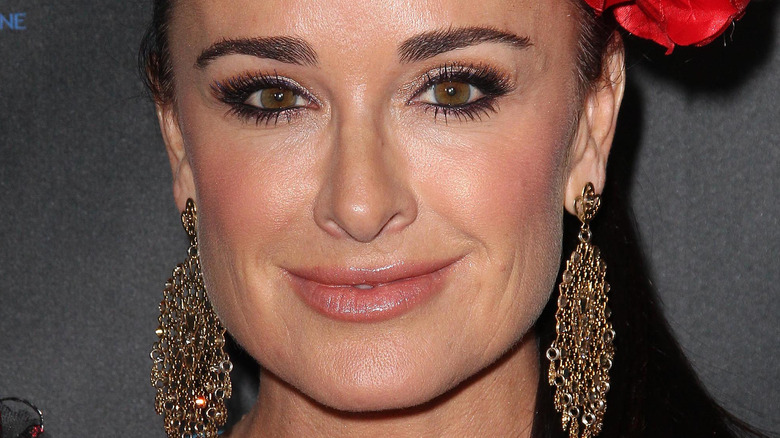 Kathy Hutchins/Shutterstock
Formerly a child actor, Kyle Richards shot to superstardom as part of Bravo's popular "Real Housewives" franchise, with Richards hailing from the illustrious and famous 90210 zip code associated with Beverly Hills. The ladies from the show love to spill the tea over a good bottle of champagne. They also like to eat at some of the most posh restaurants in town. According to Taste of Reality, when they aren't grazing on food from one of Lisa Vanderpump's eateries, they chow down at the likes of Il Cielo in Beverly Hills and SUR Restaurant in Melrose. 
But even those who live in Bel Air and shop on Rodeo Drive can't live on Beluga caviar and Dom Perignon alone. They, too, can be biten by the fast food bug, and Richards is not immune. According to Bravo TV, the Real Housewife ,who counts the likes of Paris and Nicky Hilton as her nieces, likes to enjoy a sandwich from none other than California-headquartered Jack-in-the-Box. To be fair, it wasn't Andy Cohen who got Richards to share this fast food fetish, but rather supermodel Chrissy Teigen and her Twitter account.
Kyle Richards favorite Jack-in-the-Box meal contains only 290 calories
Chrissy Teigen asked Twitter, "What do you think is the healthiest meal (not side) of any normally junky fast food chain? NO JOKE ANSWERS PLEASE this is serious." That's when the fun took off with lots of recommendations and answers, including one from Kyle Richards who responded with, "Breakfast Jack/Jack In The Box." What is the Breakfast Jack? The quick service restaurant describes it as a slice of ham and American cheese on a "freshly cracked egg," all sandwiched between a bun.
Clearly, Richards understood the assignment because, according to WebMD, Jack-in-the-Box's Breakfast Jack is one of the healthier options you can choose if you are ordering up a fast food breakfast. The health site reveals this breakfast sandwich contains 290 calories, 12 grams of fat, and even offers a single gram of fiber. WebMD also notes that the chain's Bacon Breakfast Jack, which contains 300 calories and 14 grams of fat, also makes the list. Richards definitely offered up a sound recommendation for the model and wife of music artist John Legend, and now we're in the know, too. Thanks, Kyle.