Here's What Happened To The Dough Bar After Shark Tank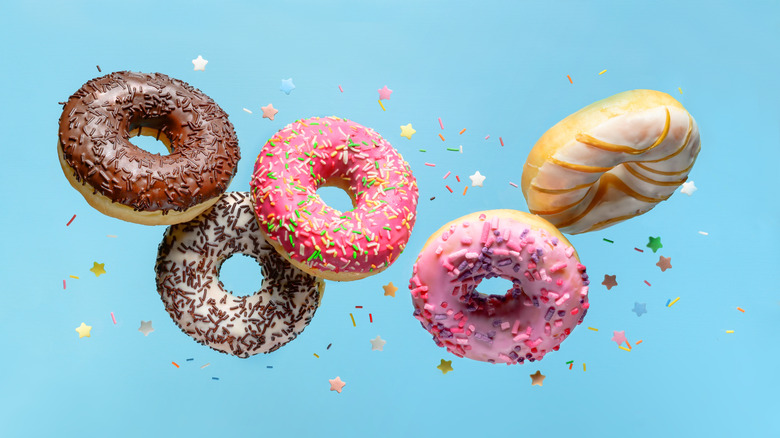 Soho A Studio/Shutterstock
Picture this: You're indulging in doughnuts, but you're somehow able to totally dodge the massive sugar crash, as well as the guilt we sometimes feel after treating yourself to the dessert disguised as breakfast. Sounds too good to be true, right? Well, The Dough Bar had this very mission in mind. The Fort Collins, Colorado-based company was co-founded by Marquez and Ondrea Fernandez in 2015 on the idea that sweets can actually be a protein-filled, macro-friendly snack.
The masterminds behind the bakery were contestants on Season 9 of "Shark Tank," the hit ABC reality series in which entrepreneurs present their innovations to a panel of famous investors in hopes that they will buy a stake in their business and help their brands thrive. One of the show's longest-standing sharks, American businesswoman Barbara Corcoran, ultimately accepted Marquez and Ondrea's offer for $300,000 and a 20% stake in the company, per Shark Tank Tales. So, where did The Dough Bar land after Corcoran's generous funding, and how are they doing today?
The Dough Bar recovered after filing for bankruptcy
The Dough Bar originally began as an e-commerce company, selling protein-infused doughnuts exclusively through its website to customers who wanted an alternative to run-of-the-mill protein bars and shakes. The Dough Bar's products included doughnuts, cookies, pastry rolls, and even monkey bread.
According to Coloradoan, the company opened a brick-and-mortar location after online sales surpassed $2 million. But the company had also accumulated debt, and The Dough Bar filed for Chapter 11 bankruptcy in 2019, shortly after "Shark Tank" investor Barbara Corcoran backed the brand. However, Marquez and Ondrea Fernandez fought hard to keep their dream alive and vowed to keep their doors open. The Dough Bar's closure was framed as a strategic move that enabled the founders to address their financial woes. And at least for a time, this appeared to pay off, as the company could be found advertising its products on Instagram as recently as April of this year.
On an archived page of the company's official website, the co-founders shared the wisdom, "Don't be afraid to try again; sometimes the second time's the charm!" Although they were referring to the competitive pitching process on "Shark Tank," this piece of advice may come with a different meaning — even after rough patches, business owners can manage to gather the means to recover. But that wasn't the end of the story.
The Dough Bar is now closed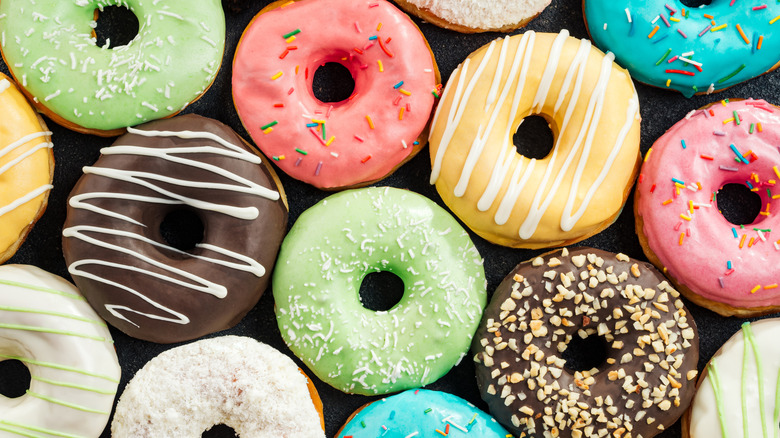 Fascinadora/Shutterstock
Sadly, after a sweet, seven-year run, the co-founders of The Dough Bar shared on Instagram that they were closing their company's doors in May 2022 to prioritize the health of their infant daughter, who had been enduring constant intensive care due to serious medical problems that necessitated an organ transplant. However, they gave fans a reason to stay tuned. "Please hang tight, as we hope to announce the next chapter of the business within 3-6 months," the post reads. A couple of weeks later, The Dough Bar announced its last production day on May 16. "It's a very bittersweet moment for us here at The Dough Bar, but we're finishing off strong."
The announcement was greeted with a number of sad replies. User 19_angela_76 didn't seem ready to say goodbye, remarking, "This is so upsetting. I've ordered tons from you guys and it's always been a 10. I hope one day I will be able to order again." And in a bittersweet reminder of the company's past success, leorick33 wrote, "Just watched your shark tank episode and was ready to buy. Bummer you close[d] up shop." We wish the Fernandez family all the best in their next big adventure.