Why One Honey Turkey Label Has Costco Shoppers Concerned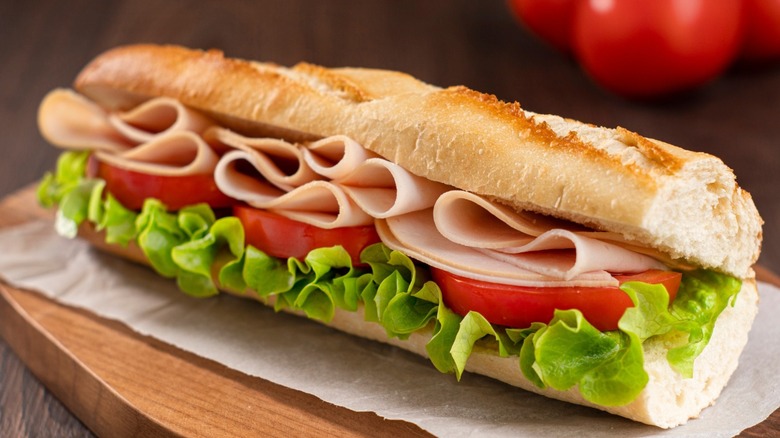 Erenn/Shutterstock
When grocery shopping, it's common to check the expiration dates on certain food items, especially those that might spoil quickly like meat or milk products. A Costco member was doing this very activity and found something a bit concerning. The shopper shared a picture of sliced honey turkey on the subreddit devoted to the store writing, "Costco label slapped over manufacturer label. Lists higher price and a different sell-by date." The original use by date, which can be made out through the top label, says April 17 while the new date reads April 27. Moreover, the price of $6.99 per pound reached $12.86 on the original label, but the new one puts the turkey cost $7.69 per pound for a total of $14.23.
"It got heavier as well," one commenter wrote. Indeed the weight of the turkey bulked up from 1.84 pounds to 1.85 pounds. One user, CostcoPanda, quickly jumped in to dispel any accusations, sharing a very plausible explanation. "This happens whenever the price changes on a weighted item and we have enough of it on hand to justify the labor costs to relabel it. We have to manually key in the sell-by date and use the meat scales to relabel each individual package. This looks like the employee keyed the wrong date, 4/27 instead of 4/17. Or, they could have been relabeling a case of all 4/27s and, in the chaos of being shopped and restocked, this unit of 4/17 was mixed into that case."
Inflation may be the culprit for the price increase
While an innocent typo is quite possible for the sell-by date mishap, how does one explain the jump in price? Some Reddit users comment that the increase is due to inflation, and they may be correct. Despite its reputation as a cheap haven for members, Costco has been seeing signs of inflation since May. Richard Galanti, Costco's CFO, blamed the maelstrom of news stories you may be seeing in regard to higher wages and supply chain issues.
However, the 2021 consumer report index indicates that perhaps we shouldn't take Galanti's words for the whole truth. The report shows that Costco has raised its prices by 5%, but stated that "[in the financial year of] 2021, Costco's Net Income Grew $1 Billion To $5 Billion And Shareholder Handouts Grew Over $4.5 Billion To Over $6.2 Billion." In other words, the price hikes may not necessarily be prompted by Costco losing profits. Costco also has plans to raise membership fees this year, but in fairness, this raise falls within the five-and-a-half-year pattern Costco has set. 
A typo can happen easily enough in this case of the sell-by date, but why the turkey increased in price may be something we will never get to the bottom of.