The Real Reason One Trader Joe's Salad Was Just Recalled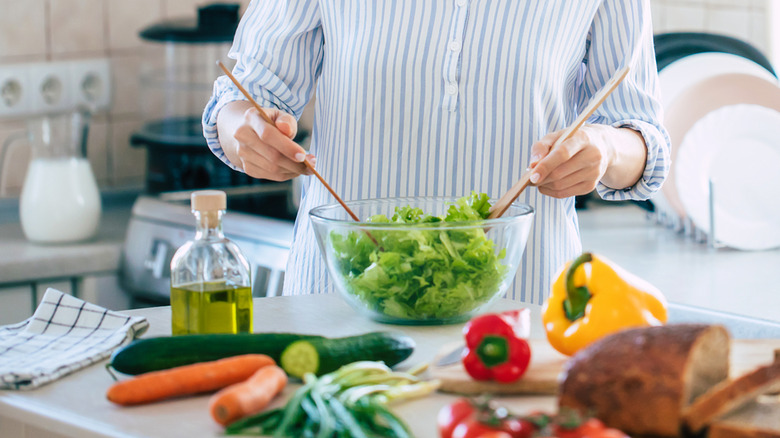 My Ocean Production/Shutterstock
2022 has seen its fair share of salad recalls. Food & Wine reports that back at the beginning of February, a number of salad mixes sold under major brands like Dole and Kroger were recalled as a result of officials finding listeria cultures in the products. A new salad concern has recently arisen, and this time, Trader Joe's is in the spotlight. According to USA Today, the grocery chain has recalled its Crunchy Slaw with Chicken, Crispy Noodles & Peanut Dressing after an issue with the salad dressing came to light.
So far, no one has reported any types of injury or illness after ingesting the salad, per ABC. The contaminated salad kits were sold at Trader Joe's locations in Arizona, California, Nevada, New Mexico and Utah. While other salad recalls happened due to bacterial concerns, the issue that led to this Trader Joe's salad recall has more to do with a physical object.
What is in Trader Joe's affected salads
According to USA Today, the dressing included in the recalled Trader Joe's salads contains pieces of "hard plastic." If you live in one of the affected states, make sure to check your packages for the establishment number P-6247 and best-by dates between March 9 and 12. Anyone who has these products on hand can either return the salads back to the store where they came from, or throw them in the garbage. If you do decide to take the affected salad back to Trader Joe's, the store plans to offer refunds on the goods.
The grocery chain has also set up a hotline for concerned customers, which you can reach at 626-599-3817 Monday through Fridays between 6 a.m. and 6 p.m. PT. Luckily, the expiration dates of the tainted salad are coming up very soon, so with any luck, all of these salads should be off the shelves and disposed of very soon, no matter what.