The Reason Bobby Flay Doesn't Cook With Extra Virgin Olive Oil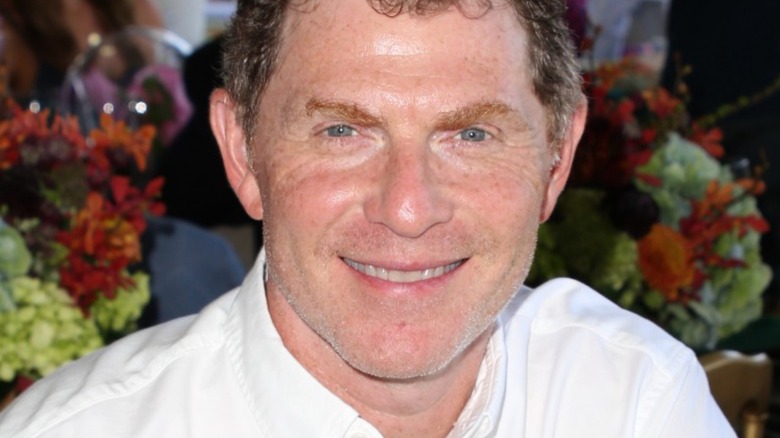 Sonia Moskowitz/Getty
There is no denying that Bobby Flay possesses some serious culinary chops. Anyone who's witnessed him defeat worthy opponents on "Iron Chef" or "Beat Bobby Flay," has seen his epicurean prowess firsthand — and it's impressive. So, when Flay offers cooking advice, it's a good idea to listen. 
Over the years, Flay has offered us an array of helpful kitchen tips: When you season your food with salt and pepper, always do both sides; When operating a grill, try not to touch the food too much and let the flame do its job; Always use unsalted butter when cooking so you can control the amount of salt; A sprinkle of toasted panko bread crumbs is a great addition to pastas and salads. And the well-known burger aficionado also suggests adding chips to a hamburger for extra crunch.
The celebrity chef now has some sound advice when it comes to cooking oils and it might surprise you. 
You may be using your olive oil completely wrong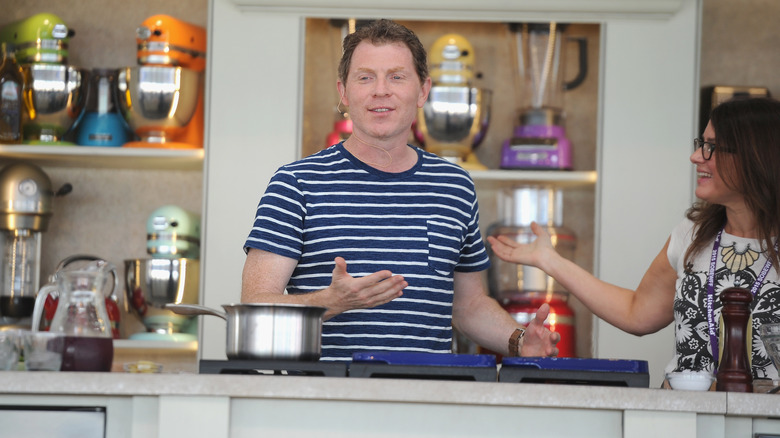 Larry Marano/Getty Images
Bobby Flay's go-to oil for cooking is not extra virgin olive oil (EVOO). In fact, he recommends using a lighter oil like canola oil or vegetable oil when using high heat as they possess a "higher smoke point." When an oil gets too hot it can taste overcooked, but smoke point is important for more than just avoiding a burnt taste. If an oil goes past this marker, it has been linked to the formation of carcinogens. This means that your otherwise healthy olive oil could potentially be harmful to your health. 
Flay also explains that olive oil is simply too thick, which can make your food a tad bit slick, and it gets very bitter very quickly. This bitterness will alter the way your favorite dishes taste, defeating the whole purpose of your EVOO.
He warns that adding heat spoils olive oil's "saucy thickness and pungent flavor." He recommends using your olive oil to finish off a dish, instead. Just keep in mind that not all dishes suit the flavor profile of olive oil, so it is important to use it accordingly.  
If you've always added a dash of olive oil to your frying pan — as many home cooks have done for years — it sounds like its time to reconsider your options. Keep that exquisite olive nectar for your low or no heat masterpieces and grab some canola when you need a good sizzle.