The Reason Christina Hendricks Has Cooking Anxiety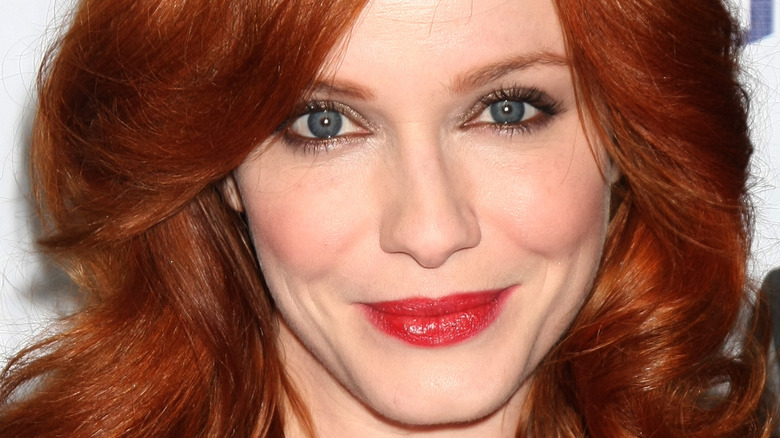 Kathy Hutchins/Shutterstock
Christina Hendricks may be best known for her role of Joan on the Emmy award-winning series "Mad Men" or as Beth on the drama "Good Girls," but the celebrity has long been a self-professed foodie. Back in 2011, she told Everyday Health, "I love food, and I love to cook." Hendricks went on to reveal she is a fan of "spaghetti with red sauce" and her favorite meal is quite aromatic. She said, "One of my favorite meals is Indian food. It's a bit more time-consuming because you have to roast the spices, but it makes your house smell heavenly." To wit, the actor has made an appearance on Rachael Ray's show, where she and Ray cooked up Hendricks' soup recipe, and Hendricks even served as a guest judge on "Top Chef." 
But the voice of Gabby Gabby in "Toy Story 4" is really just like us when it comes to cooking. At a launch party for Good Eggs, a California-based grocery delivery service, Hendricks shared with People that she's prone to feelings of anxiety when it comes to cooking. So Hendricks might not be grouped with the 30% of people who, according to a survey conducted by OnePoll in conjunction with Mazola Corn Oil, said they feel anxious when it comes to using whisks and measuring cups (via SWNSDigital), but those feelings have caused the self-taught cook to take a step back before.
It's all about simplicity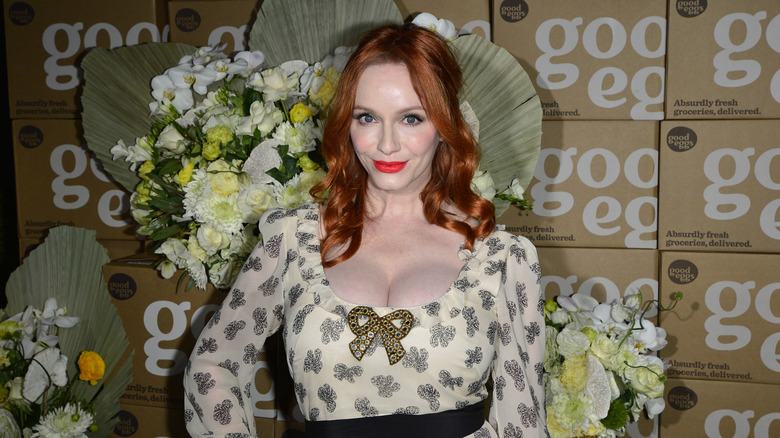 Jerod Harris/Getty Images
Now Christina Hendricks is embracing ease in the kitchen and opting for cooking dishes that are tasty, but less "complicated." Hendricks explained to People that in the burgeoning days of her cooking journey, she was always trying to "outdo" herself. She said, "I would do all these really complicated Thomas Keller recipes that took three days. And I used to always get Gourmet and Bon Appétit and I would just be inspired by whatever I read." 
But these days, Hendricks is digging into a different philosophy of "less is more." She went on to explain, "I'm... convincing myself to get back into just doing a simple, quick, fresh kind of cook rather than trying to impress myself." But don't expect Hendricks to give up all the complicated and stressful cooking when it comes to those big holiday feasts. She shared with InStyle that she and her mom are responsible for her family's Thanksgiving Day dinner. And while she isn't necessarily a fan of turkey, Hendricks loves all the side dishes they make together, including her mom's Rub-All-Over-Your-Body cornbread stuffing. That definitely sounds like a dish worth making — and eating!