A Ukrainian TikToker Revealed How Their Family Cooks In A Bomb Shelter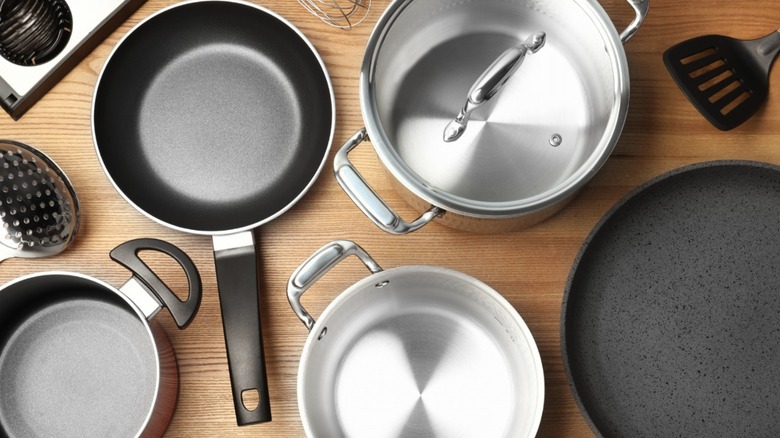 New Africa/Shutterstock
Since Russia's military invaded Ukraine, citizens have fled by the thousands or taken refuge in "makeshift bomb shelters" inside basements and subway stations. As a result, many have had to adjust to living without the luxuries that come with a house, like a bathroom or appliances.
It might seem impossible to even picture how to prepare a meal without a proper kitchen. But for 20-year-old TikToker Valeria Shashenok, who goes by username @valerrrish, all it takes is some creativity and a good sense of humor. For the past few weeks, Shashenok has documented her family's experience living inside a bomb shelter, offering the world a glimpse into what life has been like during the war. 
Her series of videos, which have racked up millions of views, frequently feature her and her mother demonstrating how they cook different foods without having their ordinary kitchen tools. To keep the mood light, Shashenok combines the clips with sarcastic captions and trending TikTok audios that both highlight and poke fun at their circumstances. In one video where she heats Turkish coffee using a tiny cezve pot and a blow torch, the Russian national anthem can be heard in the background. In another, she hilariously recaps how her mother cooked borscht using a tiny hot plate, captioning it as "professional cooker!" During that same clip, her mom can be seen squeezing what appears to be tomato paste into a pan, but the overlay text jokes it's her "[adding] Putin's blood to the beet."
Making the best out of a bad situation
Speaking to The Cut, Valeria Shashenok revealed that part of the reason she started posting TikToks of life in the shelter was to help change the narrative that people in Ukraine were helpless, all while keeping followers informed of the situation. "I'm that person who always ragged on everything with humor," she explained. "It's the best way to show people the problem. I'm that person who always sees light in the dark, and it's a nice way to do something for my country." She also told the publication her goal is to show viewers "that Ukrainian people are the strongest," despite the circumstances.
That attitude has earned her the admiration of people all over the world, as evidenced by the thousands of likes and supportive comments on her videos. "I just found your account and am impressed with your attitude. I admire you and thank you for sharing this with the world. Hope things get better soon," wrote one user under the video of her mom cooking borscht. A recurring theme in the responses is that commenters are struck by her strength and humor.
At the time of this writing, it remains unclear when the war will come to an end. However, for those who are hoping for an update on Shashenok, on March 14, the TikToker shared that she and her family had safely evacuated to Poland.