The Dish That Makes Gordon Ramsay Rethink His Omnivore Lifestyle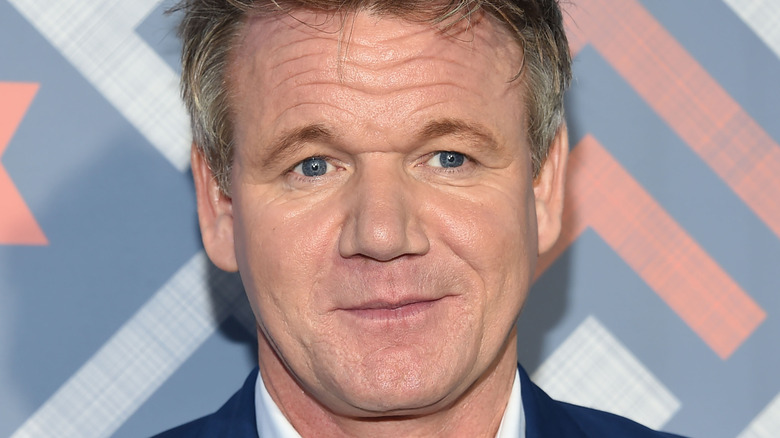 DFree/Shutterstock
Over the course of his culinary career, Gordon Ramsay has cooked — and eaten — a lot of different foods and dishes. Not only is he a professionally trained chef and owner of multiple restaurants around the world; he's also served as a host and judge on numerous popular cooking shows including "MasterChef" and "Hell's Kitchen." After so many years in the industry, Ramsay has developed notoriously strong opinions about certain dishes.
One cuisine that the British chef is most outspoken about is vegan and vegetarian cooking. He's famously trolled vegans on Twitter, once tweeting that he's a member of PETA, which he explains stands for "people eating tasty animals." However, it seems that even the most dedicated omnivore can be won over by a delicious plant-based meal. In a recent Instagram post that amused fans, Ramsay claimed that there's one dish that could almost (almost) make him give up those tasty animals. Here's the vegan recipe that's so good that even Ramsay approves of it.
Gordon Ramsay loves this Asian-inspired cauliflower recipe
Gordon Ramsay recently shared a video of one of his favorite recipes on Instagram. "I like heat!" Ramsay captioned the clip. "But what about a dish so good I'd turn vegan for a minute??" The dish in question is Ramsay's bang bang cauliflower, which was originally featured in his cookbook, "Ramsay in 10: Delicious Recipes Made in a Flash." In the Instagram video, the celebrity chef whips up a plate of saucy, spicy cauliflower, which is topped with a sprinkle of fresh cilantro and leaves fans drooling in the comments.
"Something happens to cauliflower when you stir-fry or roast it at high temperatures – it becomes nutty and sweet as it caramelizes," the heat-seeking chef describes in the cookbook (via Good Morning America). He goes on to explain that the sauce is inspired by the bang bang sauce you'd find at almost any Chinese restaurant in the U.S., describing it as "sweet and hot." Bang bang sauce is traditionally a blend of mayonnaise, hot sauce like Sriracha, sweet chili sauce, and honey (via Sweet Tea and Thyme). Ramsay's recipe, however, calls for maple or agave syrup instead of honey and doesn't use mayo.