Is Costco Open On Easter Sunday 2022?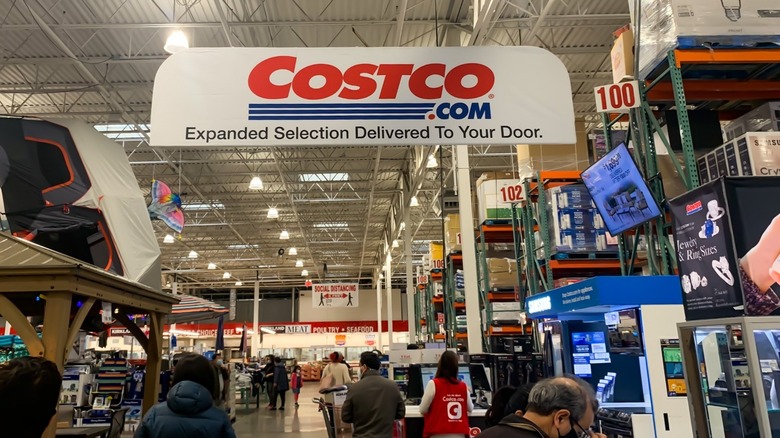 gg5795/Shutterstock
With so many holidays on the calendar, and so many stores with their own unique policies, it can be hard to know when a certain retailer is or isn't open. Sometimes, stores close on a holiday you don't even celebrate, which can make keeping track of their schedules even more confusing. Other times, you assume a store is closed and abstain from shopping only to find out they were open all along.
Costco is one of the most popular grocery stores in the United States (via NJ), so a lot of people might be wondering if Costco is open on Easter Sunday 2022, which this year falls on April 17. It turns out that, yes, Costco is one of the stores that will be closed on Easter this year. That means you should stock up on eggs for decorating ahead of time, and you'll want to get your ingredients for Easter dinner before the big day, too.
What other holidays does Costco close for?
Easter isn't the only holiday Costco closes for. They also shut their doors for New Year's Day, Memorial Day, Independence Day, Labor Day, Thanksgiving Day, and Christmas Day (via Costco). The brand seems pretty dedicated to making sure they are closed on certain holidays to ensure employees get a day off. They've been closed on Thanksgiving for more than 30 years (via HuffPost), even while some of their competitors open for early Black Friday sales.
Many Costco employees have revealed that they are paid on holidays and are happy about the time off they receive. Customers don't seem to mind, either — one Facebook commenter said on a post about the store being closed for Easter that "I'm so glad to see that you allow your employees to spend holidays with their families instead of having to show up at your locations."
If you do need to shop on Easter Sunday, you won't be able to go to competitor Sam's Club, which is also closed (via Sam's Club). However, most BJ's Wholesale locations do seem to be open on Easter Sunday for customers who did, in fact, forget to stock up on Easter eggs (via Holiday Shopping Hours).