Disney's New Giant Mozzarella Sticks Will Give The Perfect Cheese Pull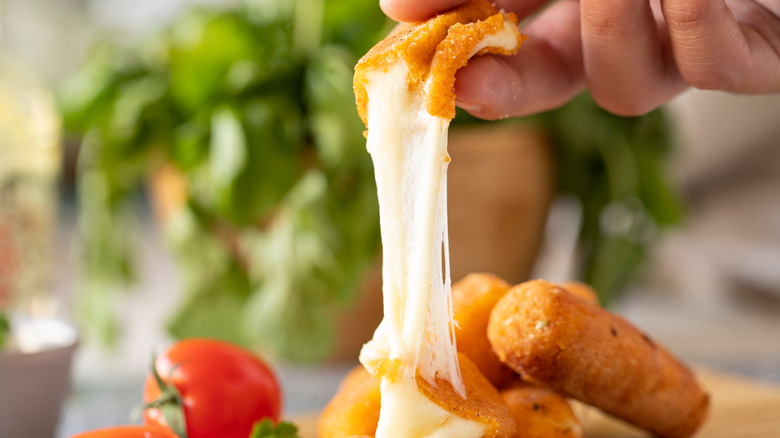 salcover/Shutterstock
Most people who visit Disneyland may be in it for the princess sightings and the multiple rounds on Splash Mountain, but the So-Cal amusement park wouldn't be known as the Happiest Place on Earth if it didn't also have some pretty stellar dining options. Eater Los Angeles lists the turkey legs from Edelweiss Snacks, the fried chicken dinner from Plaza Inn, the bao buns from Tropical Hideaway, and the corn dogs from Little Red Wagon among its favorites, but Disneyland is always adding new additions to its rotation.  
Set to Whitney Houston's cover of "I Will Always Love You," @foodatdisneyland posted a TikTok video this week that reverently reveals Mickey Mouse's latest resident: A giant mozzarella stick made to order from the Blue Ribbon Corn Dogs kiosk in Downtown Disney. It certainly puts your average concession-stand mozzarella stick to shame, which is saying a lot considering that even the tiniest slice of buffalo's milk cheese can yield an irresistible cheese pull. 
Experience the magic of cheese
With a glittering fountain in the background, @foodatdisneyland's TikTok video shows the new giant mozzarella stick being dipped in batter, coated in a layer of Rice Krispies for a little extra razzle-dazzle, and dunked into a vat of hot oil until its golden brown. The end result is about the size of a small baguette, and the user pulls it apart to unleash a massive string of warm, oozing mozzarella inside before breaking off a chunk and dipping it in its essential condiment, marinara sauce, and touting it as a "cheese lover's dream." We imagine the armor of Rice Krispies protects the mozzarella stick from getting soggy while giving it a satisfying crunch. 
Blue Ribbon Corn Dogs — whose offerings also include a pickle corn dog and a coconut-crusted corn dog, per Disney Food Blog – also posted about the new menu item on Instagram, noting that the "very stretchy and yummy" treat is only available for a limited time. If you've been thinking about a trip to Disneyland, and you're serious about your mozzarella sticks, now might be the perfect time for a vacation.