Nigella Lawson's Chocolate Cake Recipe Boasts An Irish Twist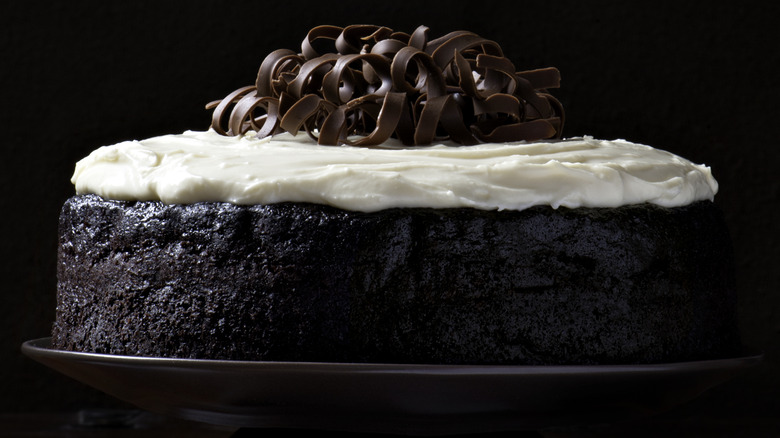 2xDP/Shutterstock
We may receive a commission on purchases made from links.
Nigella Lawson is clearly ready to celebrate St. Patrick's Day. Her recent #RecipeOfTheDay posts on her Instagram page show off delectable Irish classics: First, from the cookbook "Ireland For Food Lovers" by Georgina Campbell, a recipe for Dublin Coddle consisting of sliced potatoes, sausages, and rashers. Another IG post shows a savory Brown Butter Colcannon, a traditional combination of mashed potato and cabbage, with her twist to top it off with nutty browned butter. With these posts, she's setting her fans up for a sweet Irish classic she'll share on March 17, noting that it will be her #StPatricksDay recipe of the day: a chocolate cake made with a generous pour of Guinness stout. 
The Chocolate Guinness Cake recipe shared on Lawson's website is a dark and rich dessert that's sweet but also balanced with tang and flavor from sour cream and Guinness in the batter. Lawson describes the seductive, almost earthy flavor as being "like gingerbread but without the spices." The single-layer chocolate cake is topped with a fluffy blanket of white cream cheese frosting, making it look just like a giant, foam-topped pint of Guinness.
It's an easy dessert with true Irish roots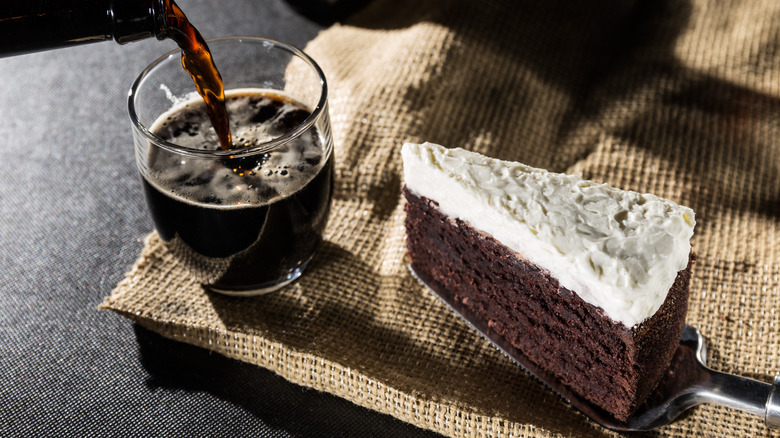 JCDphoto/Shutterstock
Nigella Lawson's Chocolate Guinness Cake recipe is easier to make than you might think and with no fancy cake-decorating skills required. The recipe on her website has a convenient conversion button to let U.S. fans switch the metric measurements to cups and U.K ingredients to more familiar ingredients available in the States (such as cornstarch instead of cornflour and superfine sugar instead of caster). The cake batter bakes in one cake pan and, once cool, gets a thick layer of a cheese-whipped cream frosting.
While some favorite St. Patrick's Day recipes aren't truly Irish in origin (such as corned beef and cabbage), Guinness stout in cakes and baked goods is something that Irish people actually do use for this annual holiday. The Irish Mirror shares tips on using up leftover Guinness — does such a thing really happen?? — in various dishes, including breads and desserts. In "The Official Guinness Cookbook," author Caroline Hennessey shares that "the dark roasted malts in stouts enhance flavors of coffee and cocoa," as well as giving cakes like this one a better rise and texture. Lawson's cake is made with Guinness, looks like a pint of Guinness, is incredibly rich and chocolaty, and has true Irish roots — it's a perfect dessert to make on St. Patrick's Day. Erin go bragh!