BTS Celebrated Their Spotify Milestone With A Unique Meal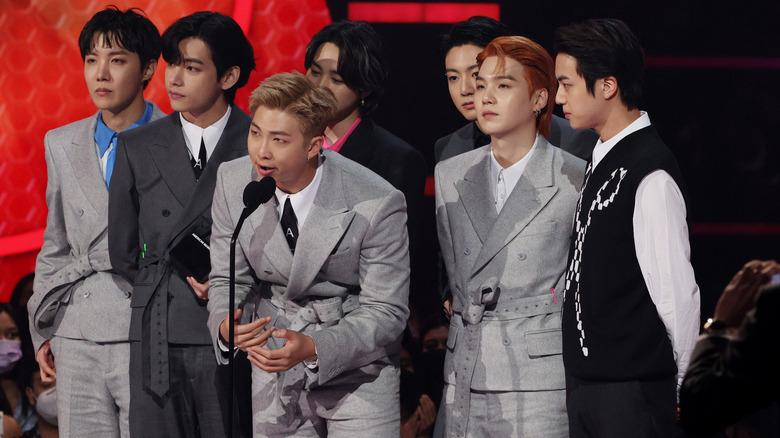 Kevin Winter/Getty Images
In July, BTS became the first artist from Korea to have a song streamed a billion times on Spotify with "Dynamite." But only now has the plaque commemorating the billion steam breakthrough actually reached them. KPOP Frazi, a YouTube channel dedicated to the gossipy news of Kpop, shared a video on March 15 of the boy band celebrating their achievement with a meal. It wasn't the BTS McDonald's collaboration, as that promotion ended in 2021. Instead, the group sat around the plaque eating bibimbap sized to fit within the award — so not a very large one for a pretty large musical group.
Bibimbap, as the blog Korean Bapsang explains, consists of rice, which is bap in Korean," that is mixed, bibim. The specific mixed ingredients vary according to the region, but the most common has beef, eggs, and vegetables like kimchi, red cabbage, and zucchini as well as a sauce. The Takeout notes that in the video, the scrambled eggs used in the dish are shaped to resemble the band's logo.
Eating food off the plaque has become a tradition
It's not just BTS biting into bits of bibimbap, however. By this point, it has become part of the ritual to eat off the award, which was probably inevitable because the Spotify plaque does certainly look like a bowl. The move appears to have begun with Drake in 2020. On September 4, 2020, Drake shared a video of him eating spaghetti out of his Spotify 1B plaque on Instagram. In the description, he explained, "We drank out of Grammys now you need a BILL to eat off the plate." Less than three weeks later, Halsey made the news for calling out Drake while eating candy out of two of her three awards.
Since then, it has become more expected for music artists to celebrate their achievement with some kind of meal. In fact, even though McDonald's missed out on the free advertising from BTS, they did get featured in 2021 when Joe Jonas used his Spotify plaque as a setting for a McDonald's meal.