The Superfan Couple Who Shot Their Engagement Photos In Aldi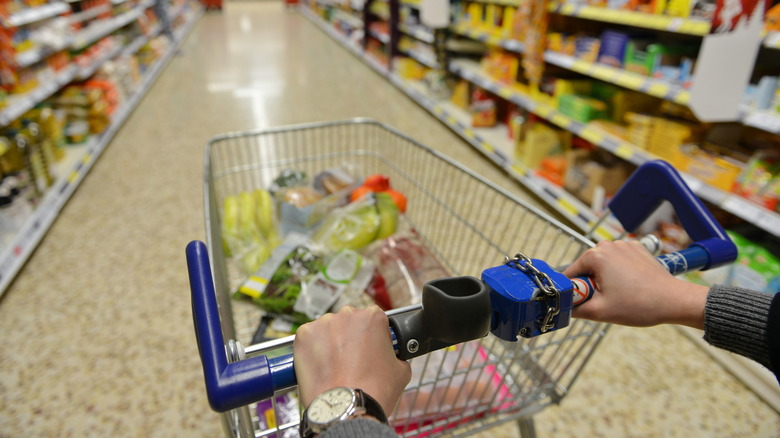 1000 Words/Shutterstock
Aldi is a popular option among many grocery shoppers in the U.S. who can vouch for its affordability. According to CNN, the brand is such a hit that it has inspired people to start fan pages on Facebook. Diane Youngpeter, the founder of a group called "The Aldi Nerd" believes that the prices of products at the store are "amazing" and hard to ignore. She said, "There's a lot of Aldi nerds out there. I didn't realize that there were so many of us."
In fact, Aldi is so special for some couples that they've chosen to get engaged there. According to Eating Well, a couple from Virginia, Patrick Murphy and Dawn Glass ended up exchanging rings outside their local Aldi store in 2020. They explained, "Aldi holds a place in our hearts because it has allowed us to save money on groceries that we can then spend on fun things or savings, and now, for our wedding. We always joke that we never thought it'd be so cool to love a grocery store." Murphy meticulously planned the proposal in advance and was rewarded with some sparkling wine from Aldi as a surprise at the time of the proposal.
In 2020, another couple from Indiana also chose to get engaged in Aldi because the supermarket was important to their relationship. According to Yahoo! Life, another couple has now followed suit and recently posed for a special engagement shoot at an Aldi supermarket in St.Louis, Missouri.
It's a special place for them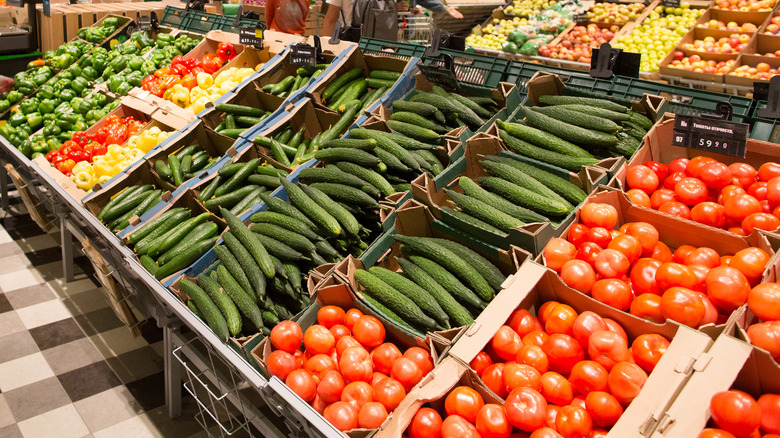 Bloomberg/Getty Images
Per Yahoo! Life, Shannon Niere is a huge fan and shared her love for Aldi with Dan Kuntz — before he knew it, he was "hooked" and accompanied his girlfriend to their local store in St.Louis every week. Kuntz added, "There are many reasons why we keep coming back but the main reason would have to be the prices: When comparing a full cart of groceries to other stores, there is a considerable difference in cost."
The couple worked with photographer Victoria Segovia on the photo shoot (which was planned by Aldi) and posed for adorable pictures inside the store, goofing off with tomatoes and a grocery cart. The shoot took place after a friend of Niere's contacted Aldi and informed the staff about how much the couple loved shopping at Aldi. The lucky couple was also rewarded with a gift basket full of "Aldi-exclusive products" from the store.
For those who are curious, Kuntz and Niere first met each other at a gym in 2017. Kuntz explained, "She smiled at me because she thought my shirt was from a kickball league she was in. It wasn't, but it gave me the courage to approach her."