The 10 Best Things We Ate And Drank At Disneyland's Food & Wine Festival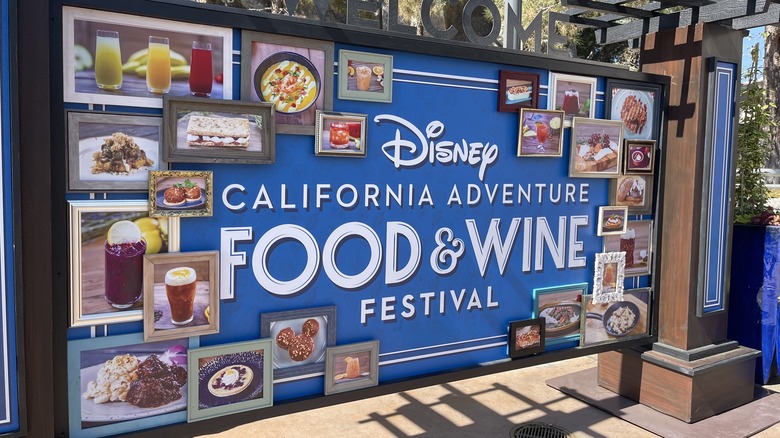 Carly Caramanna/Mashed
Some people visit Disneyland — the pinnacle of Walt Disney's creations — for a spin on Space Mountain or a photo in front of the iconic castle. We, on the other hand, visit to ingest copious amounts of delicious foodie creations. From Disney's hand-dipped corn dogs to the impressive QuesaBirria (we are in California, after all!), the property is home to some of the most inspired theme park eats to be found.
The culinary team pulls out all the stops each year for the Disney California Adventure Food and Wine Festival. From now until April 26, a smorgasbord of delights can be found throughout the park's existing food and beverage locations as well as festival exclusive outdoor food kiosks. The dozens of delicious bites created just for this festival include returning favorites such as a Mickey-shaped macaron, as well as some surprising newcomers ... peanut butter mac and cheese, anyone? 
Visiting the festival is included with park admission to Disney California Adventure Park (across from Disneyland Park), which is exclusively where the festival takes place. Food and beverage items are available on an a la carte basis from the dining locations and 12 outdoor marketplaces found scattered throughout the park. Most food items are priced between $5 and $9 with beverages generally ranging between $6 and $14. Now that you know the lay of the land, let's explore the best things we ate and drank at Disneyland's Food & Wine Festival. 
Snickers Caramel-Peanut Milk Chocolate Mickey Macaron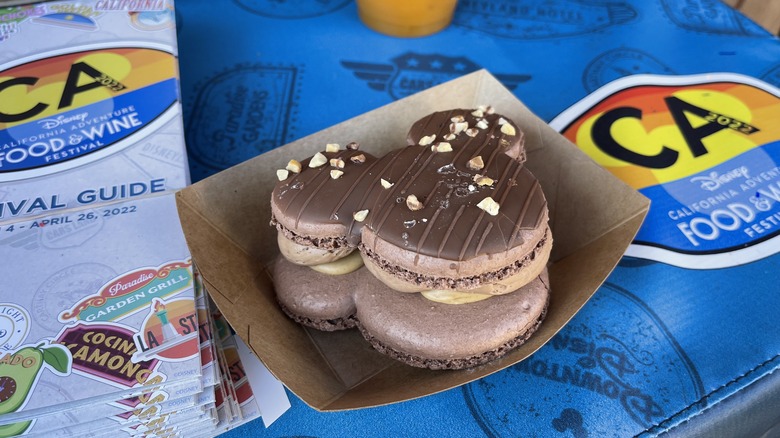 Carly Caramanna/Mashed
Our mouthwatering journey begins at the Nuts About Cheese booth, and spoiler: It's actually home to quite a few delicious options. But, it is a returning favorite that has us singing all the right notes. For lack of a better word, we went completely nuts over this very chocolatey creation, yet again. The Snickers Caramel-Peanut Milk Chocolate Mickey Macaron is available for $6.50 and is one of, if not, the best desserts found at the festival. (Of course, it wouldn't be a Disney food festival without the appearance of a Mickey Mouse-shaped macaron.)
The milk chocolate macaron is filled with a caramel ganache and Snickers pieces. This was positively heavenly and chock full of irresistibly creamy ganache. The Mickey exterior encompassed just the right qualities you'd expect in a great macaron with a crunchy exterior that made way for a soft, pillowy inside. Just get this.
Spicy Honey-Apricot Cocktail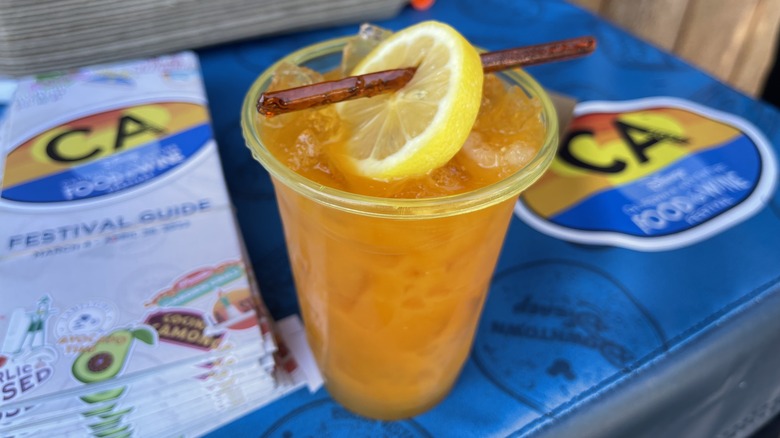 Carly Caramanna/Mashed
Our next favorite can also be found at the Nuts About Cheese booth. There are both alcoholic and non-alcoholic drinks abound at the festival, but our very favorite boozy delight can be found here. After tasting the wacky, yet surprisingly good combo that is peanut butter mac and cheese (more on that to come), we cleansed our palettes with a brand new beverage offering, the Spicy Honey-Apricot Cocktail.
Priced at $14.00, the liquor-forward cocktail is made with rye whiskey, apricot, orange, lemon juice, spicy honey syrup, and bitters. The whiskey played a balancing act with a welcomed kick courtesy of cayenne pepper laced honey syrup. The sweetness of the honey offered a smooth finish on the unique cocktail. It's utterly complex for a theme park beverage, but perfectly balanced with both the sugar and spice dancing on the tip of your tongue. Final verdict: It had us buzzin' like a honey bee.
Gyro-inspired Flatbread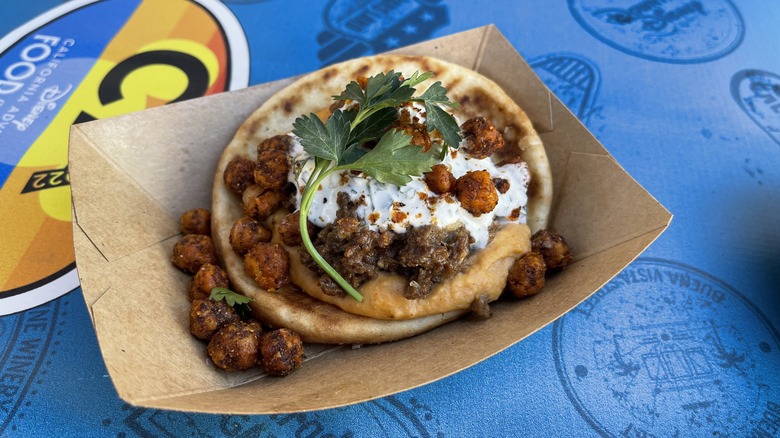 Carly Caramanna/Mashed
The festival's LA Style booth is almost hidden in plain sight next to an overall forgettable Monsters, Inc. themed attraction. What is not forgettable, however, are the yummy eats and unique cocktails that call this booth home, including a twist on the traditional margarita made with ancho chile liqueur, watermelon, and mezcal. Speaking of bringing the heat, the booth further delivers with a new twist on a gyro that is surprisingly completely meat free.
LA Style's Gyro-inspired Flatbread is made with Impossible Ground Beef, chipotle hummus, tzatziki, and spiced crispy chickpeas. Priced at $6.75, we were pleasantly surprised with the portion size to cost ratio. After taking one bite, the spice of the hummus immediately hit us, which was a welcoming taste in the land of spicy things often being dumbed down to better suit all guests. The flavors of the Impossible meat (which tasted just like the real deal) blended well with the hummus and creamy, cooling tzatziki. The addition of spiced crispy chickpeas further added heat and a nice level of crunch.
Glazed BBQ Pork Belly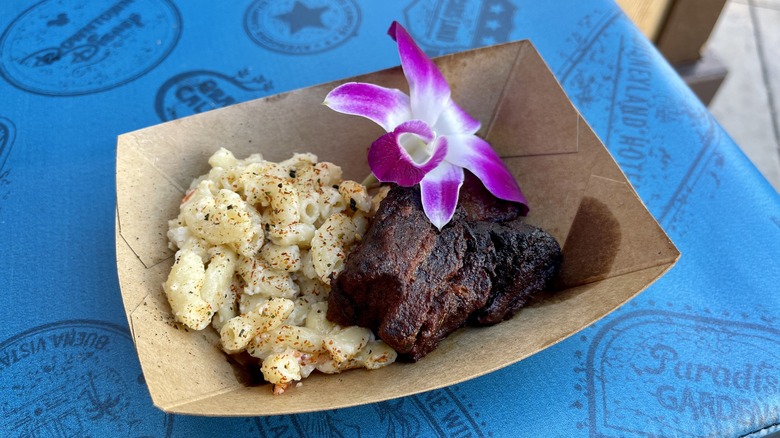 Carly Caramanna/Mashed
Our first venture to the LA Style food booth went so well that we went back for seconds. This time, we decided to switch things up and throw some meat in the mix. From our experience, Disney Parks do pork belly often, and they do it quite well. In this case, they are serving up delicious pieces of our favorite pig cut, but this time with a Japanese twist.
Priced at $8.50, the Glazed BBQ Pork Belly is served with furikake-togarashi mac salad. Let's talk about this salad first. The classic backyard summertime favorite is given some Asian influence with the addition of furikake and togarashi. Both are flavor packed Japanese seasonings that are made from dried and ground ingredients, including toasted sesame seeds, sugar, salt, nori, and offer a nice kick courtesy of cayenne or red pepper. This elevated side dish was perfectly paired with a piece of pork belly. With just the right amount of fattiness to it, the meat was incredibly tender and juicy with just a bit of sweetness from the bbq glaze.
Strawberry Cheesecake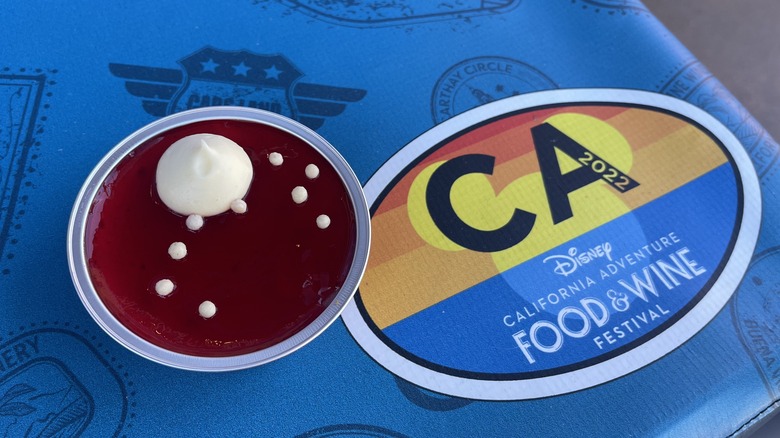 Carly Caramanna/Mashed
For all things sweet tooth related, there's no better booth than the Berry Patch. With yummy goodies like a blueberry-buttermilk pie and a decadent cherry chocolate mint dessert cocktail, what is not to love? But, our favorite was the delicate strawberry cheesecake with lemon Chantilly. How fancy!
Priced at $6.50, this encompassed everything we love in a dessert: balance and bright flavors with just the right amount of sweetness that didn't leave us keeled over with an uncomfortable stomachache. The cheesecake was cold, refreshing, and surprisingly light. It had that perfect creamy texture we expect from a cheesecake and just the right amount of crunchy graham cracker crust. The lemon chantilly  (a type of sweetened whipped cream) was delicate but offered a nice bit of citrus flavor to balance out the subtle richness of the cheesecake. We also appreciated the visually appealing dots and dollop garnish. Overall, we were berry impressed.
Cubano Slider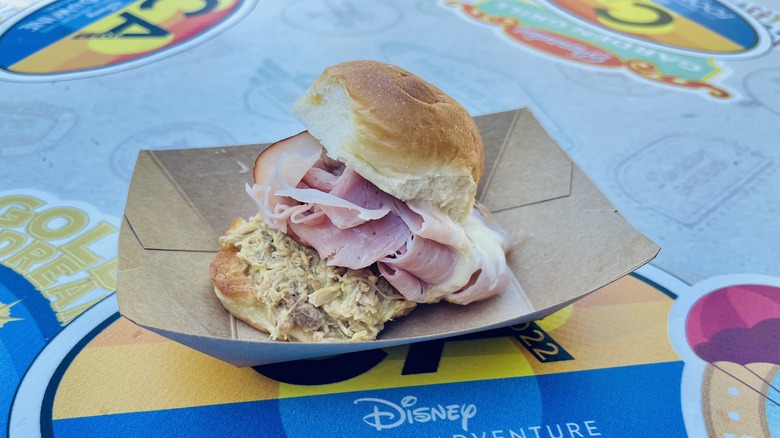 Carly Caramanna/Mashed
We arrived at this next booth with our expectations at a relatively low level, but they were immediately blown out of the water by this brand new festival offering. Who would have thought that a simple enough sounding Cubano slider could do all that? The D-Lish booth is home to a non-alcoholic peachy cooler punch, the crowd-pleasing beef and potato puffs with stout gravy, and this interpretation of a Cuban sandwich. Priced at $7.50, the Cubano slider is made with slow-roasted mustard-crusted pork, sliced smoked ham, melted Swiss cheese, and a pickle slice, all served on a Hawaiian roll. 
So, was it D-lish? Yes! The Hawaiian roll proved to be a soft yet sturdy purveyor of the loaded ingredients. The smoked ham was flavorful and sliced ever so perfectly thin, but it was the slow-roasted mustard-crusted pork that served as the star of this show. It was incredibly tender and full of flavor thanks to the mustard crust. The flavors are familiar, yet a pleasant surprise. The thick cut, vinegar-forward pickle slice was the metaphorical icing on top of the cake — or Cubano. This is enough to win over any hard-pressed foodie as well as the non-adventurous eater.
Chocolate Marshmallow Cold Brew Cocktail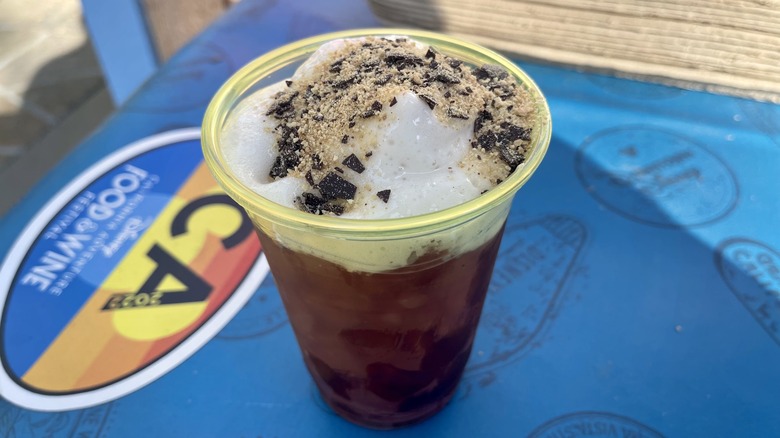 Carly Caramanna/Mashed
After the salty-meets-savory elements of the aforementioned Cubano, we stuck around the D-Lish for a much needed sugar and caffeine rush. There's plenty of caffeine-loaded options at the festival, but our next "best of" was a surprising frontrunner for one of our favorite options. The new-to-the-festival chocolate marshmallow cold brew cocktail is priced at $15.00. Yes, there is alcohol in here which accounts for the higher price tag of this coffee drink. Irish whiskey is combined with Joffrey's Coffee & Tea Co. Mexico Origin Coffee, chocolate syrup, almond milk, and toasted marshmallow.
At first sip, you are hit with the strong, bitter coffee notes of the Mexico Origin blend — we will say, this is definitely one for the coffee and cold brew lovers out there. The fun comes with the topping which consists of a toasted marshmallow and bits of chocolate swimming in a sort of whipped milky foam. After a few sips of the whiskey and coffee concoction, it was delicious to mix everything together. The topping didn't bring too much sweetness to the beverage, but rather a pleasant nutty flavor from the toasted bits of marshmallow. Even with a lot going on, it was balanced enough for even the coffee and whiskey purists to still be pleased.
Chile Relleno Empanada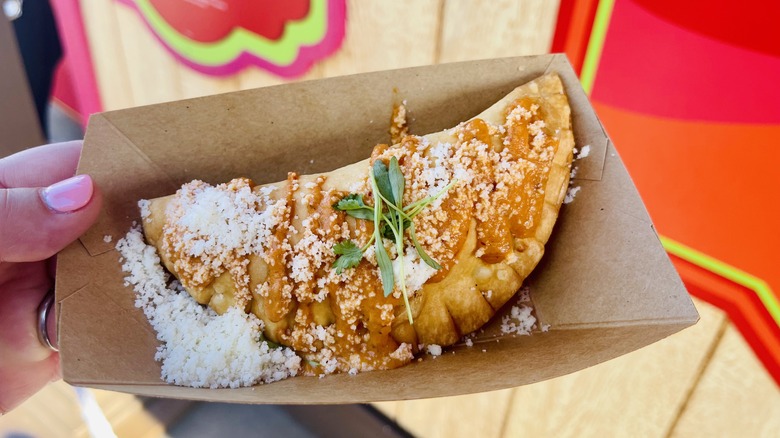 Carly Caramanna/Mashed
Looking to add some spice to your festival life? Make it a priority to visit the Peppers Cali-Ente food kitchen, which is entirely dedicated to bringing the heat. Spice is weaved throughout its impressive menu in some inspired ways, like a Cantarito-style Paloma made with rock melon syrup and habanero-pineapple juice. Of the unique offerings, it was one of the new options at the booth that had us clamoring for more.
But the standout dish is the booth's Chile Relleno Empanada which is filled with Cacique Oaxaca cheese and topped with a arbol pepper salsa and cotija cheese. Priced at $8.50, this meat-free option was a festival surprise for us. The buttery, flaky crust was everything we love about an empanada, but it was the simple, yet delicious filling that had us coming back for bite after bite. The semisoft artisanal cheese has qualities that make it perfect for melting, and offered an ooey gooey deliciousness to the empanada. The salty flavors of the cheese worked well with the spicy qualities of the chile de arbol peppers — a red chile that offers far more heat than a jalapeño (via Masterclass). This was incredibly filling as well, further justifying the higher price tag in comparison to other festival snacks. 
Frozen Guacamole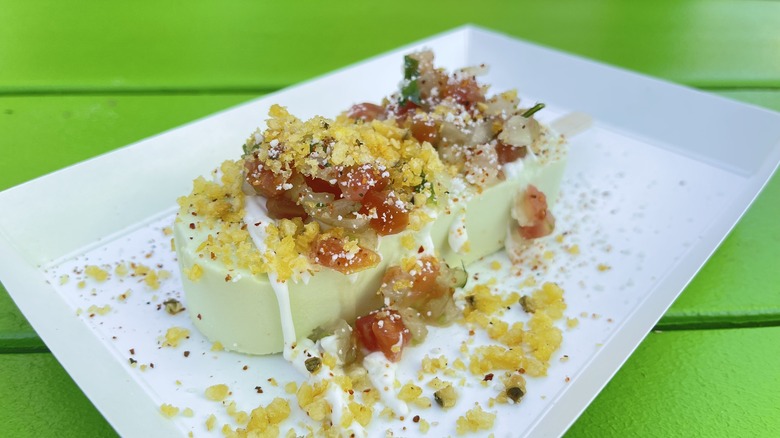 Carly Caramanna/Mashed
Disney California Adventure Food and Wine Festival doesn't hold back when it comes back to dedicating entire booths to a single theme whether it's a specific vegetable (hello, artichokes!) or even cheese. If you are avocado obsessed like us, then this next one is the booth for you. Looking for a fix of your favorite green fruit? Avocado Time is the festival's outdoor kiosk dedicated to the beloved avocado. It is also home to one of the strangest sounding dishes — and no, it is not the return of fried guacamole which was served at the 2020 fest.
The frozen guacamole (yes, you read that correctly!) is an avocado paleta (the Mexican version of an ice pop) topped with lime crema, pico de gallo, and chile-lime seasoning. It's not surprising that it is one of the most talked about dishes at this entire festival. Available for $5.50, we just had to try this Frankenstein level like creation. The pop itself was cool, creamy, and full of avocado flavor. The fresh components on top are what rounded out the flavors of a traditional guacamole. As Nike suggests, just do it!
Orange-Honey Cold Brew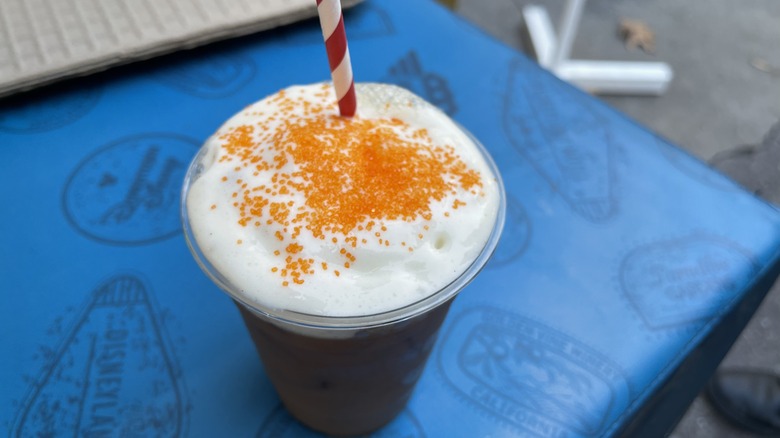 Carly Caramanna/Mashed
The Golden Dreams booth may be tucked away in the park, but it is certainly one not to miss and home to some of the festival's most light and refreshing options fitting for the Southern California setting. After chowing down on a honey-orange glazed salmon salad or a mango-carrot gazpacho with grilled shrimp and jalapeño crema, there are a few beverages to choose from, including a Napa Chardonnay and a tiki-inspired beverage with rum and Campari. These rather basic drinks are blown away by our favorite sip from the festival: Orange-Honey Cold Brew. This one sent us California dreaming.
The non-alcoholic beverage is made with Joffrey's Coffee & Tea Co. Mexico Origin coffee, orange blossom honey, white chocolate, orange juice, vanilla, orange extract, and almond milk. Priced at $6.00, this is on par with the cost of other coffee drinks but way more interesting. The orange flavor was more subtle than we anticipated but offered just the right amount of sweetness and citrus qualities to compliment the bitterness of the coffee blend. It would be awesome to see this offered in the future with an alcohol addition — Grand Marnier, anyone? 
Peanut Butter & Jelly Mac (Honorable Mention)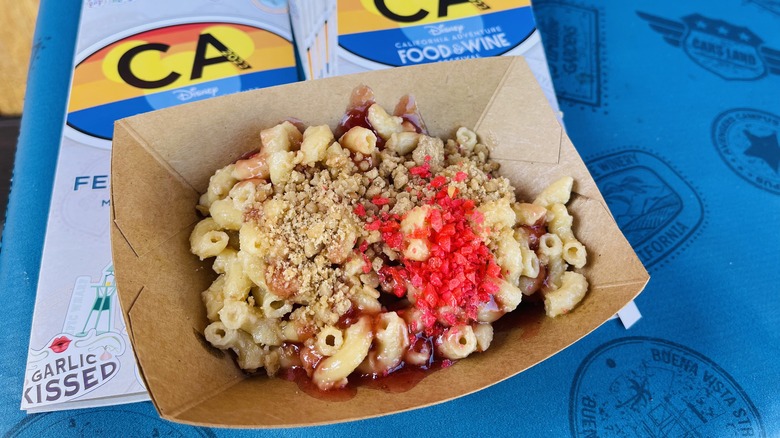 Carly Caramanna/Mashed
Drum roll please ... and now for the most talked about, polarizing, confusing, confounding, and oddest flavor combination we have ever seen at any Disney Park food festival. We're ending where we began our journey, at the Nuts About Cheese booth for the Peanut Butter & Jelly Mac. A creation that only sounds suitable for a tiny child or a drunk frat boy, the dish is topped with brown sugar streusel and strawberry crackle, a.k.a. Pop Rocks. Priced at $8.25, this new festival creation has left many people scratching their head. 
But, should you try it? Yes! This one is worthy of an honorable mention on our list of best eats. It's not as delicious as the other items we covered but worthy of a try solely based on the unique-ness factor alone. The savory dish is not too far off from a Thai style peanut noodle dish. That savory flavor is balanced out by some strawberry sauce giving it that jelly component. The Pop Rocks on top hit the taste buds at first but once it was all mixed in together we shockingly kept going back for more. It's a strange combination, but it somehow worked. It is peanut butter jelly time after all.