Ground Beef Recipes To Make Weeknight Dinners Easy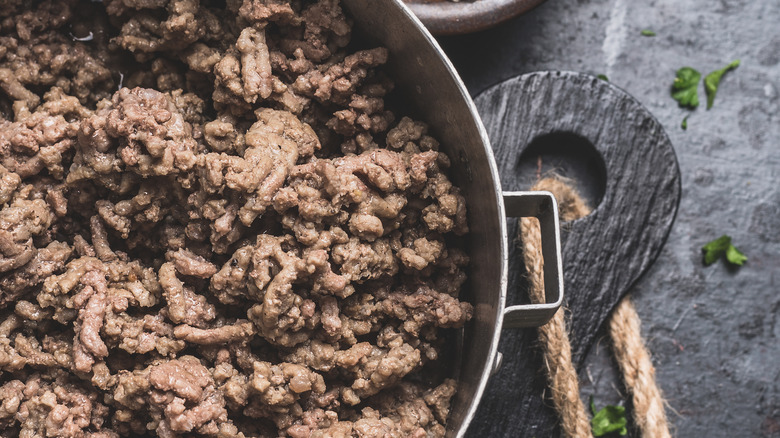 Shutterstock
It's Thursday night and you're staring at the pound of ground beef you bought to make dinner yet again. But you're tired of meatloaf, and really don't want to go the burger route either. So what can you make that's a deviation from your default weeknight repertoire? Are you lacking inspiration? Fear not, because there are a ton of great recipes out there that utilize ground beef as the center of the dish, ranging from low-carb and healthy to comfort food hybrids. So if you're looking for inspiration, here are some ground beef recipes that will make weeknight dinners easy.
Picadillo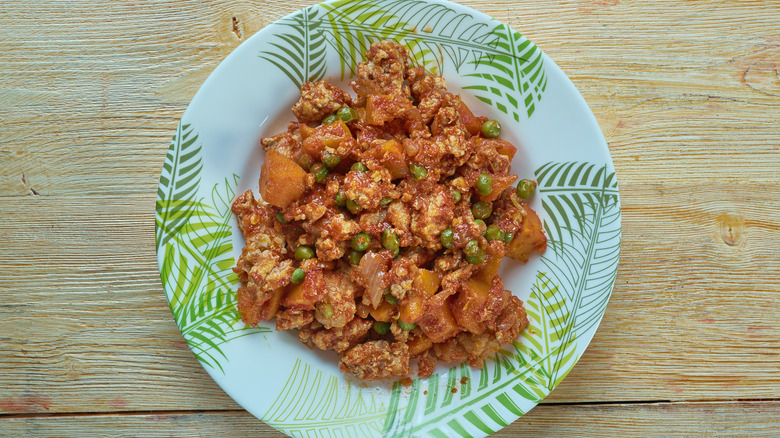 Shutterstock
Picadillo is my favorite go-to when I'm cooking with ground beef. My father, who was from Cuba, would often cook picadillo when I was growing up, serving it with white rice and black beans. And while my father is long deceased now, my mother and I both cook his recipe on a regular basis; it's a nice way to remember him and honor my heritage. This recipe from The New York Times can get you started, although it's a good deal fancier than the one I have internalized. It also calls for raisins and olives, which would never fly in my home (along with peas), but I won't judge if you bring them to the party. Pro-tip: It's all about the sofrito.
Ravioli lasagna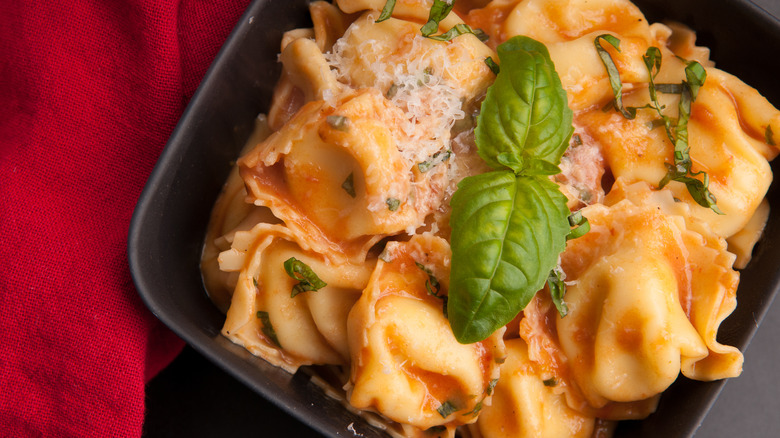 Shutterstock
What's better than lasagna or ravioli? Ravioli lasagna, of course, a dish that's as easy to make as it is decadent and delicious. And you can make it with any kind of ravioli, be it cheese or meat — it just depends on how carnivorous you're feeling that day. 
All you need is frozen ravioli, a jar of spaghetti sauce, grated mozzarella cheese, and ground beef. Follow this recipe from Taste of Home for an Italian-American comfort classic. This is especially good for kids and the picky eaters in your world — who says no to meat, pasta and cheese swimming in delicious sauce? And for the adults, garnish with fresh basil and grated Parmesan for added flavor and freshness.
Beef lettuce wraps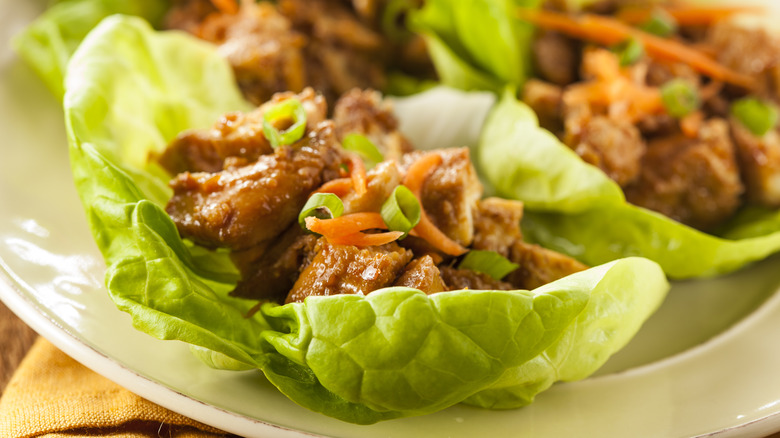 Shutterstock
Lettuce wraps are a wonderfully healthy option that have pleasing flavors without the carbs you might find in starch-based wraps. I recommend using a butter lettuce for the wrap given its flexibility, though romaine will do just fine. The key to a good lettuce wrap is good textural balance, so anything with nuts and a diversity of vegetables is usually a sure shot.
This recipe from Apple of My Eye utilizes Asian flavors like garlic, ginger, soy, and hoisin, to build a classic flavor profile that compliments the ingredients. Additionally, water chestnuts, shredded carrots, and chopped peanuts bring both flavor and texture to the dish, rounding it out nicely.
Beef taco salad pizza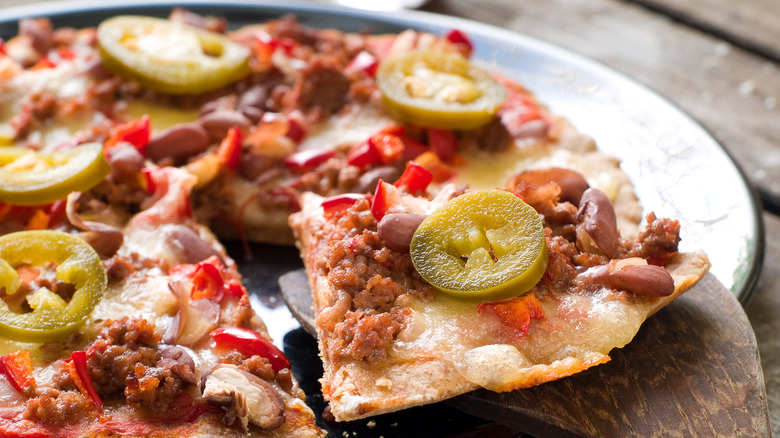 Shutterstock
Tortillas are the foundation for so many wonderful dishes, with their round shape and durable texture. They're obviously Mexican in origin, but they've been a staple in American kitchens for many years. They're also an excellent vehicle for cheese — think quesadillas, for example. And if you're looking for a fun weeknight meal that goes beyond tacos, try this recipe for a beef taco salad pizza from Delish. It essentially takes the format for pizza and uses classic Mexican-American ingredients like seasoned ground beef, cheddar cheese, avocado, and sour cream in tandem with salad components to create a dinner that's super fun. Plus it's easy to make!
Thai beef with basil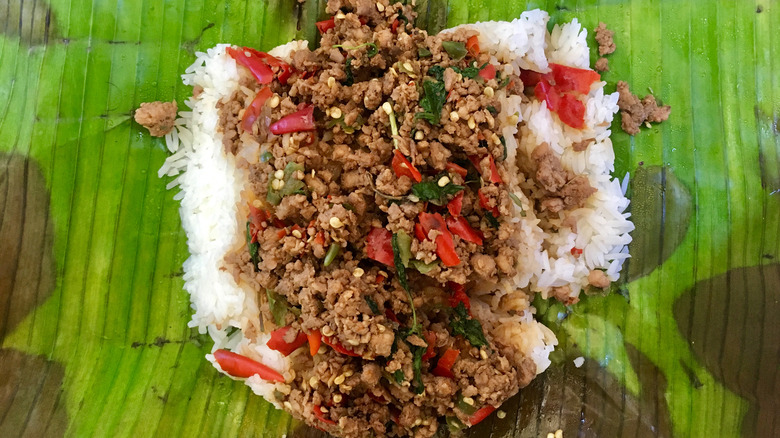 Shutterstock
I could eat Thai food every day and never get sick of it. That's because it utilizes classic ingredients like basil, lime, fish sauce, and chilies, to create an amazing depth of flavor in a variety of dishes. So why not learn how to make Thai food at home if you don't already? It's often super easy to do, and you can find all the ingredients you need at a regular grocery store. And Thai flavors really make ground beef sing, like in this recipe from Epicurious. It utilizes those classic flavors along with other Thai flavors, like scallions, carrots, and garlic, to make a simple but delicious ground beef and rice dish that's also healthy and low in calories.
Chili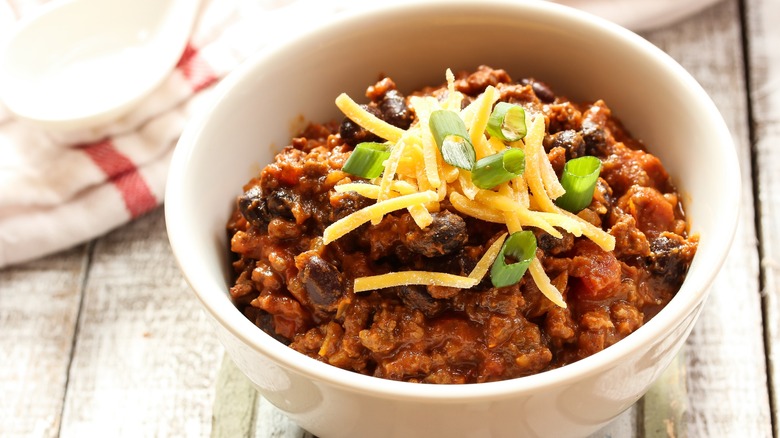 Shutterstock
There are recipes upon recipes out there for chili. There's vegetarian chili, chili without beans, tofu chili, and chicken chili. I lived on crock pot turkey chili during a two-month home renovation a few years ago, and surprisingly I still love it. And there's as much controversy about what constitutes chili as there are recipes for it — don't expect to find beans in your chili in Texas, for example, and additions like cinnamon and espresso might provoke a hostile response from connoisseurs.
Bearing all of that in mind, when I think of chili, I think of ground beef, chopped onions, and kidney beans in a tomato-based sauce with flavors like cumin and chipotle. This classic flavor profile is what you'll find in this recipe from Epicurious, so put your ground beef to good use and whip up a batch.
Shepherd's pie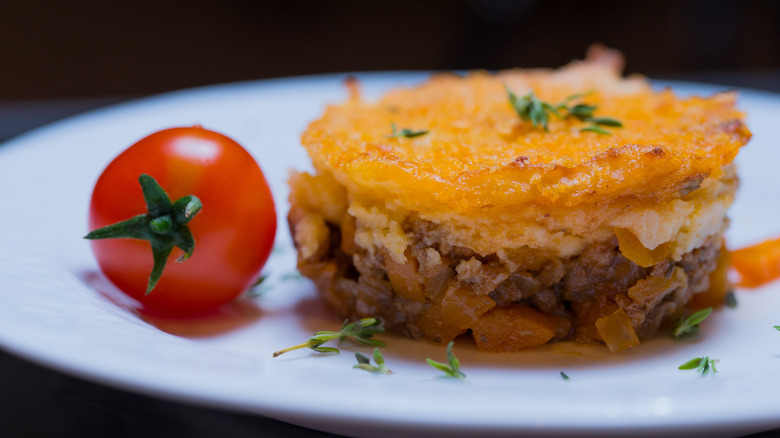 Shutterstock
Speaking of American comfort food classics, you can't go wrong with a simple but well-made Shepherd's Pie when you're cooking with ground beef. As long as you can master the mashed potato crust, you're guaranteed to have a delicious dish on your hands, as the textural contrast is super pleasing along with the hearty meat-and-potato flavor. Once you bring cheddar cheese to the party, it becomes a serious casserole of deliciousness, too. This recipe from Life in the Lofthouse gives a good step-by-step method to making a perfect pie. Don't be fooled by the long list of ingredients — it's an easy recipe to execute. Serve with a green salad and you're done.
Stuffed bell peppers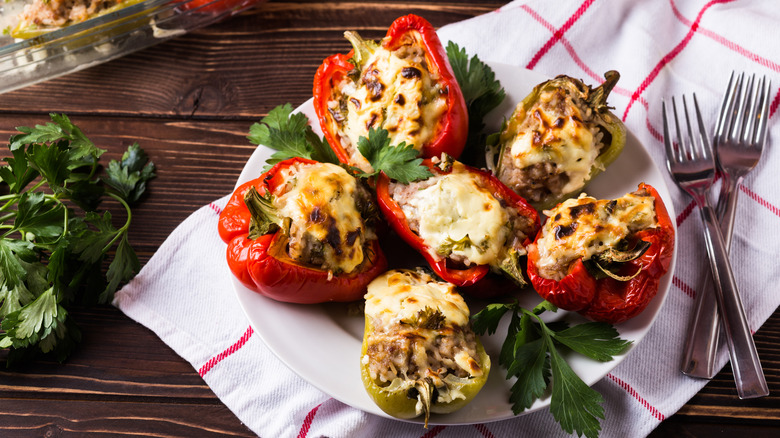 Shutterstock
Before I learned how to cook, one of my staple dinners was the turkey stuffed peppers from Trader Joe's. It was one of the healthiest and most convenient options available to me, especially given that I lived in a place that didn't have a kitchen — just a microwave, a mini fridge, and hot plate. But now that I'm long out of grad school, I prefer to make my own stuffed peppers as I can add nuance and change up the core ingredients on a regular basis. And while there are a multitude of recipes out there, this recipe from The Pioneer Woman combines simple flavors and lets the ingredients speak for themselves, rather than going too hard with spices or fillings. Note: I always use red peppers because they're sweeter than others, but your mileage may vary.
Korean beef bowl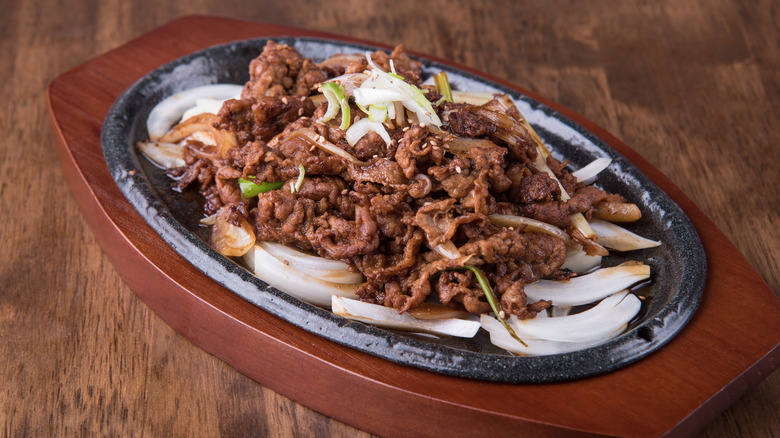 Shutterstock
Have you accepted bulgogi into your world? If you haven't, it's likely because you haven't had the chance. Living in southern California for five years gave me the ability to experience really good Korean food, something I don't get as much now that I'm back on the east coast. So when I'm feeling nostalgic, I bust out the beef and combine it with Korean flavors. This recipe from Damn Delicious brings me right back to Los Angeles, so I make it often.
While traditional bulgogi is made with strips of sirloin, ground beef is a cheap and easy substitute in this dish, which combines brown sugar, sesame oil, soy sauce, red pepper flakes, ginger, garlic, and green onions together in a classic Korean flavor profile. Serve over rice. 
Cheesy taco skillet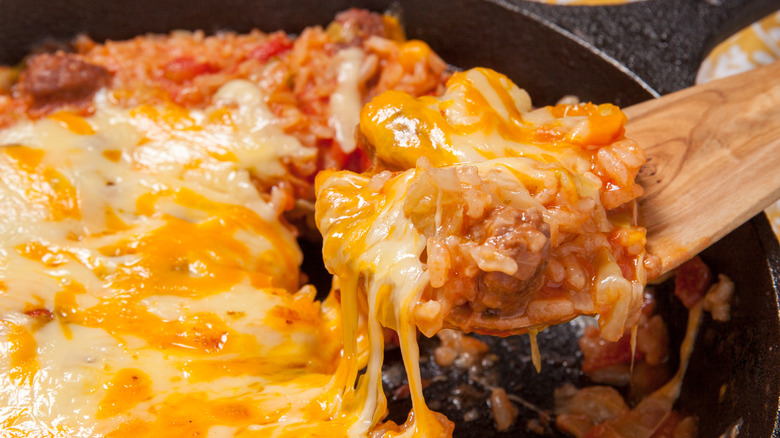 Shutterstock
Ground beef stands up nicely to the assertive spices used in taco recipes, like cumin and chili powder. And while I firmly believe that it's impossible to get tired of traditional tacos, sometimes it's a nice change to ditch the tortillas and make a hearty, ooey gooey skillet full of beef, beans, and a mess of melted jack cheese. That's exactly what you get when you make this recipe from Delish, which also calls for a red bell pepper for texture along with flavors like garlic, diced tomato, and hot sauce. It doesn't get any easier, either, so you can make this on any night you're pressed for time.
Ground beef stroganoff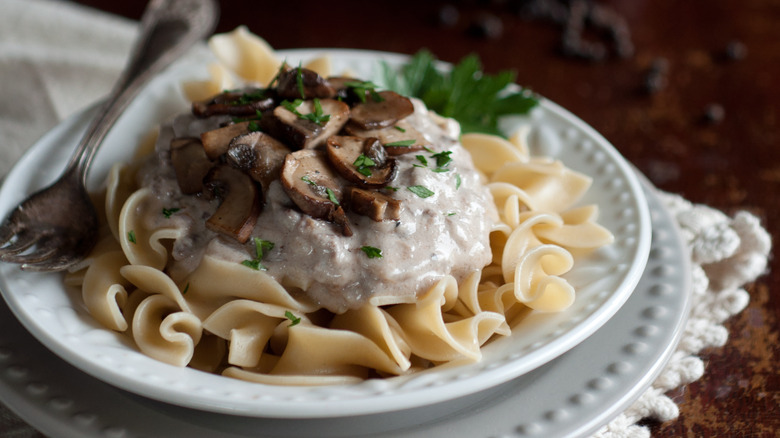 Shutterstock
I usually judge recipes that call for a can of cream of mushroom soup, but I make an exception when it comes to beef stroganoff. The assertive taste of the soup lends itself nicely to the stroganoff format, bringing an unctuous tang to the flavor profile. Plus, it adds a bit of body to the creamy texture of the sauce. This recipe from The Country Cook is a perfect weeknight go-to that will leave everyone with full bellies. If you want to cut some of the calories you can substitute Greek yogurt for the sour cream — it honestly doesn't take that much away from the flavor given that it also has butter, beef stock, and the soup. So if you like mushrooms and creamy pasta, give stroganoff a try.
Ground beef and broccoli stir fry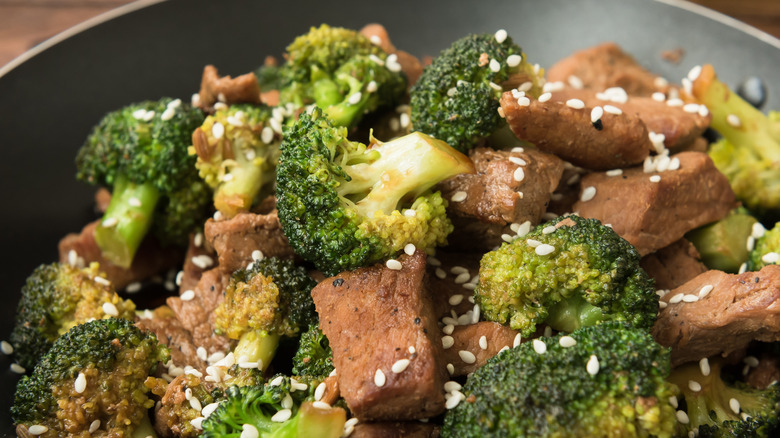 Shutterstock
Beef and broccoli are an iconic, classic pairing in a variety of cuisines. The boldness of the beef stands up nicely to the texture of the broccoli, and both ingredients absorb flavor while maintaining structural integrity. It's a favorite for me when I order Chinese take-out, especially when there's just the right amount of sesame oil in the mix. And while the dish is usually served with cubed beef, it works just as well with ground beef. 
This recipe from Aunt Bee's Recipes is a riff on a Korean beef bowl, with broccoli added for a fresh element and extra sauce for a burst of flavor. Serve over rice and enjoy.
Philly cheese steak sloppy Joe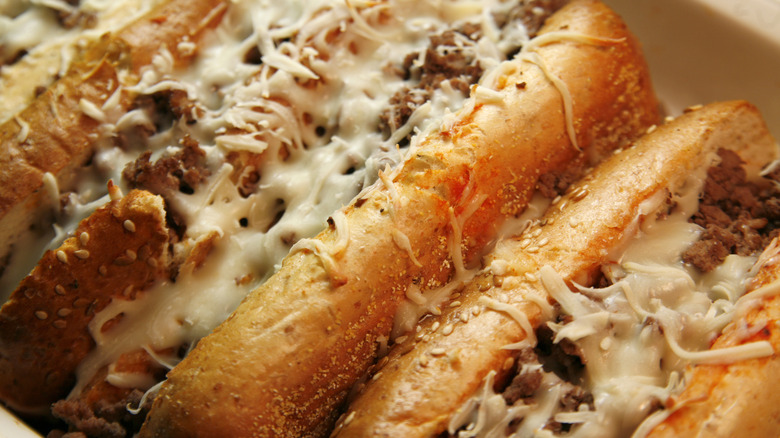 Shutterstock
Sloppy Joes are the ultimate comfort food, especially when you've toasted the bun just right, and the meat is as tangy as it is sweet. And while there are Sloppy Joe purists out there who would object to the addition of cheese, sometimes breaking the rules can have a really tasty result. This is certainly the case with this recipe from Rachel Ray, which hybridizes the Sloppy Joe with its cousin, the Philly cheese steak, making for a delicious result. It brings Italian flavors like salami and pepperoncini to the mix, along with ground beef and lots of provolone cheese. The result is a veritable explosion of texture and flavors that is completely bad for you and 100 percent delicious.  
​Szechuan noodles with spicy beef sauce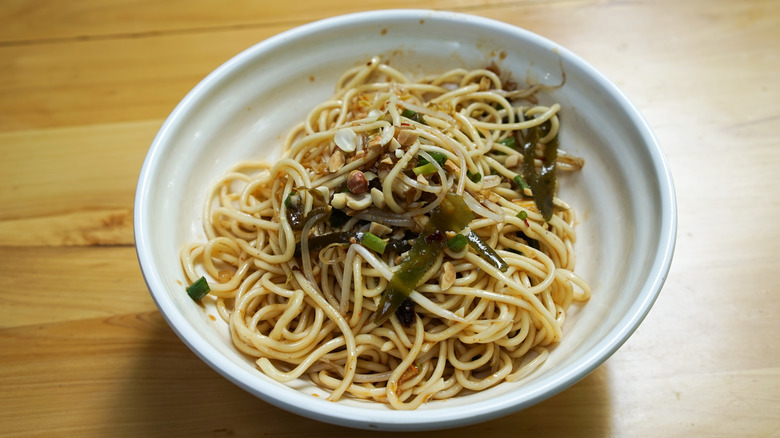 Shutterstock
Ground beef and noodles go together like peas and carrots — well, more like spaghetti and meatballs. And while spaghetti and meatballs is literally my favorite food ever, sometimes it's good to be able to diversify and switch up the flavor profile while retaining what makes it so great. Fortunately, a Szechuan flavor profile works perfectly in this case. This recipe, from food.com brings garlic, ginger, sesame, and hoisin sauce to the party along with ground beef and tender vermicelli. Plus, lots of chopped yellow onions bring a crispy bite to the dish along with chopped green onions, providing a bright flavor and textural contrast to the beef and noodles. It will be a Monday night mainstay for sure.