That Time Top Gear's James May Won A Cookoff Against Gordon Ramsay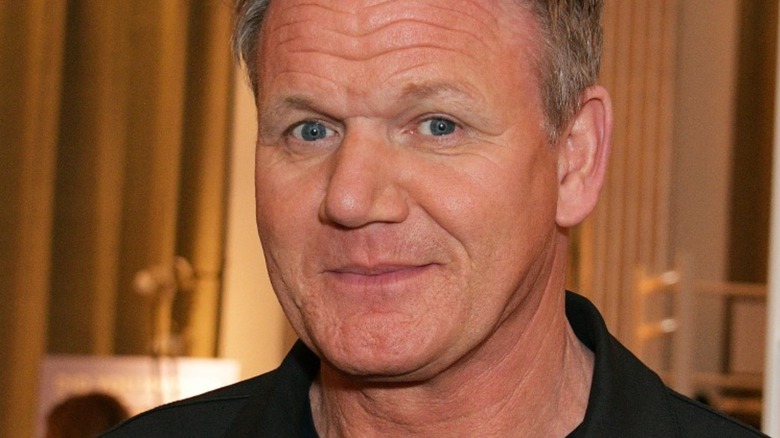 David M. Benett/Getty
James May, a beloved presenter on the British car shows "Top Gear" and "The Grand Tour" is, without a doubt, a consummate car guy. Consistently ribbed by his co-hosts for his significantly slower-than-warp-speed driving and his ability to explain simple concepts in a way that makes them confusing, May's quirky personality has won him fans across the globe. And his automotive knowledge has won him the respect of car enthusiasts everywhere. But that isn't his only field of expertise. He's also quite handy in the kitchen. 
In 2020, Prime Video released his show entitled "Oh Cook!" It is a program designed to help the cooking-challenged prepare simple rustic dishes with ease. The self-effacing May makes it all look very easy and endearingly seems surprised with how well everything turns out. Armed with home economist Nikki Morgan, who hangs out in the closet until he needs help, May manages to bang out some very tempting fare, including a half-vegetarian, half-meat pie; some yummy-looking "rosti" made from leftover spaghetti; and a stir fry so pretty its picture could hang in a Monet exhibit. The show's recipes can even be found in a cookbook of the same title. Yes, it turns out this Spam-loving gearhead possesses some serious culinary know-how — enough, in fact, to take on one of the world's most celebrated chefs in a head-to-head cookoff. 
James May once went head-to-head against Gordon Ramsay
In an episode of Gordon Ramsay's series "The F Word," he agrees to battle James May to see who can create the best fish pie. To get things started, Ramsay decides to provide May with an opportunity to prove his manliness by drinking snake whiskey from Laos, eating some bull penis, and ingesting a piece of Icelandic rotten shark. May flies through each challenge with ease, while Ramsay winds up barfing in a bucket. 
Next up, viewers are treated to a glimpse of the competitors in action. While Ramsay lists his assortment of high-brow ingredients, May talks about how long it took to peel potatoes and sweet potatoes, while he begins to poach his fish in milk. Ramsay confesses, however, that May has impressive knife skills, and can chop really fast — which Gordon follows up by adding that he's the first person in England to ever call James May "fast."
As the rivals present their final dishes, Ramsay appears sure that he'll be crowned victorious even though May calls Ramsay's dish "runny." Surprisingly, May's dish wins with three votes to Ramsay's two, causing Ramsay to say that he can't believe he lost to that "pile of s**t" cooked by "a shaggy tramp." May is thrilled with his win, poking fun at the second-place finisher by asking, "Are you any good at driving?" After years of watching May being left in the dust in his car shows, it is satisfying to see him defeat a culinary Goliath.