The Upcoming Movie About The Life And Times Of KFC's Colonel Sanders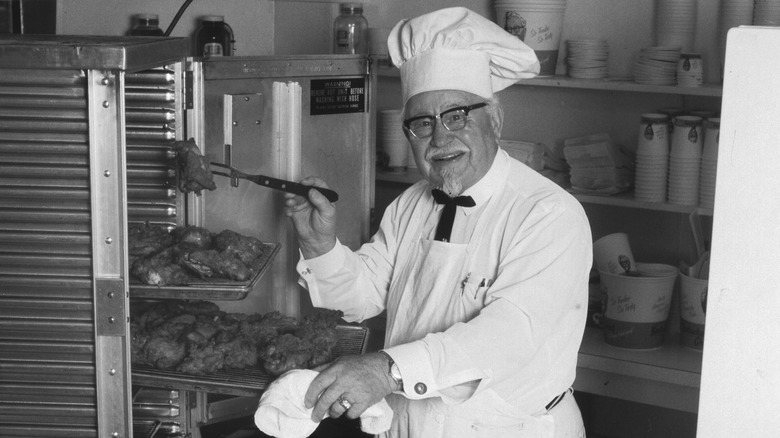 Leila Grossman/Getty Images
Harland Sanders, also known as Colonel Sanders, is more than the face of KFC. While he might have been the person who perfected the chain's 11 secret herbs and spices, the story of the man is even more tantalizing. Harland's history is overflowing with stories and a drive to succeed, and it proves that the path to success is never an easy one.
According to Hypebeast, Margaret Sanders released the book "The Colonel's Secret: Eleven Herbs and a Spicy Daughter" in 1996. While the recounting is one woman's perspective on her father, his history, and their relationship, it gives a glimpse into the complicated yet flavorful world of fast food.
Now, that retelling has been optioned into a movie. As reported by Deadline, Margaret's book has been adapted into a movie with the projected title, "A Finger Lickin' Good Story: The Life of Colonel Sanders." Producer Eric Paquette and screenwriter Cheryl Guerriero, known for "Palmer," are bringing the story to life, and this movie looks to explore more than just the caricature of the man associated with fried chicken.
What can people expect from the upcoming Colonel Sanders movie?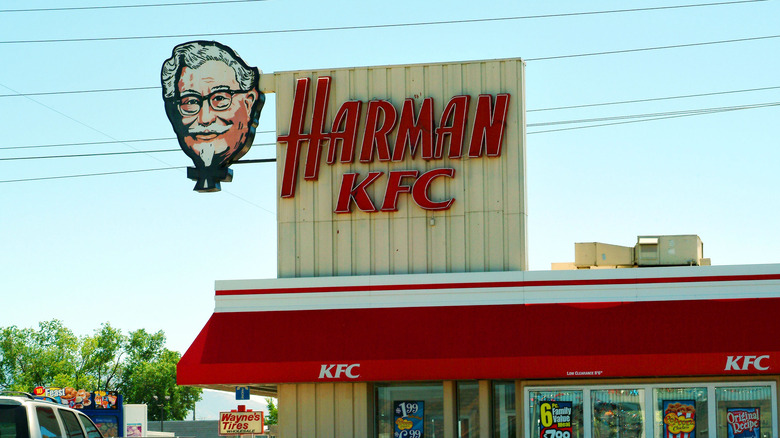 Danny La/Getty Images
As Deadline announced the adaptation of Margaret Sanders' book, "The Colonel's Secret: Eleven Herbs and a Spicy Daughter," the upcoming movie by looks to do more than just recount the rise of KFC and its fried chicken. Although complete details have yet to be released, screenwriter Cheryl Guerriero called the plot "an incredible story of perseverance and faith" in a statement.
"I knew Sanders was a real man but I had no idea how many jobs he had, how many failures, how many challenges, but the biggest surprise was that he was around 65 years old when he set out to franchise his chicken," she continued.
Indeed, looking back at KFC history, Harland Sanders' rise to fame and fortune was not a quick one. According to Sanders Cafe & Museum, he tried his hand at many trades before first battering and frying a piece of chicken. Despite perfecting that iconic recipe, the Colonel's business acumen truly secured his success. 
From leveraging KFC franchises to becoming the face of his business to doggedly chasing his dream, the story of Colonel Sanders could have people hungry to learn more about one of America's most iconic businessmen.