Easy Easter Bark Recipe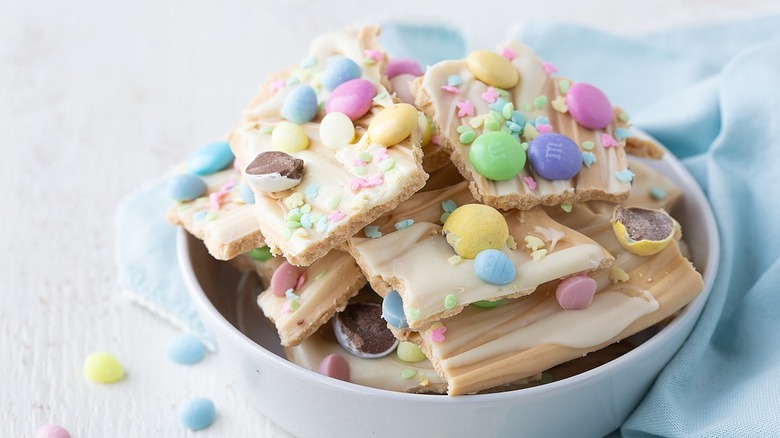 Kate Shungu/Mashed
Ah, the rites of springtime! After a long, hard winter, we like to celebrate a Spring-themed Easter...by eating dyed hard-boiled eggs and overdoing it on candy. A little weird, maybe, but there are worse things we could be doing, plus it's been a while since the last big candy holiday. So bring those chocolate bunnies out, because there sure is nothing better than a chocolatey treat on Easter Sunday morning.
If you'd like a fun and festive sweet treat for your Easter celebrations that isn't shaped like a bunny or a baby chick, you might enjoy this Easter bark from recipe developer Kate Shungu. "Easter Bark is a festive treat that's so easy to make," Shungu says about her recipe. "And if you have kids, you can get them involved in making it, too. It's great for putting on a dessert bar or even giving as a gift." As for the flavor, she tells us, "If you like peanut butter, you will love this bark!" Even though the pastel-colored version works well for Easter, Shungu does say, "You can easily change this up by using different colored sprinkles and candies according to the holiday." Of course, with Easter right around the corner, perfectly pastel chocolate bark is on the mind — follow this recipe and you'll get exactly that!
Gather the ingredients for Easter bark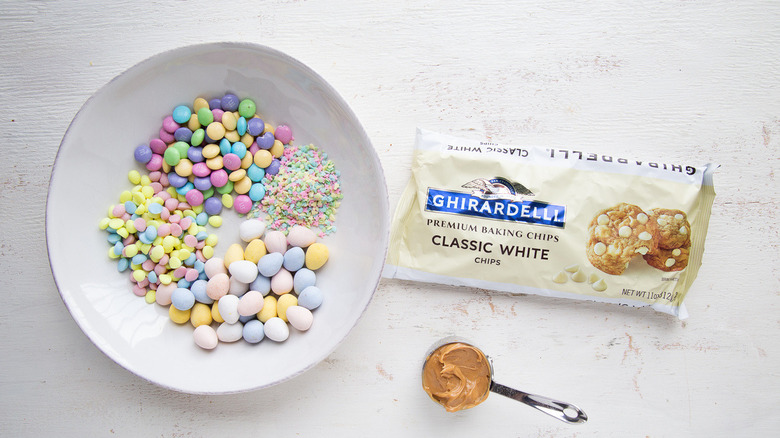 Kate Shungu/Mashed
You only need three ingredients to make this Easter bark. For the bark itself, you'll be using white chocolate chips and peanut butter. To top it off and add visual interest, you will be using colorful candies or sprinkles. Shungu uses Cadbury mini eggs, pastel sprinkles, and pastel M&M's — anything pastel will give off the Easter aesthetic!
Crush the candies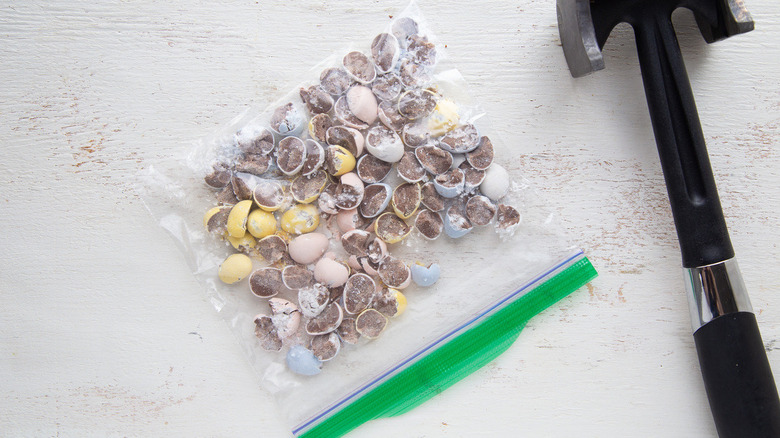 Kate Shungu/Mashed
If any of the candies you use are on the larger side, such as those mini Cadbury eggs, you'll need to break them up a bit. You can easily do this by placing the candy into a plastic bag, zipping it up, and gently pounding them with a meat mallet or rolling pin.
Make the bark layer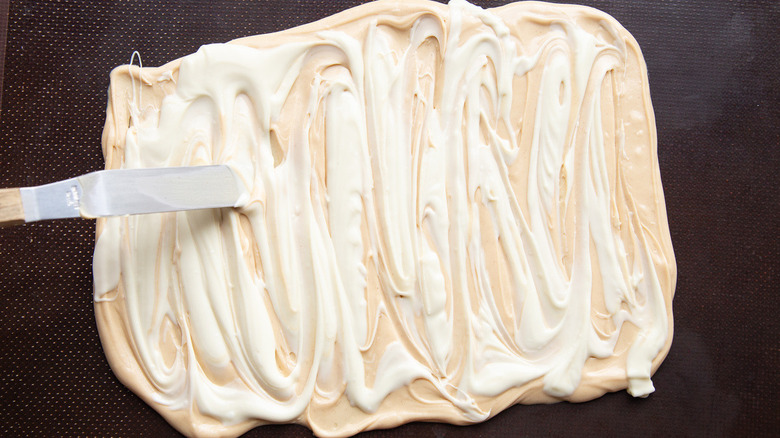 Kate Shungu/Mashed
Melt about ⅔ of the white chocolate in the microwave, something that should take about a minute. Stir in the peanut butter, then melt the rest of the chocolate in a separate bowl.
Spread the peanut butter/white chocolate mixture in an even layer over a baking sheet that is lined with parchment paper. Drizzle the plain white chocolate over the top, then use a knife or spatula to swirl the chocolate into the peanut butter. If you're leaving the peanut butter out, Shungu says, "Just melt all of the white chocolate chips together and spread [the melted chocolate] onto the baking sheet."
Top the bark with candies and let cool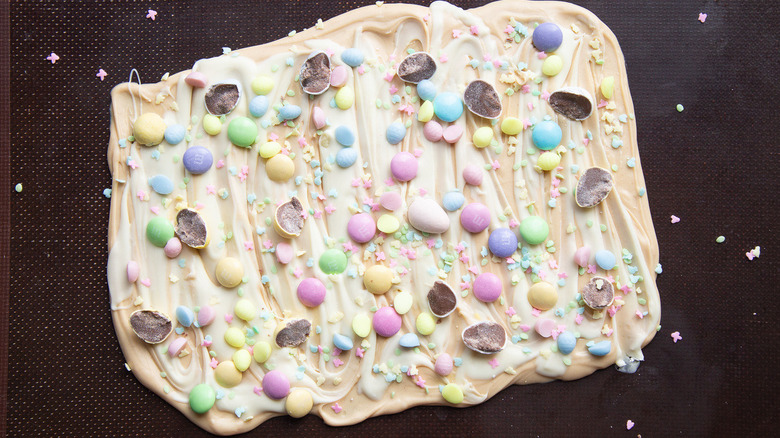 Kate Shungu/Mashed
While the bark is still warm, scatter the candies and/or sprinkles over the top, then allow the bark to cool completely so it can set up. "You can place it into the refrigerator to speed this up, if you'd like," Shungu notes. Once it's set, break the bark into pieces. You can store this candy either in the fridge or out, the same as you would do for any similar type of candy. And there you have it — quick, easy, and perfectly sweet bark, with a beautiful Easter twist!
Easy Easter Bark Recipe
Bright, colorful, and sweet, this Easter bark recipe makes for a perfect holiday treat.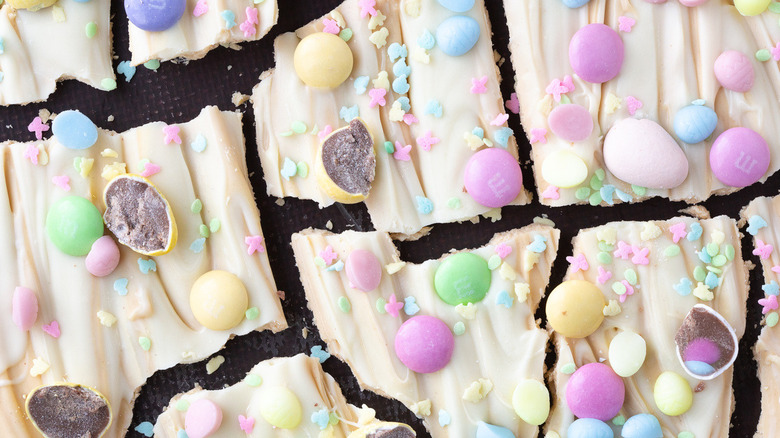 Ingredients
1 (11-ounce) bag white chocolate chips
¼ cup peanut butter
⅓ cup Cadbury mini eggs
⅓ cup pastel M&M's
⅓ cup pastel sprinkles
Directions
Break up any large candies by placing them into a plastic resealable bag, and pounding them gently with a meat mallet, hammer, or rolling pin.
Heat ⅔ of the white chocolate chips in the microwave for 1 to 1 ½ minutes, or until the chocolate chips are starting to melt. Stir the peanut butter into the melted chips.
Melt the remaining white chocolate in another bowl for about 1 minute, then stir until smooth.
Spread the peanut butter/white chocolate mixture in an even layer over a parchment paper-lined baking sheet.
Drizzle the white chocolate in vertical stripes over the top of the peanut butter layer, swirling them in with a knife or spatula if desired.
Top the still-warm bark with the candies and sprinkles.
Let the bark cool completely.
Break the cooled bark into pieces and serve.
Nutrition
| | |
| --- | --- |
| Calories per Serving | 348 |
| Total Fat | 19.4 g |
| Saturated Fat | 9.8 g |
| Trans Fat | 0.0 g |
| Cholesterol | 47.1 mg |
| | |
| --- | --- |
| Total Carbohydrates | 39.5 g |
| Dietary Fiber | 0.7 g |
| Total Sugars | 37.7 g |
| Sodium | 56.2 mg |
| Protein | 5.7 g |