Walmart Is Suing BJ's. Here's Why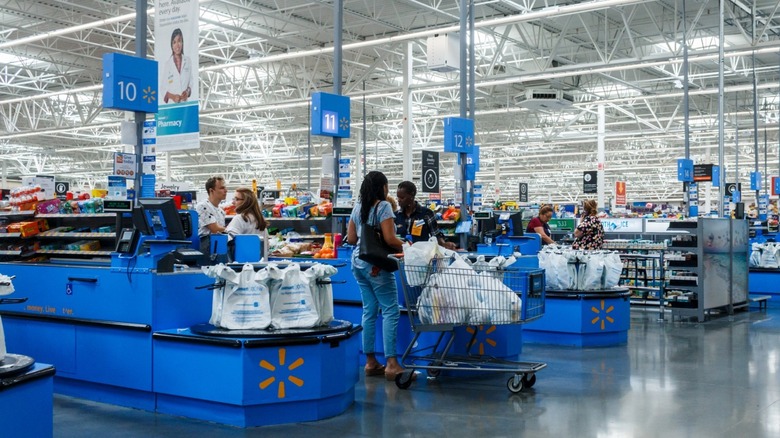 Chekyravaa/Shutterstock
It's a modern day clash of the titans between Walmart and warehouse store BJ's, but they're not duking it out over toilet paper suppliers or employee defection. Instead, the issue at hand is technology.
First, it's important to know that Sam's Club is a subsidiary of Walmart. As a wholesale warehouse, Sam's is obviously in direct competition with other chains like Costco and BJ's Wholesale Club.
Like most large corporations, this is hardly the first time that any of these companies have been the subject of a suit. Costco alone has been sued in the past for gender bias, and even for peddling shrimp that was unfortunately harvested using slave labor in Thailand. Sam's Club has been sued by employees for failing to pay them, and BJ's was slapped with a class action lawsuit for charging sales tax for items based on their original price, rather than the discounted amount. The list literally goes on and on.
Clearly, it's a tough time to be in the wholesale club game, and the beef between Sam's and BJ's this time around is just as interesting.
What Sam's Club claims BJ's stole from them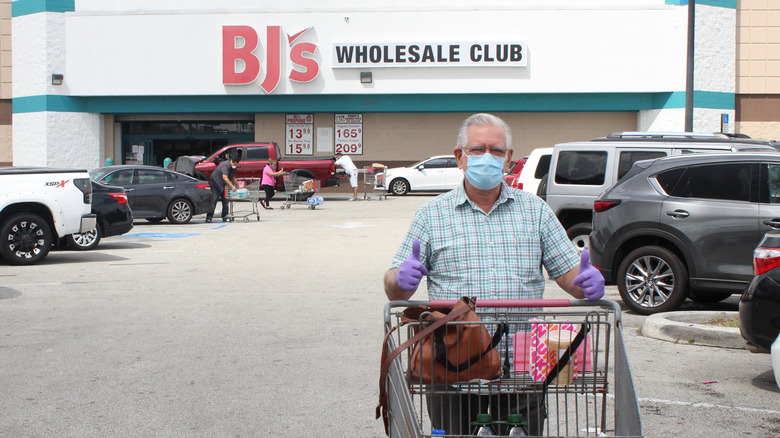 Blueee77/Shutterstock
Sam's Club, by way of parent company and retail juggernaut Walmart, are all up in arms because BJ's allegedly stole technology from them. The tech in question has to do with the self-checkout option in the mobile app for Sam's Club, per CNBC. The suit alleges that the technology powers a self-checkout option, known as Sam's Club Scan & Go. They say that the tech has since been replicated in the BJ's app, known as Express Pay.
What makes this technology unique is that customers can shop and ring up purchases on their phone as they go. This allows them to skip checkout lines altogether. It wasn't developed in response to the COVID-19 pandemic, however. In fact, Walmart has been developing Scan & Go "for years," CNBC says.
Per the suit, BJ's has infringed on patent rights held by Walmart. In addition, the lawsuit says, "Express Pay is an apparent copy of Sam's Club's Scan & Go, merely changing the in-app colors and changing the name from Scan & Go to Express Pay." There is no word at the time of writing on what the federal court has to say about this unsavory situation. 
Whatever happens, someone is bound to be wholesale-sized angry. Needless to say, this isn't one of the things Sam's Club doesn't want you to know about.