Marcela Valladolid Told Her Daughter To Dress Herself And This Happened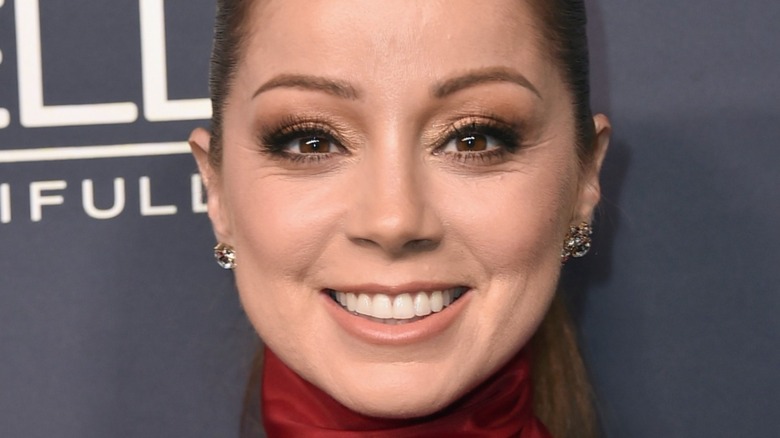 Frazer Harrison/Getty
If you've been following celebrity chef Marcela Valladolid on Instagram for while, you probably know that her daughter, Anna Carina Button-Valladolid, is quite expressive. On several occasions, the seven-year-old has charmed Instagram with her sass and silliness, sometimes dropping in to steal the show on her mom's cooking segments.
Another thing you might have noticed is that, like her mom, Anna is often dressed to impress. In one post on Valladolid's Instagram, she can be seen rocking a stylish Givenchy pullover paired with a matching bow while out to a bakery. In another, she and her mom sport a matching headband and sweater combo for a "Today Show" appearance. 
Of course, while we do give credit to Valladolid for these amazing looks, it turns out Anna doesn't mind the opportunity to choose her own outfits. On Valentine's Day, for instance, the Food Network star said she gave her daughter the freedom to pick her look for the day, which resulted in her opting for a "pirate dance recital dress, Cindy Lou Who tights, and JoJo [Siwa] kicks." 
But it's not just the holidays Anna likes to dress up for. This past Friday, Valladolid shared an adorable post on Instagram revealing that this time she let her daughter pick her own outfit for school. And let's just say the seven-year-old has got some serious style!
You can never be overdressed
While some kids are likely to reach for pajamas when given the option to dress themselves, it seems Anna would much rather make a statement with her fashion. In the photo, the young fashionista looks camera-ready, posing confidently with one hand on her hip and the other high in the air. Her outfit choice perfectly suits the performance-ready stance — a scarlet red and black polka-dot flamenco dress, complete with a fringe collar and red flower in her hair. 
Based on the caption, it seems not even Anna's mom, Marcela Valladolid, whose own transformation turned heads, was prepared for her latest look. "It's always a gamble when I tell her to dress herself for school..." she writes under the post. Continuing in Spanish, the cookbook author added, "OLÉ familia...Es viernes y la Anna lo sabe..." (It's Friday and Anna knows it!).
Since the post went up, Valladolid's followers have shown lots of love for Anna's look. "Brava!" exclaimed one fan in the comments alongside an applause emoji. More compliments pour in including, "She has impeccable taste" and "Look at that form! A natural." 
According to a different post on Valladolid's Instagram, Anna is enrolled in Flamenco lessons, which means her fancy dress may have been for a performance. Still, we can't deny how adorable it is to see the seven-year-old rock the outfit with such pride, and how wonderful it is to see mom be so supportive.