How To Make 'Everything Aldi Pizza' For Less Than $3, According To A Shopper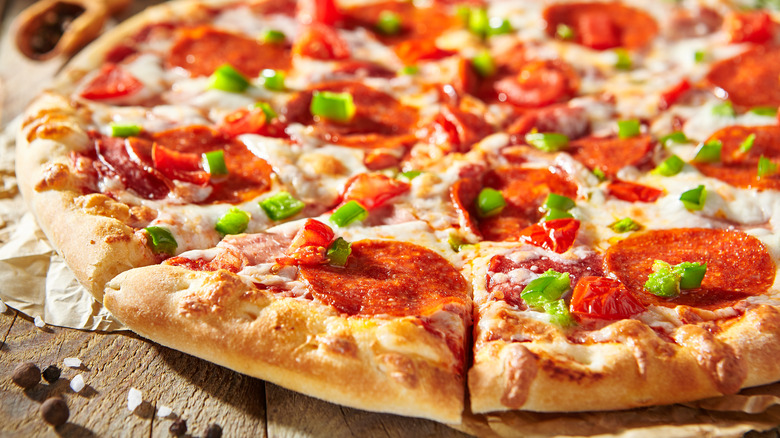 Ryzhkov Photography/Shutterstock
After a rough start in the U.S., the German-bred grocery chain Aldi has worked its way up the ranks of American grocery stores in recent years — and it's not just because the average Aldi checkout line moves 40% faster than those of its competitors (via Forbes). As a discount chain, Aldi is adamant about keeping its products affordable, but the store seems to be just as serious about quality. When Aldi invited The Telegraph to tour its headquarters in 2013, the public saw just how meticulous the family-owned business is about testing its products before putting them on its shelves. This may be especially true of the products made in Aldi's test kitchen, including its $3-or-less Mama Cozzi's take-and-bake pizza. Some people avoid it, but The Kitchn's Jessica Kelly tried every variation of the stuff at her local Aldi and touted it as the best grocery store 'za around. 
For Aldi shoppers who want to create their own pizza without having to deal with making everything from scratch, certain Aldi's locations also sell ready-to-bake pizza dough for a cool $0.99. According to a Reddit post, one shopper was lucky enough to score a bag of the elusive dough from Aldi's deli section and figured out how to make a generously topped "everything" Aldi pizza for less than $3. Here's how the Redditor built this frugal pie — and what other Aldi shoppers had to say about it.
The secret's in the dough, but it's not easy to find
The Redditor's "everything" pizza invention (pictured) tops Aldi's $0.99 pizza dough with the store's marinara sauce, mozzarella cheese, onions, jalapeño peppers, green peppers, and mushrooms, which the Redditor says they baked for 20 minutes in a 450-degree oven. "Believe it or not, that dollar bag of pizza dough is my go to when making pizza in my fancy outdoor pizza oven," writes one commenter, who adds that one bag of Aldi dough yields three individual pies. 
However, several commenters lamented that the dough is unavailable at their local Aldi. "Used to get this all the time, then my store stopped getting it," reads one comment. Luckily, other commenters offered alternatives to the hard-to-find dough. "Everyone who makes Aldi Pizza and has an extra dollar to spend needs to start using the naan bread or the flatbread," writes one commenter, who says the crust gets "super crispy." 
Even if shoppers do find the dough, the Redditor's "less than $3" claim is also contended by some users, one of whom points out that a pound of Aldi's mozzarella cheese alone will set you back $3.50. That said, while creating an ad hoc pizza with Aldi ingredients might not cost exactly $3, it's sure to be less expensive than non-discount stores. When in doubt, shoppers can always defer to Aldi's pre-assembled frozen pizzas.