Why PBR Is Opening A Cannabis Beverage Facility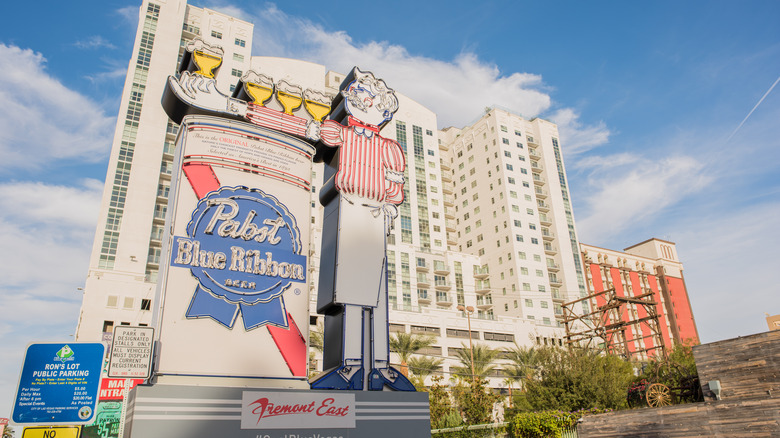 Page Light Studios/Shutterstock
If you haven't heard, some brewing companies have taken steps to enter the cannabis industry. Brewmaster Keith Villa, Ph.D. has written a book about brewing with cannabis with the express purpose of informing brewers how to responsibly and legally prepare and enjoy THC-infused beer (via Brewer's Association). In fact, while some brews are still alcoholic, you can find non-alcoholic beers that can be enjoyed in a different way than traditional beers (via The Manual). It appears that a new market has opened up for breweries.
It's not just small-time craft brewers who are looking into brewing with cannabis. Pabst Blue Ribbon began exploring the new beverage market with the launch of a non-alcoholic, THC-infused seltzer through the brand's new cannabis company Pabst Labs (via Food Beast). It would seem that the drink signals a new direction for the company because it has begun plans to open a facility designed especially to manufacture cannabis beverages.
The facility will be located in California
According to Food and Wine, Pabst Labs announced that they were opening a new manufacturing and distribution facility completely dedicated to producing cannabis-infused beverages. The facility will be located in Desert Hot Springs, California, and has been in the works for the past two years under the direction of the Pabst Labs Production Director Chuck Barlick (via Benzinga). The facility will not only give Pabst Labs control over every step of the brewing process and increase the company's production threshold threefold. 
The facility will allow other brands to collaborate in co-packaging partnerships, similar to Pabst Labs' partnerships with  Tinsely's "Not Your Father's" Cannabis-Infused Root Beer and St. Ides Cannabis line (via Food and Wine). "Leveraging over twenty years of beverage manufacturing experience, the goal while building our factory was to establish a standard for quality and efficiency that would set the bar in all cannabis infused beverages facilities for years to come. It's a game changer," Barlick said. The brand's dedication is certainly of note to fans of CBD-infused foods and other cannabis products on the market.