Dairy Queen's Returning Blizzard Is Inspired By A Popular Festival Food
When you think of carnivals, you probably think of carousels, games, fried food, and, of course, cotton candy. No day at the fair can be complete without a helping of this sweet, colorful, sugar-spun treat. And now, fans of Dairy Queen will be able to enjoy this iconic festival flavor without having to spend a day at the fairgrounds. The popular ice cream chain will be helping to ring in the warmer weather this year with the return of its limited-edition Cotton Candy Blizzard Treat, which will be April's Blizzard of the Month (via Instagram). This Blizzard puts the classic flavor of cotton candy into the brand's signature soft serve, which then gets topped off with colorful "cotton candy sprinkles," per Dairy Queen. As the finishing touch, the treat is served upside down for maximum flavor and enjoyment.
This fan-favorite flavor has been delighting Dairy Queen customers every spring and summer for close to a decade. While there have been some brief hiatuses, On Second Scoop reveals that the iconic spring flavor has been regularly hitting menus since at least pre-2015. The Cotton Candy Blizzard has been consistently returning to the store's seasonal menus each year — it even made a much-anticipated return amidst the Coronavirus pandemic in the spring of 2020 (via Wide Open Eats).
Fans are raving about the return of the Cotton Candy Blizzard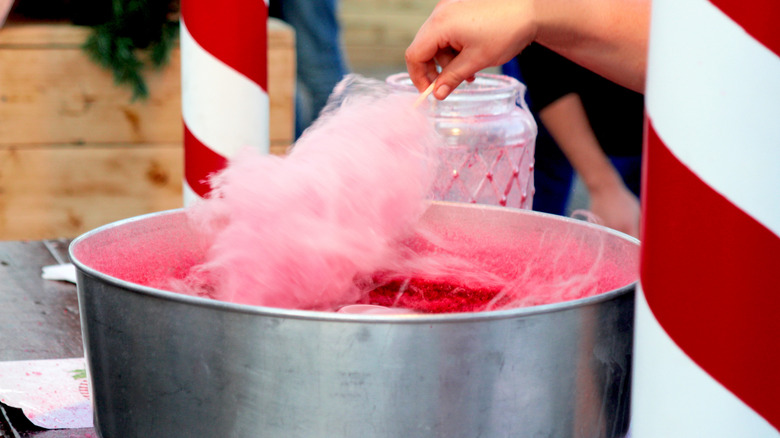 KateChris/Shutterstock
Once the weather begins to warm up, Dairy Queen fans eagerly await the Cotton Candy Blizzard's arrival. When the chain recently announced its 2022 return on social media, it was met with a flurry of positive responses. Many fans on Instagram couldn't wait to get their hands on this popular treat.
"YESSSS ITS BACK!!" @danigirl_1362 wrote in celebration. "I always crave the cotton candy flavor and am always told it isn't served anymore! This makes my entire day I am going this week to get one!!!! Thank you!!!!" another enthusiastic fan raved. Follower @austinnolancook99 chimed in with "Yesssssssss don't know why you ever take it off the menu it's the best thing ever." Quite a few fans seemed to agree that the Blizzard should be a year-round menu item. 
If you've also been pining after this Cotton Candy treat since the last time it was on the menu, then now is the time to head down to your nearest Dairy Queen and get your hands on this crowd-pleasing seasonal flavor while it is still available.