30% Want Chick-Fil-A To Bring Back This Discontinued Menu Item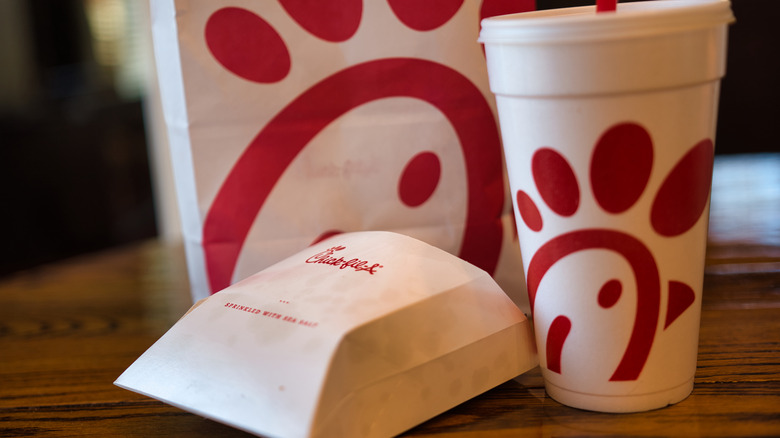 jmac23/Shutterstock
While Chick-fil-A has its core menu items — chicken nuggets, waffle fries, and the OG chicken sandwich — the fast-food chain has also seen a rotating cast of specialty treats come and go over the years. There were savory picks like the chicken salad sandwich, the carrot and raisin salad, and coleslaw. Then there were desserts like the banana pudding milkshake, a brownie with nuts, and the cheesecake, the latter of which even had its own Facebook page at one point petitioning to add it to the menu again. 
Given Chick-fil-A's large fanbase, it's not surprising that not everyone was happy when certain items were permanently scratched from the menu. People have protested the loss of some of their favorite foods on Reddit, begging Chick-fil-A to bring them back. 
To find out which discontinued Chick-fil-A menu item is the most missed, Mashed polled nearly 600 people across the United States. While some people long for the return of the Asian salad and others are craving Chick-fil-A oatmeal, there was one food that nearly a third of respondents wish would come back.
You can still order the spicy chicken biscuit at some locations
According to Mashed's poll results, the spicy chicken biscuit is the discontinued Chick-fil-A item that 30.2% of people would love to see on the menu once again. It was removed back in 2016 due to low sales — the brand said that despite the fact that the breakfast sandwich was popular, it wasn't selling enough to be worth the cost, per Biz Journals. 
"I'm so brokenhearted about the @ChickfilA #SpicyChickenBiscuit I don't know if I will ever pick up the pieces of my heart," one person tweeted at the time. Fortunately, if you're one of the many customers who misses the spicy chicken biscuit, you can still find it at select Chick-fil-A locations. In early 2021, Chick-fil-A reported that the fan-favorite sandwich is still available in 95 cities, which you can find listed on its website.
How did the other discontinued menu items compare to the spicy chicken biscuit? Chick-fil-A's chicken salad was the second most-missed item, raking in 21.14% of the votes, followed by the coleslaw with 14.26% and the Asian salad with 13.93%. The cinnamon cluster — which was similar to a cinnamon roll — received 12.75% of the votes, while the oatmeal took last place, with just 7.72%.