Wendy's Is Opening A Virtual Restaurant In The Metaverse
Welcome to the Wendyverse, an alternate reality where you can socialize with friends over a mile-high Wendy's Baconator and a mountain of fries without consuming a single calorie, or, for that matter, leaving your home (via Yahoo Finance). If that's not enticing enough, then how about this: Your entry into the Wendy's Metaverse entitles you to go behind the counter, presumably, to watch the virtual goodness being prepared, if not make a new friend in the fry cook. Foodies who appreciate the open-kitchen-plan trend, this one's for you.
Furthermore, Wendy's new Metaverse replicates not only a Wendy's restaurant, but also a basketball court on which you can virtually play, per Restaurant Business. In other words, for anyone who has ever fantasized about stuffing their face while, at the same time, stuffing the net, Wendy's has you covered with its virtual Buck BiscuitDome, named for Wendy's popular one-dollar breakfast biscuit promotion.
Starting April 2, all you'll need to access this brave new world located somewhere in the ether (no nav system necessary), thanks to Wendy's partnership with Horizon Worlds (a Facebook-owned virtual social and gaming site), is a Quest 2 virtual reality headset. That being said, technically you don't even need a headset at all. That's because the Wendyverse will be accessible in viewer-only mode — in addition to virtual reality 3D — for anyone without a VR headset, according to MarketWatch. Here is what to expect when Wendy's opens its virtual restaurant location in the Metaverse.
The future of reality is virtual, and Wendy's entry into the Metaverse proves it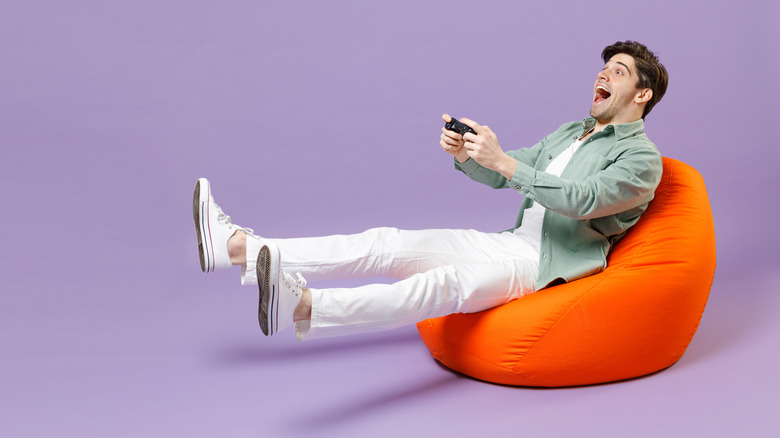 ViDI Studio/Shutterstock
That Wendy's is opening a virtual restaurant in the Metaverse shouldn't surprise anyone, and certainly not the McDonald's fans who have been waiting for McDonald's to deliver on its highly hyped and long-promised virtual venue. And by "virtual venue," we're not referring to those delivery-only kitchens that started popping up in the real world during the COVID-19 pandemic. Although those have been referred to as "virtual restaurants," it's safe to assume that Metaverse restaurants will soon be taking over that space, just as Wendy's is on the cusp of doing with its Wendyverse. 
Of course, that begs the question: Have we somehow evolved beyond actual food? The answer is a resounding "no." In the Wendyverse, real food is part and parcel. And, ultimately, getting fans good and hungry for Wendy's in-real-life is really the point, per the company's press release announcing the April 2 opening of the Wendyverse. For example, Wendy's foresees fans with headsets downloading deals on its popular biscuit sandwiches while virtually visiting the Wendyverse Partnership Plaza, and is offering its one-buck biscuit sandwich deal in its actual stores, and via the Wendy's app, from April 1 through May 1.
"You're going to want to get back into the real world for this one," Wendy's promises in its press release. But that, of course, presumes the Metaverse is not the real world. But isn't it, at least as of April 2?