TikTok Is Raving About Costco's Frozen Tempura Shrimp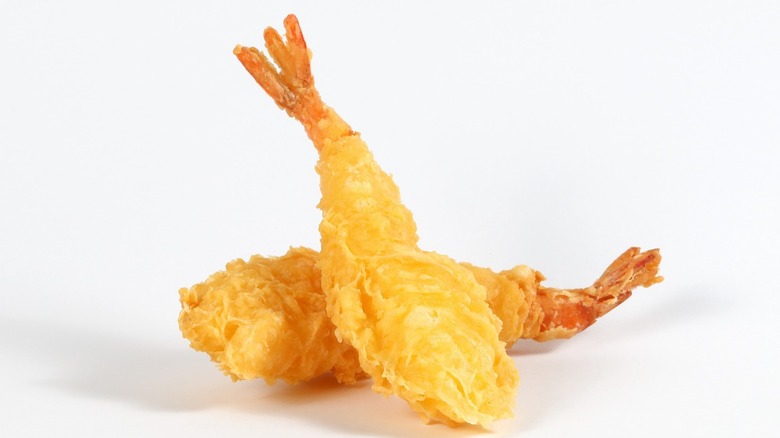 Oqbas/Shutterstock
Tempura shrimp take a solid amount of time to make. According to Simply Homecooked, anyone who wants to whip up perfectly battered and deep-fried shrimp at home first has to devein their shrimp, then properly cut them so that they don't shrivel when cooked, and finally, deftly fry them in oil. While the end results prove delicious, many won't have the time or patience to whip up this dish on a regular basis. Luckily, Costco has stepped in with a product that has captured the attention of social media.
Instagrammer @costcodeals spotted 30-count boxes of these tempura shrimp during one of their shopping runs, and the find attracted a ton of attention. The user's followers quickly chimed in and rained praise on the frozen seafood, commenting with takes like, "They are really good I have both them twice," and, "I just added a box to my online cart!" The product has now reared its head on another social media behemoth, prompting more shoppers to seek out gustatory excitement in this box of frozen shrimp tempura.
Shrimp tempura has captured the heart of TikTok
TikToker @costcofoodreviews recently picked up a box of these shrimp during a grocery run and decided to show off the find to their followers. The influencer gave the product a nine out of ten, saying that the crustaceans crisped up nicely when air fried and their texture held up when cooked. Followers immediately hit the comment section.
Replies rolled in and ranged from, "I love them!" all the way to, "Soooooo freaking good!" Others chimed in with, "These are soooo good. I haven't seen them at my local Costco in awhile," and, "Bro this is soo good." One user had a recommendation, saying, "These are great for shrimp tempura sushi, even better when they're deep fried as well," and even prompted one person to say, "Man I gotta get me a Costco account." Another jumped in, saying, "These are super legit," while another concurred, agreeing with, "Soooo good. I drizzle honey over mine!!" Costco has apparently found a winning product in these tempura shrimp and social media continues to drool over how they crunch.