Is Cracker Barrel Open On Easter 2022?
Known for its down-home Southern comfort food, Cracker Barrel is a popular destination for families, with more than 600 locations across the United States. Whether you're getting together for a weekend brunch or an indulgent Sunday supper, the national chain has plenty of hearty dishes to choose from. Some of the most popular menu items according to the brand include Southern fried chicken, chicken fried chicken, roast beef, and country vegetables — all of which sound like the makings of a tasty Easter meal. Not to mention the restaurant's lineup of desserts, which include fresh-baked pies and strawberry shortcake.
On a regular week, most Cracker Barrel locations are open on Sundays from 6 a.m. to 9 or 10 p.m. But holidays, like Easter, Christmas, and New Year's Day can affect restaurant hours. That brings up the question — is Cracker Barrel open on Easter Sunday of this year? While Country Living reports that Cracker Barrel will be open on Easter for both dine-in and takeout, the brand itself has not published anything confirming that claim. Fortunately, there's a way to get your Cracker Barrel fix even if it's closed on the upcoming holiday.
You can order an Easter dinner to go from Cracker Barrel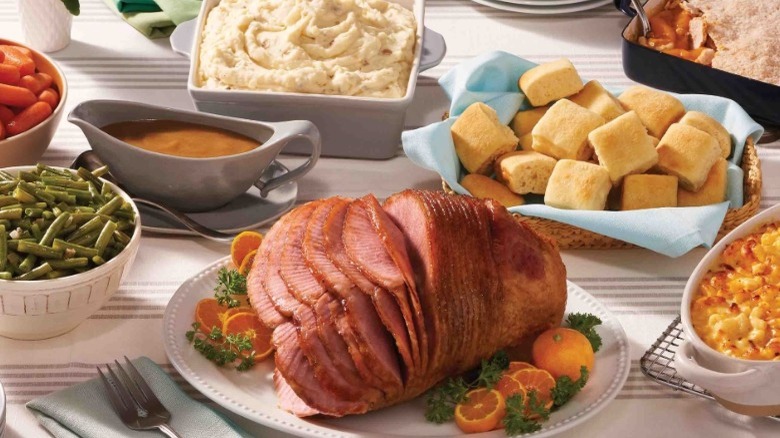 Cracker Barrel
Whether or not Cracker Barrel is open on Easter 2022 is still up in the air. However, one thing is for sure, you can have your Cracker Barrel Easter dinner. The restaurant chain has brought back its popular Easter Heat n' Serve Meals this year. They're already available to order online and can be picked up anytime between April 14 and April 17, which is Easter Sunday. 
You can choose from the prime rib or the classic ham. While the prime rib option, which costs $124.99, comes in just one size, the Ham Heat N' Serve meal comes in two sizes; feast, which costs $149.99 and serves eight to 10 people, and dinner, which costs $99.99 and serves four to six. With your order, you'll receive Cracker Barrel's famous spiral-sliced sugar-cured ham (or prime rib) with mashed potatoes and gravy, sweet yeast rolls, and the countryside dishes of your choosing.
The ham, which is smoked and glazed with honey, has received positive reviews from diners. One person on Cracker Barrel's website even describes it as better than Honey Baked Ham. That said, another points out that it's more expensive than other options. Regardless of which meal you choose, Cracker Barrel says it should take around three hours to prepare the feast.