This Controversial Easter Candy Now Comes In Gummy Form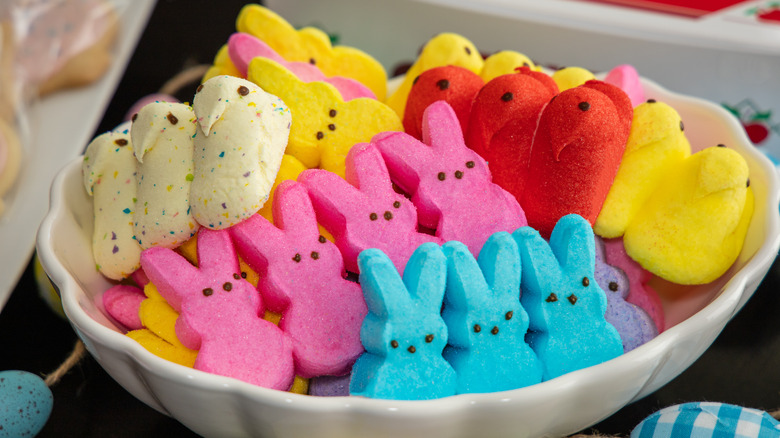 Rosamar/Shutterstock
We may receive a commission on purchases made from links.
There hasn't been one thing that has divided us as a nation more than Peeps. Okay, that's a bit of an exaggeration, but at least among Easter candy aficionados, the toss up between whether Peeps are small bites of marshmallow deliciousness descended from the heavens or are chewy, inedible, overly sugary wads destined for the trash can is quite the debate. The disdain people have for Peeps is not overstated, either. Delish called the candy's texture "horrendous" and said, overall, that they are "inferior to all other Easter candy." Cafe Mom went as far as to call Peeps "the worst crime against humanity that's ever masqueraded as a dessert." Yikes.
But someone out there must love them because they're a wildly successful product. The publication Inc. has reported that Just Born Quality Confections, the company that produces Peeps, makes about two billion of the little chick- and bunny-shaped marshmallow bites every year. There's even a Peeps cookbook for sale, proof that there are enough avid fanatics to develop a macaron recipe made of their fluff.
This year, there's a new Peeps product worth getting excited about — one that the Easter Bunny is surely already stocking up on. So, if you're a lover of this candy keep reading; if you're a hater, also keep reading, because you just might be converted with this latest offering.
Will Peeps Gummies rope in new Peeps fans?
Just Born Quality Confections has introduced a new Peeps product just in time for the 2022 Easter season: Peeps Gummies! Fansided has reported that the bite-sized gummies come in packages containing three shapes and flavors: Yellow chicks (regular marshmallow flavor), blue bunnies (blue raspberry marshmallow), and pink bunnies (strawberry marshmallow), all of which are covered in sugar (because when it comes to candy, there's never enough sugar, just like regular Peeps). 
A 3.73-ounce bag of these new goodies can be found on the Walmart website, and one reviewer on the site, who admitted to not being a regular Peeps fan, raved about the new candy. "I have never been a fan of Peeps but these? I could strap on a feed bag of these and graze like a horse!! [They're] soft, gummy, sugary on the outside and tasty with hints of vanilla on the inside," they wrote. If that's not a testimonial we don't know what is.
Peeps Gummies will be joined on the store shelf by other new products including Hot Tamales Peeps and Sparkly Wild Berry Peeps, so hop over to the Easter candy aisle to try them before they're gone.