The Secret To Classic St. Louis Rib Sauce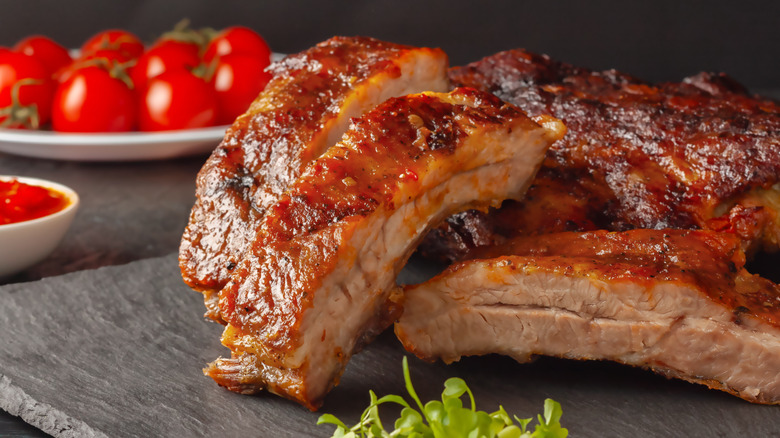 Natalya Yudina/Shutterstock
While hot dogs and hamburgers are usually front and center at every backyard barbecue, nothing beats an old-fashioned rack of ribs. Tender, moist, and slathered in so much barbecue sauce that your fingers will leave a sticky residue on everything for days after, pork ribs can be customized to suit anyone's tastes.
For those who like a sweet, smokey sauce, perhaps you would like Giada De Laurentiis' recipe for sweet and sticky ribs made with molasses, honey, and brown sugar on Food Network. If you're catering to a crowd that loves the heat, you can try Korean-style Sweet and Spicy pork ribs (via The Spruce Eats). There's a wide variety of sauces and rubs you can experiment with to satisfy even the most carnivorous of barbecue lovers.
But let's say that you want to go back to the classics. You don't want frills or fancy ingredients, you want a sauce that's both simple and is made to impress. You want something quick to make and delicious. St. Louis BBQ offers you all these things — but first, you have to know your way around it.
St. Louis BBQ sauce is sweet and vinegary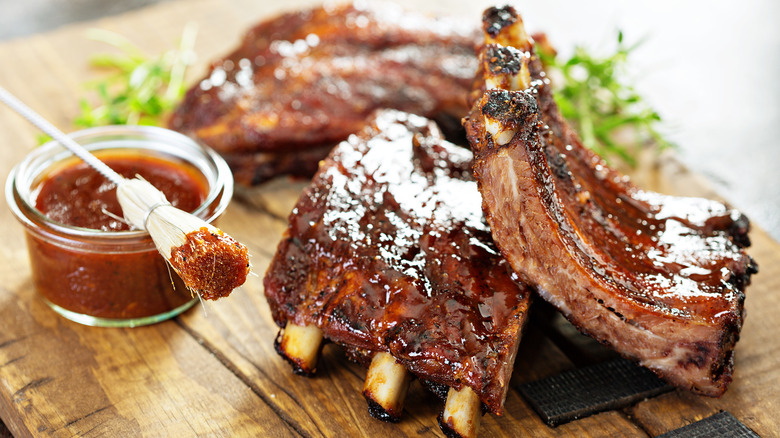 Elena Veselova/Shutterstock
You've probably heard a lot about St. Louis-style BBQ if you're in the grilling scene. Tender Belly describes St. Louis-style ribs as being flatter than the usual style of pork ribs and having a lot of bone. The trade-off, however, is that there's much more fat on St. Louis-style ribs that gives the meat a lot of flavor. The flat shape of the ribs also makes them easier to brown. It's not just the meat that's exclusive to St. Louis, but also the sauce. MasterClass summarizes St. Louis-style BBQ sauce as having a tomato base and having a sweet flavor, but compared to sauces such as Kansas City's BBQ sauce, it's thinner and more vinegary. 
According to Barbeque Bible, the sauce was invented in 1926 by a grocer named Louis Maull, and has become a regional favorite ever since. But just what exactly makes the St. Louis sauce so sweet? While recipes may differ depending on where you look, MasterClass proclaims that the three ingredients of St. Louis BBQ sauce are brown sugar, apple cider vinegar, and ketchup. It is this combination of sweet and tang that helps give the sauce that trademark flavor. Some recipes, such as one from Saporito Kitchen, even call for the addition of ground coffee and molasses to help bring out the rich warm flavors you'd expect when you dig into tender, fall-off-the-bone-ribs.